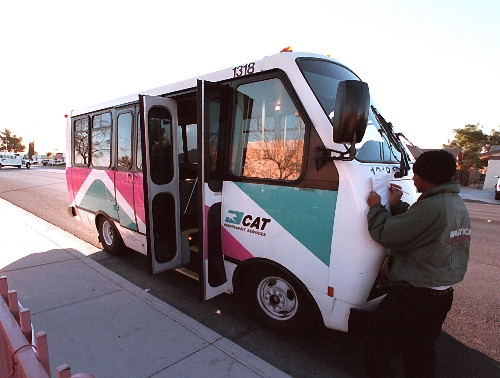 The Americans with Disabilities Act regulates specialized transit services across the country. Different demographics, different cities, same rules designed to provide convenient transportation for the elderly and severely disabled.
In Las Vegas, this poses an intriguing quandary for those charged with operating this community's ParaTransit system.
Here's an example: You and I are disabled and are medically certified to use the Regional Transportation Commission's ParaTransit system, a door-to-door service by appointment. You need to get to dialysis. I need to go win MegaBucks at the casino. Your appointment isn't a priority over my gambling fix.
ADA guidelines won't allow it. Nobody can be prioritized or denied service once they are deemed eligible for the program.
As the Regional Transportation Commission struggles to balance a shrinking budget with an ever-growing demand for ParaTransit, it seems odd that administrators cannot deny or at least limit nonessential trips to strip joints, casinos or bars. After all, the cost per passenger per trip is $40 — not for the rider, for the agency. Five separate trips to the gambling hall a day? Sure, that's allowed, only it costs the transportation commission $200.
I recently asked RTC General Manager Jacob Snow whether these types of restrictions aggravate him during a recession that has him looking to limit or eliminate services without putting passengers out.
"Under the ADA, we're not allowed to have feelings on the matter," Snow said, essentially expressionless.
But Snow isn't emotionless about the program that serves the disabled and elderly population. He understands its importance. He doesn't really care where passengers are headed, because nobody deserves to be homebound.
"We wake up every day knowing we are going to make somebody's day better," Snow said.
The law also says rides must be provided when needed. While other cities might roll up at 9 p.m., Las Vegas is a 24-hour town and, because of that, so is the ParaTransit service.
The disabilities act doesn't allow Snow to care where passengers are headed.
"We can't ask them what they are going to do; it's none of our business," Snow said. "That's what the law says."
And, really, rightfully so. Why should somebody be confined to their home? Now the commission must look in a different direction to continue to afford a federally mandated program that is funded by dwindling sales tax revenue with very little help from the state or the federal governments. Of the agency's $205 million transit budget, $61 million is invested in ParaTransit.
The demand on the system grows annually. Las Vegas is a retirement community, and we are constantly listed as one of the nation's least-healthy cities. State lawmakers piled on when two years ago they quit subsidizing shuttles to community centers for the elderly. Now those passengers rely on ParaTransit; between August 2010 and April 2011, the program provided 73,324 trips.
Any cuts made to ParaTransit angers its passengers.
So far, the commission has decided to scale back on the service area. The disabilities act requires that riders who live within three-quarters of a mile from a regular bus route must be served.
For years, the Transportation Commission has extended its service to residents within 1½ miles from a fixed-route bus line. Recently, the service area was reduced to the ADA minimum. Existing passengers were grandfathered in under the old guidelines.
Commissioners are also contemplating eliminating the monthly pass, which might make numerous trips cost-prohibitive and encourage ParaTransit passengers to better plan their errands or take the regular bus, which is free for them.
What the board is not considering doing is raising fares. Passengers pay about $2.75 per leg of a trip, but that fare can go up to $6 during peak hours or rides to downtown or the Strip. Under the disabilities act, ParaTransit fares can be double what is charged for the bus. So, the commission could charge $4 per leg.
That is not an option for Snow and board members at this point. Their goal is not to make the service too expensive for its riders, many of whom are on fixed incomes, but encourage passengers to use the regular bus route when at all possible.
As far as cost goes, the fixed-route lines cost the transportation agency $1.77 per person per ride. And in many cases, the fixed-route lines are a faster alternative. The ParaTransit picks up riders and drops them off at their destinations, hitting the closest destination first.
Snow can't predict the future of Las Vegas' economy, but he has a pretty good idea about what the demand for ParaTransit will be.
"We have a growing population of the severely disabled and elderly," he said. "I am confident the baby boomers will continue to be a generation of prominence."
If the reduction options on the table don't provide some relief to ParaTransit's financial situation, the only other option is rolling the dice on the regular bus routes.
"We'd have to continue to cut the fixed-route," Snow said. "That is a road of diminishing returns."
If you have a question, tip or tirade, call Adrienne Packer at 702-387-2904 or send an email to roadwarrior@reviewjournal.com. Please include your phone number.
• Through at least June 21, eastbound and westbound traffic on Palmyra Avenue/Sirius Avenue will be on the north side of the road. Traffic in both directions on Decatur Boulevard will be restricted from Palmyra/Sirius to Edna Avenue. • Tonight from 6 p.m. to 6 a.m., the outside eastbound lane of Cheyenne Avenue will be closed between the Las Vegas Beltway and Rampart Boulevard. • On Tuesday from 9 p.m. to 5 a.m., southbound Interstate 15 traffic will be diverted off the freeway at Russell Road and right back onto the road. Russell Road will be closed in both directions during that time. • Gowan Road between Rainbow Boulevard and Tenaya Way will be closed until September. • Through June 30, northbound Eastern Avenue will be reduced to two lanes from just north of Reno Avenue through the Tropicana Avenue intersection. Eastbound Tropicana will be reduced to two lanes from Burnham Avenue to Topaz Street. LAS VEGAS REVIEW-JOURNAL