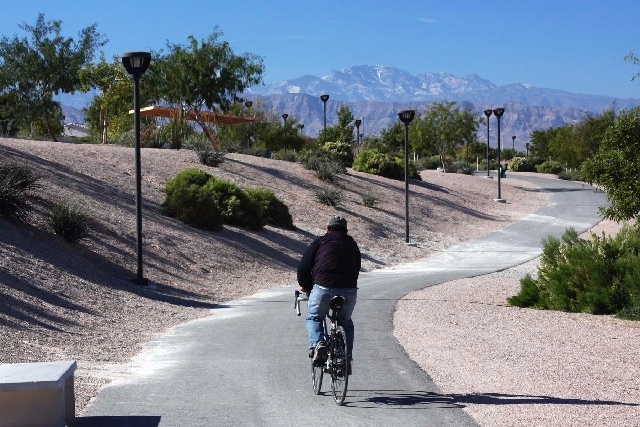 Freeway junctions and sidewalks, folks. Bicycles and electric cars. These are the things that occupy your minds.
What's the common thread? Why are they all bunched together into a single column today?
Because we want to get where we have to get and we don't want stuff in our way. It's the American ideal, the focus on the individual rather than the collective. That's nice and all. A great theory.
But we have to live with other people. Which complicates everything.
■ ■ ■
Marlene wrote in with a problem.
She got "almost run over" by a bicyclist a while back while on the sidewalk, and this led her to wondering: Is that allowed?
Not the running over part. That's not allowed. But the bicycle on the sidewalk part.
She said she'd been asking around and she wasn't getting anywhere. Her county commissioner referred her to her state legislator, who then referred her to her county commissioner.
She came here next, clearly frustrated. Here's your answer, Marlene: Yup. It's totally allowed.
There's no state law prohibiting riding a bicycle on the sidewalk. (Interestingly, though, I did discover that if you're walking along the side of a road without sidewalks, the law says you're supposed to walk against traffic. Who'da thunk it?)
I'm glad you can ride your bike on the sidewalk, by the way. I have two little kids. I'm not going to allow them to ride their bikes in the street. Drivers are crazy. Have you noticed that?
Anyway, there's no municipal ordinance in either Clark County or the city of Henderson that says bikes can't ride on the sidewalk, either.
The city of Las Vegas has one, but it's not very limiting. It gives the city the authority to disallow bikes on specific stretches of sidewalk if there's a need, but they have to post signs there. Bikes aren't allowed on Fremont Street between Main and Seventh streets, for example (that's mostly the Fremont Street Experience).
More importantly, the ordinance says this: "Whenever any person is riding a bicycle upon a sidewalk, such person shall yield the right-of-way to any pedestrian and shall give audible signal before overtaking and passing such pedestrian."
Sharing a sidewalk isn't exactly a tragedy of the commons in the classical social science way, but it's close enough to make the point.
The best advice you ever got was the stuff your mom told you when you were a toddler: Share and share alike.
■ ■ ■
Bob wondered what a lot of people wonder: "When do they plan to start construction of an interchange at the U.S. 95 and 215 Beltway?"
Some day, Bob.
This is a huge project, done in five phases and covering U.S. Highway 95 from Washington Avenue to Kyle Canyon Road.
Some of it's been done already. Remaking much of the freeway from Washington to Ann Road, the interchange at Horse Drive.
But there's no money to widen it north of there, or to put in a planned interchange at Kyle Canyon Road or, sadly, for a full freeway-to-freeway interchange at the Las Vegas Beltway.
Sigh.
The freeway interchange project, a joint venture between the Nevada Department of Transportation, Clark County and the city of Las Vegas, will also include an interchange at John Herbert Boulevard and constructing the eastbound 215 near the interchange.
If, or when, it ever gets started.
■ ■ ■
Eric wondered about a different freeway issue. He wrote: "I am in the process of purchasing an electric vehicle. I understand that in California, you are able to drive in the HOV (high occupancy vehicle) lanes even if you are the only person in the vehicle. Does Nevada have the same law? If so, would I need a sticker or any other documentation to indicate that the vehicle I am driving is electric in case I get pulled over?"
There's lots of information on the Internet about this, Eric. Much of it's wrong.
The National Conference on State Legislatures has a handy chart on its website featuring every state and the incentives those states give electric car owners. Some states provide tax benefits. Others, including Nevada, allow free parking in paid public parking lots.
Unlike California and some other states, however, you can't drive your electric car in the HOV lanes here if you're the only person in the car.
So if you're going solo, Eric, you'll have to stay in the regular lanes with everybody else.
Got a transportation question, comment or gripe? Ship it off to roadwarrior@
reviewjournal.com. Follow the Road Warrior on Twitter @RJroadwarrior.
■ Alta Drive between Rancho Road and Valley View Boulevard will have alternating lane closures through mid-August for repaving.
■ Interstate 15 between Lake Mead Boulevard and the Spaghetti Bowl will have lane reductions and closures through spring 2014 for construction of the F Street overpass.
■ The D Street offramp from northbound Interstate 15 will be closed through the fall for work on the F Street overpass.
■ The right lane on southbound Las Vegas Boulevard from Rue de Monte Carlo to Tropicana Avenue will be closed through March 2014 for construction at New York-New York.
■ Viking Road from Jones Boulevard to Odin Circle will be restricted during daytime hours through at least Monday for sewer work.
■ Ramp meters were recently activated to enter U.S. Highway 95 in both directions and Interstate 15 southbound from Charleston Boulevard.

■ Martin Luther King Boulevard will be closed at Oakey Boulevard through Aug. 16 for water main work related to Project Neon, the reconstruction of Interstate 15. Parts of Oakey will also be restricted.
■ Maryland Parkway from St. Rose Parkway to Pebble Road will have lane closures through the end of the year for repaving and other work.
■ Interstate 15 near Cactus Avenue will have disruptions through the end of the year for bridge work.
■ One westbound inside left turn lane on Flamingo Road to Arville Street will be closed through Aug. 30 for sewer work.
■ Coke Street, Racel Street, Tenaya Way and Farm Road in northwest Las Vegas will be under construction weekdays through mid-August.
■ Mello Lane between Bradley Road and Jones Boulevard will be closed through Aug. 13 for bridge work.
■ Decatur Boulevard from Harmon Avenue to just north of Flamingo Road will have daytime lane restrictions through July 31 for sewer rehabilitation.
■ The intersection of Desert Foothills Drive and Alta Drive will be closed through August 2014 for rebuilding.

■ Vegas Drive between Rancho Drive and Jones Boulevard will have lane restrictions through January for street improvements.
■ Bonneville and Clark avenues between Las Vegas Boulevard and Maryland Parkway will have lane restrictions through January for street improvements.
GASOLINE PRICES
The average gasoline price Friday in the Las Vegas Valley was $3.66 per gallon; the state average was $3.69. The national average of $3.68 is up 8 cents from a week ago, up 8 cents from a month ago and up 21 cents from a year ago.
Las Vegas Review-Journal