Some abuse system for changing traffic lights
October 21, 2007 - 9:00 pm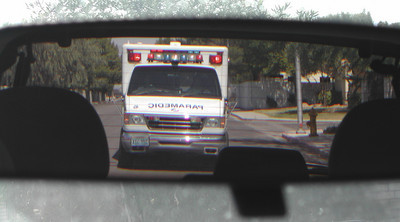 There's a reason why traffic lights seem to magically turn green when a fire truck approaches with screaming sirens and flashing lights.
It's because of Opticom, a system that uses a strobe light to trigger traffic signals to turn green in the direction an emergency vehicle is traveling.
You find them on ambulances, fire engines and police cruisers. The idea being, if the light is green for emergency responders, cars can move out of the way and avoid wrecks.
So what's the big deal, you ask?
In a town with traffic that can make your blood boil, every time a traffic light is pre-empted it takes four to six cycles, or eight to 12 minutes, to return to normal. The resulting delays cause problems with traffic flow, which, in turn, affect other vehicles at traffic lights miles away. During rush hour, a pre-empted light can be devastating on traffic flow.
But here's what really could burst a vein: It turns out that traffic officials suspect not everyone using Opticom is responding to an emergency. They're just doing it to expedite their drive.
Murali Pasumarthi, manager of the Freeway and Arterial System of Transportation, which supervises coordination of the valley's traffic signals, believes the system is being abused, possibly by cabdrivers.
It's illegal to use or sell or drive around with any device that interferes with, or alters, a traffic light, the Nevada Revised Statutes state. If you are found using it, police can seize the device and the whole car, and charge you with a misdemeanor.
The devices are easy to find, if you know what you are looking for. Many Web sites point to eBay, where you can buy one for about $200.
Other Web sites can show you how to make your own. All you need is a strobe light that pulses 10 or 14 times per second, which you can buy at a theater or Halloween supply store, and an adaptor to hook it up to your car battery. And finally, because you don't want it to look like you're throwing a dance party in your car, you need an infrared filter (also available on eBay) to block the light to the naked eye, but not to the traffic light sensor.
There is a way to put an end to the abuse.
Pasumarthi and other traffic folks want all Opticom users to have an individual code. If the user isn't coded, the traffic signal won't respond. In other words, all those illegal Opticom systems would be as useless as honking at a red light.
Currently, the number of traffic lights being pre-empted is tracked. Who is pre-empting them isn't.
But there has been some debate about whether individually coding all vehicles is necessary. The Metropolitan Police Department agreed with the idea but wanted a universal code for all their vehicles and not an individual code.
Some folks in the transit business candidly told me they believe the Police Department is against the idea because they don't want FAST to be able to track which police vehicles are using lights and sirens. The implication was that police were sometimes using their lights and sirens improperly.
Police say that isn't so. They don't want their vehicles individually coded because it would be a big pain in the tuchis to maintain. Robb Johnson, the Police Department's director of communications, said every time there is a maintenance issue with the system, it would require making sure the right code is with the right vehicle.
A universal code would simplify the situation, Johnson said. Las Vegas police have more than 1,000 black-and-whites patrolling the streets with Opticom capabilities.
We've all witnessed patrol cars flash their lights and turn them off. Are they doing it just to turn a traffic signal green?
I asked Assistant Sheriff Ray Flynn.
There are several reasons police turn their lights and sirens on and off. They could be responding to a call that was canceled or found to be a false alarm. They could be responding to a call where the element of surprise is a safety issue for the officer.
Flynn said that since 2000 only 11 Las Vegas officers have been disciplined for driving improperly, which includes speeding and unauthorized use of lights and sirens. Usually, if officers are using lights and sirens improperly, it's because they are responding to a call that doesn't require lights and sirens. But most officers know that driving Code 3 — police-speak for lights and sirens — is one of the most dangerous things they do.
Police said they first heard of the effort to address Opticom abuse about three years ago but haven't heard much since.
The committee that oversees FAST has pulled together representatives from Clark County; the cities of Las Vegas, North Las Vegas and Henderson; and the Nevada Department of Transportation to come up with a policy on issuing Opticom codes, said a spokeswoman for the Regional Transportation Commission.
No emergency responder agencies are involved, the spokeswoman said.
The coding system needs to be implemented and soon. If there are drivers illegally tripping traffic lights, it messes with our already messy commutes.
If you have a question, tip or tirade, call the Road Warrior at (702) 387-2904, or e-mail him at roadwarrior@reviewjournal.com or fmccabe@reviewjournal.com. Please include your phone number.
ROAD WARRIORMORE COLUMNSDiscuss this column in the eForums!
Las Vegas Boulevard under Interstate 15, at the Apex interchange, will be closed from 8 tonight through 6 a.m. Tuesday for bridge repairs, according to the Nevada Department of Transportation. Look for posted detours.
Arville Road, north of Blue Diamond Road, will be closed from 5 a.m. Monday through 5 a.m. Friday for work involving the Blue Diamond widening project. Arville south of Blue Diamond will not be affected.
Martin Luther King Boulevard and Washington Avenue will continue to see a bevy of activity through Oct. 27, until work on a gas line is finished, the Las Vegas Public Works Department said.