Some ideas for resolving challenges that Uber presents Nevada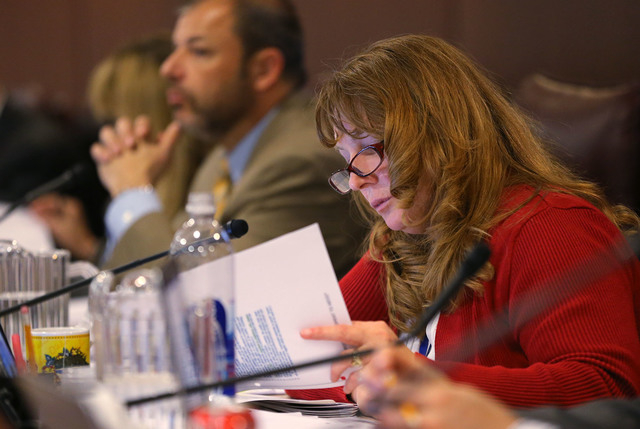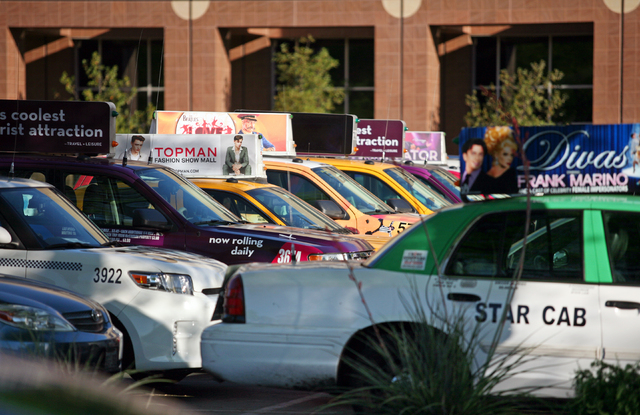 Now they've done it.
If you're a fan of Uber, the world is a better place now that the legislative leaders have approved Assembly Bill 175, sending it for Gov. Brian Sandoval's signature and clearing the way for transportation network companies to operate in our state.
And if you're not a fan of Uber — cab company owners, cabdrivers, people who fret about getting into a car with someone they don't know — the world took an unexpected turn.
What many thought was an earthquake aftershock early Saturday morning was actually the sound of the state's taxi industry imploding.
And thus, a new — sort of — transportation option is being made available to residents of Southern Nevada.
The Uber debate has been one of those polarizing issues like gun control and abortion that have twisted in every direction, not unlike the ramps of the Spaghetti Bowl.
Depending on who you talk to, Uber is either the most important transportation innovation since the gasoline-powered engine or the worst danger to society since the atomic bomb.
The majority, it seems, leaned on the side of Uber and its ilk being allowed to operate in the Silver State.
As the Review-Journal's editorial page writers have correctly noted, how can Nevada be taken seriously as a potential tech hub if we don't allow ride-hailing companies like Uber to operate here?
But the taxicab industry had an equally compelling point: What's fair about Uber riding into town and dictating the rules by which they will operate? Uber is not that different or special to warrant it operating by one set of rules while the cab industry operates by another.
Uber says it's a technology company, not a transportation company.
Actually, it's both. Uber contracts "drivers." And "drivers" engage in transportation. You're a transportation company, Uber.
By the way, what a clever political maneuver it was to plop a 3 percent tax on revenue on both the transportation network companies as well as the cab companies in the revised bill.
I wish I could have seen the reaction of some of the cab executives when that landed on them. They thought they were fighting a battle against Uber when in fact they were taking on Uber and the tax man.
But great political strategy. "Give us Uber and we'll build you a UNLV Medical School as well as feed the highway development fund."
There aren't many people who have figured out why lawmakers picked the Public Utilities Commission to regulate transportation network companies.
Supposedly, it's because the commission knows something about technology. News flash: Every board and commission is addressing various elements of technology, including the Nevada Taxicab and Transportation authorities.
The Public Utilities Commission used to oversee some elements of transportation, but not anymore.
Because there's no utilities commission police force, there's no one out there to enforce whatever Uber regulations are drafted. That seems to have been a bad idea.
The final action leading to the approval of AB175 Saturday was a bizarre and confusing episode, the R-J's Carson City team told me.
Members of the Assembly tried to switch regulation of transportation network companies from the utilities commission to the Transportation Authority, which oversees limousines, buses, moving companies and tow trucks as well as taxis in every county except Clark (which the Taxicab Authority oversees).
The bill switching oversight to the Transportation Authority failed, but legislators have said they might try to resurrect it before the legislative session comes to an end.
No one ever asked the Nevada Taxicab Authority to weigh in with their ideas but no sooner did the authority board get bold enough to set a meeting to assert themselves into the discussion did they cancel it.
The Taxicab Authority should have been a part of the discussion. They're the governor-appointed experts in taxi transportation in Clark County and they should have been at the table — about three months ago.
So what happens next? How long will it take for Uber become a transportation option for Southern Nevadans? If the Public Utilities Commission regulates it, it probably will take months for Uber to get rolling. If the Transportation Authority gets it, probably less.
We will see what lawmakers come up with in the final days, but having watched this and reported on it for months now, here are some Road Warrior ideas:
Make the switch and regulate Uber and other transportation network companies under the Transportation Authority or the Taxicab Authority.
Uber drivers will function similarly to cab and limo drivers. Both already have smartphone app regulations in place. Everybody who transports people should be regulated by the same rules.
Ask the governor to appoint a blue-ribbon panel to overhaul all taxi regulations to include system innovations brought to the table by companies like Uber, Curb and Integrity Vehicle Solutions.
Invite an Assembly and a Senate member, the Taxicab Authority, the Transportation Authority, a representative from the taxi industry and Uber and Lyft to the table. Remember how well Sandoval's Gaming Policy Committee addressed the regulation of new gaming industry technology?
A Transportation Policy Committee could study other important solutions to problems that have plagued the industry for years.
Should the industry consider a free-market system that doesn't limit the number of vehicles or the fares they charge on rides? Should there be a cap on vehicles or fares and allow companies to make their own decisions on how much to charge and how many vehicles to operate? Should they use an app to estimate a charge and stick to it? Would a zone payment system eliminate long-hauling by enabling drivers to take whatever routes they want for a set price?
Get testimony from successful trusted transportation systems in other parts of the country.
Once the new rules are in place, open the market to all comers.
If Uber chooses to participate after helping to establish the rules, so be it. If cab companies want to stay in the game after leveling the playing field, they can.
Something has to change to fix our broken transportation system, and it doesn't appear current plans will do that.
Questions and comments should be sent to roadwarrior@reviewjournal.com. Please include your phone number. Follow the Road Warrior on Twitter @RJroadwarrior.
ROAD WORK AHEAD
■ Main Street traffic has been shifted to the west side of the roadway to the new pavement on the east side of the street to allow workers to begin sidewalk removal between Bridger and Bonneville avenues. Work will continue between Bonneville and the U.S. Highway 95 overpass through the end of 2015.
■ The south side of Warm Springs Road will be restricted between Caliente and Tamarus streets from 6 a.m. to 4 p.m. Mondays through Fridays through Oct. 31 for a water reclamation line project. Two westbound lanes and one eastbound lane will be open on the north side of Warm Springs.
■ Losee Road will be closed at North Fifth Street in North Las Vegas from 8:30 p.m. to 5:30 a.m. daily through Thursday. Closures also are planned May 31 to June 4 and June 7-11. Business access and detours are planned.
■ Manhole rehabilitation work is scheduled on several streets through Friday. Closures and detours around barricades are planned for southbound Swenson Street at Harmon Avenue; Gaslight Circle and Gabriel Drive; northbound Wilbur Street at King Richard Avenue; southbound Maryland Parkway at Westminster Avenue; southbound Eastern Avenue and eastbound Robindale Road; and southbound Dean Martin Drive at West Post Road.
■ The northbound sections of Rancho Drive and Decatur Boulevard are part of a street-widening project. Two lanes will be open in each direction. Other portions of the project will continue through May.
■ Lane restrictions will occur on Grand Teton Drive between Durango Drive and Rainbow Boulevard through May.
■ Eastern Avenue will be restricted to one lane in both directions between Sunset and Warm Springs roads from 7 p.m. to 6 a.m. through May 31 for a water reclamation line project.
■ The westbound lanes of Warm Springs Road from the Warm Springs-Eastern Avenue intersection to the Warm Springs-Spencer Street intersection will be restricted through June 9. Eastbound and westbound lanes of traffic will be shifted to the south half of Warm Springs during construction.
GASOLINE PRICES
The average gasoline price Friday in the Las Vegas Valley was $3.33 per gallon. It was $3.31 in Nevada. The national average of $2.75 is up 5 cents from a week ago, up 26 cents from a month ago and down 91 cents from a year ago.