Southwest bus service 'years away'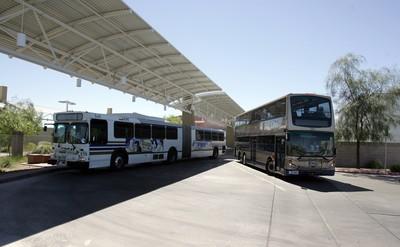 This week, readers want to know if a bus will ever be going their way, and if stoplights are supposed to run like clockwork.
And the Road Warrior is put on the trail of a blabbermouth biker.
Chris Gullett asks: I'm a bit surprised that Citizens Area Transit has no bus routes in the fast-growing southwest portion of the valley. It seems with all the development along roads like Durango Drive and Blue Diamond Road, plus the massive Mountain's Edge development, that regular bus service would be up and running by now. When I called CAT, they said the southwest was "outside the service area." Somehow I doubt citizens in the southwest are outside the Regional Transportation Commission's property and sales tax "service area." Do you know if there are plans to add service to Mountain's Edge and Blue Diamond Road?
Not right now, but they're working on it. First, a primer on the problem.
Indeed, the bus service is virtually non-existent in the southwestern valley. Routes largely peter out south of Tropicana Road and west of Las Vegas Boulevard, and completely disappear south of the Las Vegas Beltway and west of Valley View Boulevard.
Years ago, that wasn't much of a problem as that area was largely empty desert. But today, there are thousands of homes, businesses and schools that crowd that region, including the neighborhoods of Mountain's Edge, Rhodes Ranch, Southern Highlands and Siena.
Destinations in that no-bus zone include Sierra Vista High School, Southern Hills Hospital, St. Rose Dominican Hospital's San Martin facility, and the Rhodes Ranch Town Center shopping mall.
The RTC is currently studying where to run buses through the zone.
"A number of park-and-ride lots with express bus service are planned for that part of the valley over the next several years, along with plans for roadway improvements for the area," Tracy Bower, a transportation commission spokeswoman, said by e-mail.
Bower did not offer a specific timeline for bus service to start, nor did she mention any firm routes.
"The plans are still a few years away but they will eventually provide bus service to various points throughout the valley," Bower's e-mail said.
In recent years, the RTC's board had been briefed about the potential for express bus routes along Blue Diamond Road (also known as state Route 160) and the southern Beltway.
In the meantime, the nearest major bus pick-up points in the southwest include CAT's South Strip Transfer Terminal, the Las Vegas Factory Outlet mall, Coronado High School, and the Silverton and South Point hotel-casinos; St. Rose Dominican Hospital's Siena campus to the east; and Durango High School and The Orleans to the north.
Wish I had better news to report, but that's how it is right now.
Ray Pearson asks: Is there a minimum amount of time that a left-turn arrow should remain green? Every morning of the week I find myself eastbound on West Desert Inn Road at Industrial Road trying to make a left turn. Most of the time, it seems that the left-turn arrow remains green for only one or two seconds. You can be the very first car in line and not complete your turn before the left turn arrow has turned red.
There's no set time for such lights. It all depends on how such signals are set by traffic engineers. Such decisions aren't supposed to be made randomly, though.
"Left turn lights, like all lights, are programmed to remain green for specific periods of time based on traffic flow and the time of day," Bower said in her e-mail.
But Ray's problem sounds out of the ordinary.
"One or two seconds isn't typical," Bower said. "At this intersection, the light is likely changing quickly due to a nearby fire station."
Say what?
"Emergency vehicles trigger the lights to change to allow the vehicles to get through an intersection," Bower said. "It takes a few cycles for the lights to return to their normal pattern."
Oh.
Nonetheless, Bower said she'll have a traffic engineer check Ray's stoplights of woe to make sure there isn't some other problem contributing to the case of the lightning-quick light.
And anyone who finds traffic signals that are ill-timed to smoothly handle traffic can call the RTC's traffic management division, known as the Freeway and Arterial System of Transportation, or FAST for short, according to Bower. The number is 432-5300.
Hit 'n' Run: The sights and sounds of Las Vegas are always surprising, even to jaded locals. That's what Road Warrior unindicted coconspirator Kaynella Wallace learned last month while on the go.
"Here's something I've never seen before, even here in Vegas," Wallace wrote me. "I was driving on Lamb (Boulevard) near Sahara (Avenue) at 7 p.m. July 25th when right in front of me was a guy driving a motorcycle, no helmet, and talking on his cell phone!"
Wallace wanted to make sure I got the point.
"TALKING ON HIS CELL PHONE!" Wallace said. "Why not call ahead and make an appointment with the emergency room!"
Maybe he was. Now that's what I call multitasking.
If you have a question, tip or tirade, call the City Desk at 383-0264, or send an e-mail to roadwarrior@reviewjournal.com. Please include your phone number.
ROAD WARRIORMORE COLUMNSDiscuss this column in the eForums!
Through at least Saturday, drivers can expect lane reductions on northbound Nellis Boulevard between Stanley Avenue and Lake Mead Boulevard to allow underground sewer work. Starting Monday, drivers can expect lane restrictions and intermittent road closures along Grand Central Parkway between Bonneville Avenue and City Parkway to allow road work. Delays can be expected. Drivers can use Martin Luther King Boulevard or Main Street as north-south alternates and Charleston Boulevard or Bonanza Road as east-west alternates. The work is expected to last about one year. The southbound Interstate 15 onramp at Saint Rose Parkway (state Route 146) will be closed from 9 p.m. Sunday through 5 a.m. Aug. 17 to allow road work. Drivers are advised to use alternate I-15 onramps at state Route 160 or Sloan Road. Drivers can expect overnight shutdowns on Interstate 15 in Victorville, Calif., from Monday night through the morning of Aug. 17 between 8 p.m. and 5:30 a.m. Traffic will be detoured off and back onto the freeway at Mojave Drive. Drivers can expect minor delays