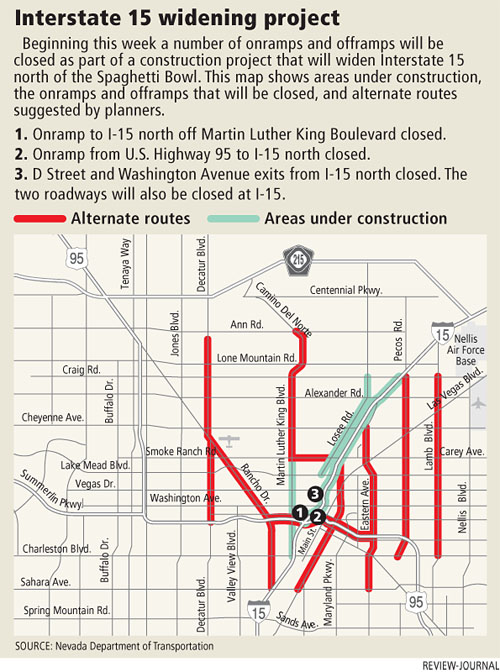 Thousands of north valley commuters will fall prey to a nightmarish commute starting this week.
Interstate 15 north of the Spaghetti Bowl will be reduced to two lanes and a number of onramps and offramps will be closed for more than a year, including interchanges at D Street and Washington Avenue. Lane closures will begin at 9 p.m. Monday for southbound lanes; northbound lanes will close Friday.
I'm sure you've seen the signs and heard the commercials on the radio.
It is all part of the widening of I-15 from six to 10 lanes from the Spaghetti Bowl to Lake Mead Boulevard and from four and five lanes to eight lanes from Lake Mead to Craig Road.
The construction will see the D Street, Lake Mead, Cheyenne Avenue and Craig interchanges reconstructed, and bridges at D Street, Bonanza Road and Washington Avenue rebuilt.
More than 170,000 motorists traverse the 51/2 miles of heavily congested interstate, and many of them will have to find a different way to work or expect to spend a lot of time sitting in traffic.
In terms of construction projects, this nightmare won't last as long as others, transportation officials hope. The widening, which began in November, is expected to last for only three years.
Scared yet? To quote Yoda: "You will be. You will be."
Beginning Friday, motorists will find the onramps to I-15 north from U.S. Highway 95, both north and south, and the onramp from Martin Luther King Boulevard, closed.
The D Street and Washington Avenue offramp from I-15 northbound also will be closed beginning Friday.
Those closures will be in place until August 2009.
In the next few weeks, Washington beneath I-15 will be closed in both directions — from 9 p.m. July 25 to 5 a.m. July 28 as workers demolish part of the overpass.
D Street at I-15 will also be closed in each direction, from 9 p.m. July 29 to 5 a.m. Aug. 1, for bridge demolition.
Bonanza Road near the Hancock Petroleum area will have lane restrictions in each direction from 5 a.m. Aug. 4 to Aug. 8 and will be closed in each direction from 9 p.m. Aug. 8 through Aug. 15.
Farther north, work will also continue on the Craig interchange.
Transportation officials are asking motorists to stay off the interstate. Although there will be two lanes open, the three lanes that have been open have barely been able to handle the number of vehicles on there now.
So commuters should be looking to use alternate routes. And for many residents in the north valley that means taking surface streets.
The problem is that there are a number of other construction projects on surface streets that also will affect commuters.
Craig Road west of I-15 is tied up as workers build an overpass over the Union Pacific railroad tracks. Martin Luther King Boulevard is tied up from Alta Drive to Carey Avenue.
Still, there are north/south surface streets available.
On the east side of I-15, motorists should consider Lamb Boulevard, Las Vegas Boulevard North, Pecos Road and Civic Center Drive, which becomes Eastern Avenue.
On the west side of I-15 consider using Losee Road, North Fifth Street, Camino Al Norte and Martin Luther King to Carey, as well as Decatur Boulevard, Simmons Street and Rancho Drive.
As more motorists use the surface streets, the Freeway and Arterial System of Transportation, or FAST, will retime traffic signals on many of these roads to help move the increased traffic. FAST oversees the timing of traffic lights for the Regional Transportation Commission.
Spokeswoman Tracy Bower said FAST will monitor the traffic situation on the surface streets in the coming weeks and make timing adjustments to traffic signals as needed.
Bower also encouraged commuters to consider carpooling or take alternate forms of transit. The fewer vehicles on the roads, the less congestion there will be.
In the end, Las Vegans have dealt with worse traffic situations. One that comes to mind is the U.S. 95 north widening project that took a decade to complete.
I would encourage you to map out what your plan will be and maybe even take a couple of dry runs before the closures begin.
I also would encourage commuters to visit www.i15project.com or call 938-5533 to learn more about the project.
And be patient, because we are all going to be living this nightmare together for the foreseeable future.
If you have a question, tip or tirade, call the Road Warrior at 387-2904, or e-mail him at roadwarrior@reviewjournal.com or fmccabe@reviewjournal.com. Please include your phone number.
The onramp to Interstate 15 southbound from westbound Craig Road will be closed through July 28, the Nevada Department of Transportation announced. And the I-15 north exit to Craig will be closed from 9 p.m. July 25 through 5 a.m. July 26. The closures are due to the ongoing $240 million I-15 north widening project. Motorists are advised to watch for posted detours or use alternate routes.
Far Hills Avenue, from Sageberry Drive to Carriage Hill Drive, will be closed starting Wednesday through the next eight months, the Clark County Public Works Department announced. As a result, motorists will not be able to cross over Far Hills at the Las Vegas Beltway. The closure is needed to accommodate workers who are constructing the new Far Hills interchange with the Beltway. The $56.9 million Beltway improvement project will also see a new interchange built at the intersection of the Beltway and Summerlin Parkway. Motorists needing to get to the west side of the Beltway should use the overpasses at Alta Drive or Charleston Boulevard.
Jones Boulevard, from Paseo Montana to Sheila Avenue, will be closed through 5 a.m. Monday, the Las Vegas Public Works Department announced. The closure is part of the $4 million flood control project.
The Public Works Department also announced that Clark Avenue, from Casino Center Boulevard to Third Street, will remain closed through Aug. 4 for utility work and McLeod Drive, from St. Louis Avenue to Sahara Avenue, will be closed through Aug. 8 for road construction.
REVIEW-JOURNAL