Tropicana set to go partially underground near UNLV
Updated May 8, 2023 - 8:17 pm
An updated alternative to a proposed traffic improvement project for Tropicana Avenue near UNLV resulted in millions of dollars of savings for Clark County.
Once proposed in 2018 as a $200 million elevated expressway at Tropicana Avenue and University Center Drive, which some UNLV officials at the time worried would be an eyesore, it's now been scaled down to a $115 million, partially below-grade road project, according to Denis Cederburg, Clark County Public Works director.
That $115 million price tag is also a reduction from the original reworking of the planned road configuration that leads to and from Harry Reid International Airport and the Resort Corridor. That $195 million model discussed in 2019 featured all traffic on Tropicana underground between Maryland Parkway and Paradise Road.
"We're appreciative of Clark County including UNLV in the planning and design process for this important project," UNLV President Keith Whitfield said. "We believe the selected design will improve traffic flow within this busy area near our campus while balancing safety and access needs for people traveling to and from UNLV and throughout the resort corridor."
The heightened price was due to having more utility lines that would need to be relocated and the projected price increased since the estimate for that project was made at the time.
"Recent construction costs have led us to take a look at cost saving measures to reduce the costs of the project," Cederburg said.
Now just westbound traffic will be moved underground, between Maryland Parkway and Paradise, in a diverging diamond interchange design. Eastbound traffic on Tropicana will remain above ground and will feature traffic lights at the intersections of Paradise and University Center, where one-way traffic flows to the south and north, respectively.
"Those two signals will operate differently than the current signals at those locations," Cederburg said. "Since each roadway will only be one way, it will be a two-phase signal, instead of the typical eight-phase signal."
The original below ground concept included eight bridges in various areas in the project's scope to allow for access to areas such as the Thomas & Mack Center and the ride hailing staging lot, located west of the arena across University Center.
"We've eliminated a lot of the complicated access that we had to the TNC (ride hailing lot)," Cederburg said. "We eliminated four of the eight bridges that we had proposed in the original concept."
The underground setup came after UNLV raised concerns with the previous elevated expressway option being an eyesore and would also block branding of the school and the T&M.
The benefits of the revised partially underground choice as opposed to the fully underground one include lower cost; better transit access; improved pedestrian and bicycle access; less impact on the airport during construction; and shorter construction time, Cederburg noted.
The cons of the reduced project include more traffic signals, more points of conflict at intersections and more at-grade roadway in the airport's area.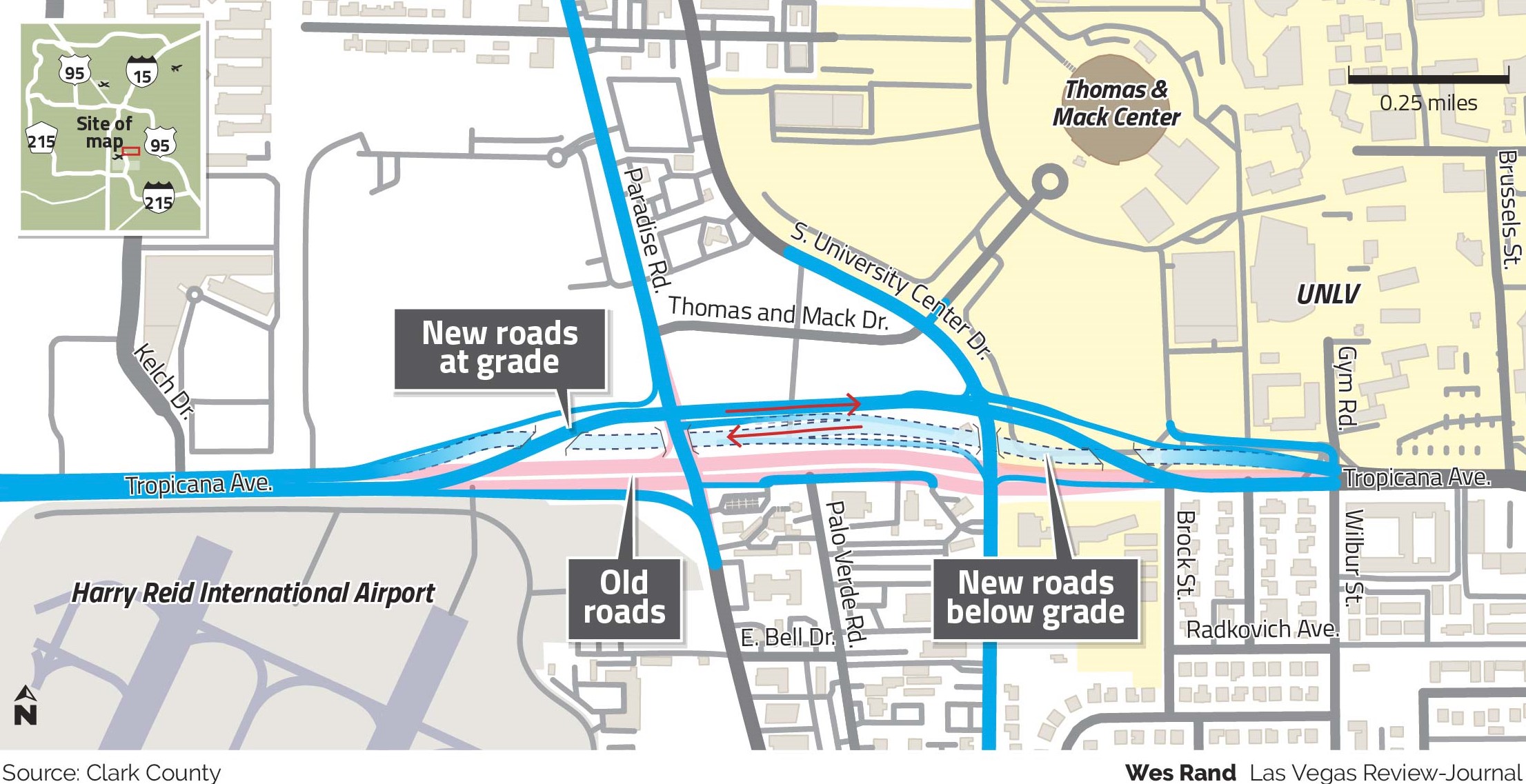 Interstate 15/Tropicana DDI
A diverging diamond interchange was added on Tropicana a few miles west of the planned project near UNLV. The Tropicana bridge over Interstate 15 was added as a temporary traffic pattern as part of the $305 million I-15/Tropicana project. That configuration has confused motorists since it was added with the Dropicana phase of multiyear project.
Nevada Department of Transportation spokesman Justin Hopkins said due to the issues that DDI presented, that they'll likely have to make adjustments. With the DDI in place for a couple of months, drivers have been adjusting.
"We have seen a lot less driver confusion in the Tropicana DDI over I-15 since the last time our crews made adjustments," Hopkins said. "I think we are starting to see the culmination of engineering support, public education and repeat drivers helping to make traffic flow more smoothly through that area."
Plans do call for an adjustment to the DDI later this month, as crews work to further enhance the intersection.
Phase 3 of the project, slated to begin in the fall, will see a different DDI pattern set up on the bridge when crews shift traffic to the currently under construction north half of the bridge, when they tear down the south half for reconstruction.
"We believe traffic flow will be better when that DDI opens because drivers will have more experience with the configuration and because the new half of that bridge will have more room to set up the DDI," Hopkins added.
Contact Mick Akers at makers@reviewjournal.com or 702-387-2920. Follow @mickakers on Twitter. Send questions and comments to roadwarrior@reviewjournal.com.