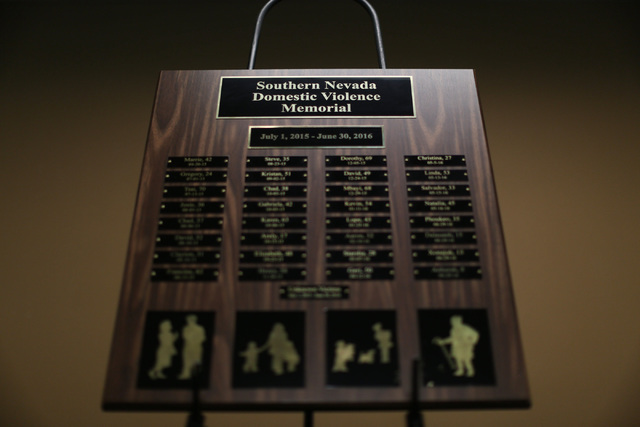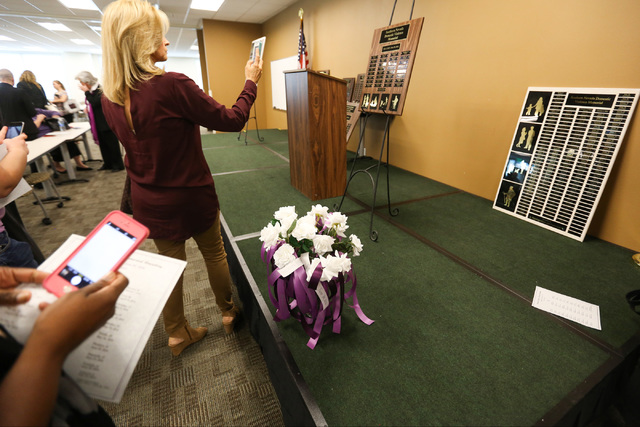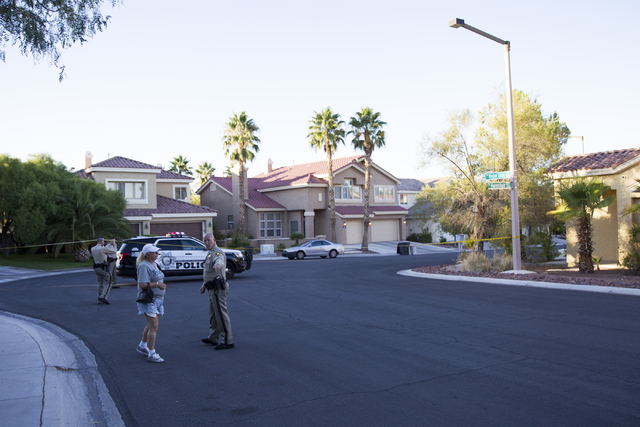 As red and blue lights flashed just outside Summerlin's Hillpointe neighborhood last week, Metropolitan Police Department homicide Lt. Dan McGrath said he had no explanation for the horror a few neighbors had just witnessed.
A grandmother had been shot in the head and killed in the middle of her street that afternoon, just inside the subdivision. Her grandson, police said, was the suspect.
Police never had been called to the house for a domestic incident before, and neither the victim nor the suspect had a criminal history.
"There's no demographic, no racial, no economic trends," McGrath said that night, talking more broadly about domestic violence while at the scene. "It's all over."
The Summerlin shooting happened Oct. 4, just four days into Domestic Violence Awareness Month, and the grandmother's death was one of 11 domestic violence homicides Metro has seen this year.
Two days later, Metro unveiled a new domestic violence plaque at the department's headquarters. The plaque lists the names of 32 women and men killed as a result of intimate partner violence between July 1, 2015, and June 30.
The plaque included four members of the Dej-Oudom family. Jason Dej-Oudom, 34, killed his three children and their mother on June 29 before he turned the gun on himself.
Last year, Clark County had 32 domestic violence homicides. In 2014, the county had 26, according to Hannah Brook, spokeswoman at Safe Nest, Nevada's largest domestic violence charity.
"Domestic violence is really a community issue, not just an individual's issue," Brook said. "When I say community, I'm talking neighbors, friends, the judicial system, the district attorney's office, law enforcement, our agency."
Many victims are aware of the resources available to them, Brook said. That is exemplified by the more than 50,000 people Safe Nest assists each year through advocacy, counseling and preventative education in Clark County.
Still, victims sometimes don't come forward.
"I think part of the problem sometimes is pride, or embarrassment that they're suddenly finding themselves in this situation, a situation they've never been exposed to or dreamed of," Brook said.
She said it's common that police respond to a domestic battery call involving serious injuries or a homicide and learn that police had never been called to the home before.
"That's usually the case — that a number of incidents will happen before they pick up that phone and call 911, or before a family member picks up that phone and calls 911," Brook said.
That's why it's important for co-workers, friends and neighbors to watch out for each other, she said.
"Would you rather be embarrassed calling 911, or not calling 911 and there being a homicide?" Brook asked. "People don't like to talk about it. It's not a pretty issue. Too many people can relate to it, and it's just a very uncomfortable subject matter that people don't like to address."
For more information, call the Safe Nest hotline at 702-646-4981. In an emergency, call 911.
Vegas Vice appears every other Saturday. Contact Rachel Crosby at rcrosby@reviewjournal.com or 702-387-5290. Follow @rachelacrosby on Twitter.