Nine hospitalized after pickup crashes into Food 4 Less in Las Vegas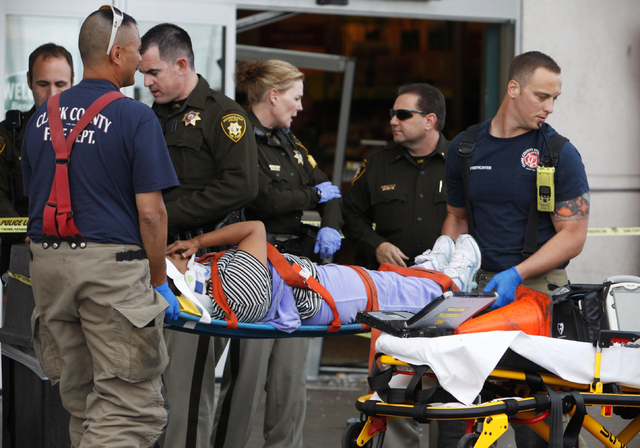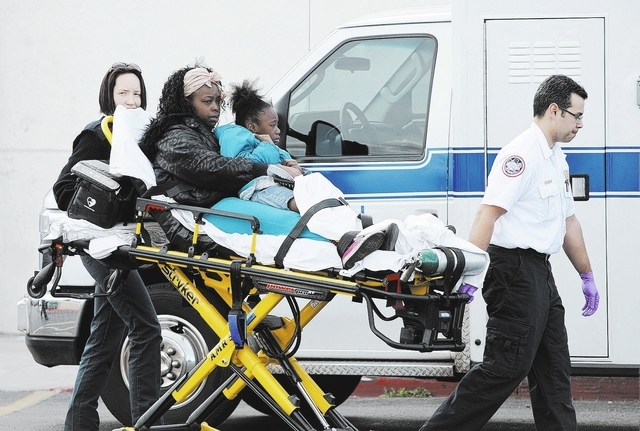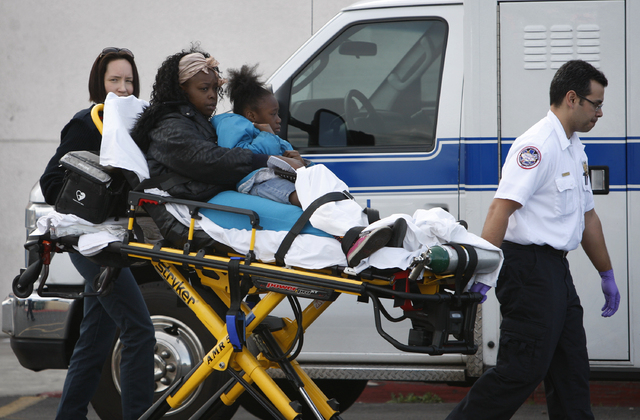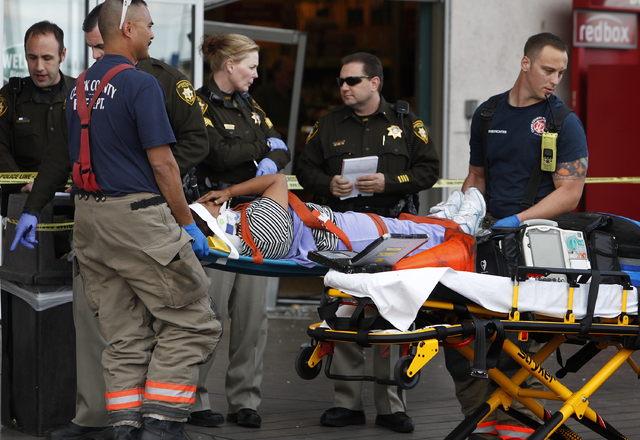 A woman in her 80s apparently lost control of her pickup and drove through a crowded Food 4 Less in Las Vegas, causing cashiers and customers to duck for cover and sending nearly a dozen people to hospitals with minor to moderate injuries Saturday.
At least 17 people were treated at the scene for cuts, scrapes and bruises, and nine were taken to University Medical Center and Sunrise Hospital and Medical Center, one of them in serious condition.
But there were no fatalities or life threatening injuries in the 2:49 p.m. accident at the intersection of Sahara and Eastern avenues, just south of downtown, said Lt. Ken Romane, a watch commander for the Metropolitan Police Department.
The driver, who was not immediately identified, stood outside the store after the accident. She didn't suffer any visible injuries and she wasn't taken into custody. Later, her son came to the scene with a service dog and drove her home, he said.
Romane said she was driving through the parking lot and then, "for some unknown reason still under investigation," her pickup went through the front doors, then veered to the right inside before winding up in the rear of the store.
She was driving a white Ford 150 pickup with a camper shell on the back.
"It is kind of amazing when you look at the significant property damage that we didn't have fatalities," Romane said. "There were a lot of things flying, a lot of broken glass, a lot of stuff getting knocked around."
Romane said it's not uncommon for people to crash into the sides of buildings or drive through the fronts of stores in Las Vegas, but what is uncommon is that the vehicle made it all the way to the back of the store.
Bobby Carranza, a cashier, was hit headon by the truck, family members said. He was pushed all the way to the back of the store, his legs pinned against a cooler in Aisle 6.
"But it looks like he's going to be OK," said Irene Carranza, 28, a worried sister who rushed to UMC when she heard what had happened.
A fellow cashier, who was at the hospital but didn't want to give her name, said she heard the screech of the tires, then saw the pickup hit Carranza.
Customer Jodi Robinson, 40, suffered injuries to her ankles. She had all her clothes "cut off her" as she was being treated at UMC, said her boyfriend, Phillip Cancellaro, 51.
"I'm stilll waiting until they find the keys to her Infiniti," he said outside of the hospital. "They're somewhere in the store. They flew right out of her hand as she was buying groceries."
Cancellaro said Robinson told him in the emergency room bed that she ducked behind a "snack" shelf, which might have saved her life.
"We're talking about someone who drove straight through the front doors, then hung a right. She's lucky to be alive," he said, referring to the driver.
Dozens of employees and onlookers lingered on the scene for several hours after the accident. Many expressed shock and disbelief, though they did not want to be identified.
One cashier held back tears. "I'm scared to go to work tomorrow," she said.
One employee was sporting a large cut on his face that he got dodging the truck. A few employees said it seemed as if the truck accelerated inside the store.
"They'd better hire a cleanup crew, 'cause I'm not doing it," said one worker.
Food 4 Less managers said company policy prohibits employees from speaking to the news media.
Police halted vehicles coming into the lot while they interviewed witnesses and checked on the injured.
Through the store's mangled entrance, workers and police were seen clearing a path to get the truck out. Debris was moved in shopping carts and swept to the side as the pickup was backed up and loaded onto a flatbed tow truck.
The pickup had little visible damage: a broken taillight, a dent to the rear, and a bent front grill.
Romane said he didn't know if charges will be filed against the driver.
Contact reporter Wesley Juhl at wjuhl@reviewjournal.com and 702-383-0381. Follow him on Twitter @WesJuhl.