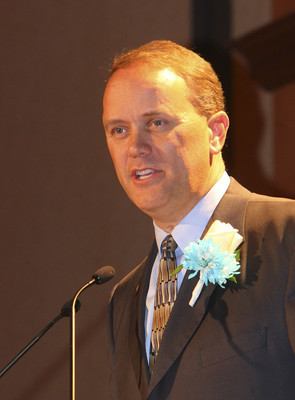 North Las Vegas is all about the young.
So said Mayor Michael Montandon at Thursday's annual State of the City address, delivered to about 700 people at Texas Station.
The mayor, citing U.S. Census Bureau data, built his 30-minute speech around the fact that North Las Vegas has more residents under the age of 18 than any other large city in Nevada and that the city's median age is 28.
He listed "jobs, attainable housing, the amenities, the family-oriented lifestyle and a quality of life second to none in the valley" among the reasons young people and young families flock to the city.
North Las Vegas' youthful aura "isn't just a feeling, it's a reality," the mayor said, adding that the city is working to ensure it has plenty to offer both "the young and young at heart."
That served as the jumping off point for Montandon to brag about new and ongoing projects in the city, including the following:
• The $295 million VA hospital under construction on 154 acres at Interstate 215 and Pecos Road. The 900,000-square-foot building will include a 90-bed hospital and a 120-bed nursing home. It's expected to open in 2011.
• A 36,000-square-foot multi-generational center, called Sky View, to be built on 36 acres near Centennial Parkway and Statz Street. The project includes indoor lap and exercise pools, a 5,000-square-foot fitness room, basketball courts, baseball fields, a playground and dog run. The first phase of the project is slated to open in the spring of 2010.
• A $14.5 million park planned for 20 acres at the southeast corner of Tropical Parkway and Bruce Street.
• A $13 million, 16,400-square-foot library to be built on 4.2 acres at Alexander Road and Martin Luther King Boulevard.
• A mall planned for the southeast corner of Craig Road and North Fifth Street. The mall, Desert Star, will include 160 acres of mixed-use development, condos and townhouse units.
• Another mall, planned for 130 acres near Interstate 215 and Losee Road.
• The conversion of Craig Ranch Golf Course into Craig Ranch Regional Park, using $52 million in Southern Nevada Public Land Management Act money.
The new park will be "one of the most exciting parks anywhere west of the Mississippi," Montandon said.
• A new downtown City Hall facility.
• Development of a University of Nevada, Las Vegas campus on 2,000 acres of federal land near Interstate 15 and north Interstate 215.