No one hurt as slabs fall at construction site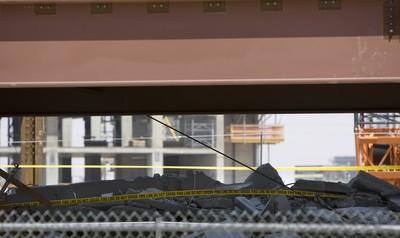 Three large concrete slabs fell in a chain-reaction accident Monday morning at Fontainebleau Las Vegas less than a week after a construction worker fell to his death at the site.
No one was hurt in Monday's incident, but Clark County Fire Department spokesman Scott Allison said workers on the steel beam parking garage were fortunate considering the weight of the slabs, which measure 60 feet long by 9 feet wide.
"If someone would have been under these, there surely would have been a death," Allison said. "We were very lucky."
Firefighters rushed to the scene on the Strip and Riviera Boulevard about 10:25 a.m. after a slab on an upper floor of the parking garage fell, crashing onto the floor below and knocking that slab into the next floor, which also fell. The three slabs tumbled to the ground level in a heap of rubble.
Unsure whether anyone was trapped, dozens of firefighters responded, including heavy rescue teams trained to get people out of collapsed buildings.
"Unfortunately in our business you automatically think the worst," Allison said. "If there had been somebody trapped, if there had been somebody injured, we would have been totally prepared."
Crew supervisors conducted a head count of the workers on the site and accounted for everyone. By 11:30 a.m. officials had determined no one was injured during the collapse.
In a statement released through Rogich Communications, Fontainebleau said it was thankful no one was hurt. Construction on the garage has been halted until an investigation into the accident is done.
"The more construction we have, the more of these kinds of accidents we're going to see," Allison said.
The Nevada Occupational Safety and Health Administration was investigating Monday's incident and Thursday's death of the worker who fell.
Norvin Tsosie, 36, died after he and two other workers fell from a 30-foot-high wall on a different part of the construction site. All three workers wore safety harnesses.
Two fell to the ground and suffered minor injuries, but Tsosie's harness failed and he fell into a 10-foot-deep hole. He died later that day at Sunrise Hospital and Medical Center.
General contractor Turnberry West Construction started work at Fontainebleau Las Vegas in February. Slated to open in late 2009, the $2.9 billion Fontainebleau Las Vegas is to have 3,889 rooms and tower 63 stories over the Strip.