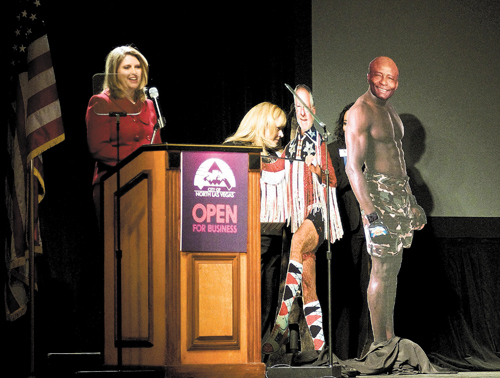 Many a successful speech begins with a joke. North Las Vegas Mayor Shari Buck tried to lighten the mood with props.
The mayor kicked off her mostly upbeat State of the City address at Texas Station on Thursday by unveiling life-size cutouts of Las Vegas Mayor Oscar Goodman and North Las Vegas Mayor Pro Tem William Robinson.
In the cutouts, the two septuagenarians' heads were attached to the bodies of other men. For Goodman, it was Liberace, clad in patriotic hot pants. Robinson's mug, meanwhile, was perched atop the taut, shirtless body of an Ultimate Fighting Championship fighter, who apparently was meant to represent boxer Muhammad Ali.
"When I was first elected, Mayor Goodman encouraged me to get two escorts like the showgirls he travels with," Buck explained.
It's tough to find the bright side of what most would consider North Las Vegas's terrible past year — a year that brought scores of layoffs, budget cuts and service reductions.
But Mayor Shari Buck did her level best to spread optimism during her 23-minute speech.
"These hard times have not paralyzed us with fear," Buck said. "They have motivated us to be innovators."
The speech's theme was "North Las Vegas: Open for Business," and Buck spent a good chunk of time talking about the city's efforts to attract and keep industry.
California-based Amonix, a solar power system manufacturer, will soon open a plant in the city, bringing 278 jobs, she said. Other companies that have lately expanded or built in North Las Vegas include Republic Services, Southwest Gas, El Super grocery store and Priority Plastics, she said.
"The grim economic projections and news of slumping sales haven't deterred businesses from coming to North Las Vegas," she said. "They're just getting more creative and capitalizing on opportunities they might otherwise have overlooked."
More good news is that despite the city's $35 million shortfall, its major projects have stayed on schedule, she said. The North Fifth Street arterial, the largest road improvement project in the city's history, opened last month. The $240 million water reclamation facility is slated to open later this year. The $27 million SkyView multigenerational recreation center is complete. And the new, $131 million City Hall project is expected to be completed by October.
Despite its challenges, the city "has maintained a positive outlook," Buck said.
Those challenges are many. The city, struggling from the effects of the recession, has undergone round after round of budget cuts in recent years. In June the city laid off 188 workers. Another 44, all North Las Vegas Detention Center workers, were let go in October after the detention center lost about a third of its inmates to a facility for federal inmates in Pahrump.
"Over the past year, North Las Vegas has weathered the most difficult economic crisis in its 65-year history," Buck said. "It has been a trying time."
Contract concessions from the city's Teamsters, fire and police unions have helped keep the city afloat, she said.
"Their sacrifices have strengthened my belief that together we can do more than survive," she said. "We will emerge greater than we were before."
Contact reporter Lynnette Curtis at lcurtis@review journal.com or 702-383-0285.