NTSB says New York commuter train was going 82 mph before crash
December 2, 2013 - 1:53 pm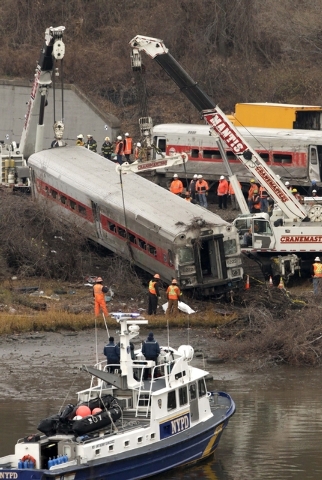 YONKERS, N.Y. — A commuter train that derailed over the weekend, killing four passengers, was hurtling at 82 mph as it entered a 30 mph curve, a federal investigator said Monday. But whether the wreck was the result of human error or brake trouble was still unclear, he said.
Asked why the train was going so fast, National Transportation Safety Board member Earl Weener said: "That's the question we need to answer."
Weener said the information on the locomotive's speed was preliminary and extracted from the Metro-North train's two data recorders, taken from the wreckage after the Sunday morning accident in the Bronx.
He also said investigators had begun interviewing the crew members, but he would not disclose what the engineer had told them.
Weener said the throttle went to idle six seconds before the derailed train came to a complete stop — "very late in the game" for a train going that fast" — and the brakes were fully engaged five seconds before the train stopped.
He said investigators were also examining the engineer's cellphone — apparently to determine whether he was operating the train while distracted.
Asked whether the tragedy was the result of human error or faulty brakes, Weener said: "The answer is, at this point in time, we can't tell."
As investigators mined the data recorders for information, workers righted the fallen cars along the curve, a bend so sharp that the speed limit during the approach drops from 70 mph to 30 mph.
The wreck came two years before the federal government's deadline for Metro-North and other railroads to install automatic-slowdown technology designed to prevent catastrophic accidents. But with the cause of Sunday's wreck unknown, it was not clear whether the technology would have made a difference.
The engineer, William Rockefeller, was injured and "is totally traumatized by everything that has happened," said Anthony Bottalico, executive director of the rail employees union. He said Rockefeller, 46, was cooperating fully with investigators.
"He's a sincere human being with an impeccable record that I know of. He's diligent and competent," Bottalico said. Rockefeller has been an engineer for about 11 years and a Metro-North employee for about 20, he said.
The NTSB has been urging railroads for decades to install technology that can stop wrecks caused by excessive speed or other problems. Congress in 2008 required dozens of railroads, including Metro-North, to install the "positive train control" systems by 2015.
But the systems are expensive and complicated and cannot prevent an accident if there is a brake failure. Railroads are trying to push back the deadline a few years.
The Metropolitan Transportation Authority, which runs Metro-North, awarded $428 million in contracts in September to develop the system for Metro-North and its sister Long Island Rail Road. But the MTA has asked for an extension on the deadline to 2018, saying it faces technological and other hurdles in installing such a system across more than 1,000 rail cars and 1,200 miles of track.
While the train's seven cars and locomotive were gradually returned to their tracks Monday, the 26,000 weekday riders on the railroad's affected Hudson Line faced a complicated commute.
Many used shuttle buses and cars to get to work. But no major delays were reported during the early rush hour, railroad spokesman Aaron Donovan said.
Marketing worker Leanne Bloom normally takes the Hudson Line to work but drove to a stop on another line instead. She was surprised to find the train nearly empty.
"I was expecting long lines" at the station, she said. "But I made it very easily."
On Sunday, the train was about half full, with about 150 people aboard, when it ran off the rails around 7:20 a.m. while rounding a bend where the Harlem and Hudson rivers meet. The lead car landed inches from the water. In addition to the four people killed, more than 60 were injured.
Many victims had been released from hospitals by Monday afternoon.
Seven were still in an intensive-care unit at St. Barnabas Hospital, some with spinal injuries, emergency department director Dr. David Listman said. And two patients were reported in critical condition at NewYork-Presbyterian Hospital.
The injured included five police officers who were heading to work, according to Mayor Michael Bloomberg, and a 14-year-old boy who was taking a weekend ride with his father on the same train the youngster usually takes to school.
The train's assistant conductor, Maria Herbert, suffered an eye injury and a broken collarbone, Bottalico said.
Gov. Andrew Cuomo said on NBC's "Today" show that he thinks speed will turn out to be a factor in a crash he called "your worst nightmare."
The MTA identified the dead as Donna L. Smith, 54, of Newburgh; James G. Lovell, 58, of Cold Spring; James M. Ferrari, 59, of Montrose; and Ahn Kisook, 35, of Queens. Three of the dead were found outside the train; one was inside.
Lovell, an audio technician who had worked the "Today" show and other NBC programs, was traveling to Manhattan to work on the Rockefeller Center Christmas tree, longtime friend Janet Barton said. The tree-lighting ceremony is Wednesday night.
"He always had a smile on his face and was quick to share a friendly greeting," "Today" executive producer Don Nash said in a message to staffers.
The derailment came amid a troubled year for Metro-North, and marked the first time in the railroad's 31-year history that a passenger was killed in an accident.
In May, a train derailed in Bridgeport, Conn., and was struck by a train coming in the opposite direction, injuring 73 passengers, two engineers and a conductor. In July, a freight train full of garbage derailed near the site of Sunday's wreck.
———
Eltman reported from Mineola, N.Y. Associated Press writers Kiley Armstrong, Verena Dobnik, Deepti Hajela, Ula Ilnytzky, Colleen Long, Jake Pearson and Jennifer Peltz contributed to this report.