Obama, Romney both to visit Las Vegas this week
October 20, 2012 - 9:14 am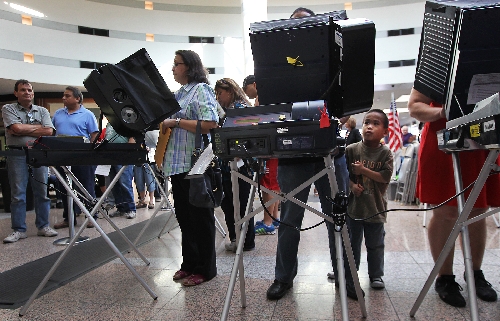 In back-to-back visits to Southern Nevada, President Barack Obama and his GOP challenger, Mitt Romney, will campaign here this week after their final debate Monday on foreign policy that will pit the commander in chief against a rival who accuses him of weakening America overseas.
On Tuesday, Romney and his running mate, Paul Ryan, will hold a rally together at the Henderson Pavilion, making their first joint appearance in the Silver State. Romney will then campaign Wednesday in Reno.
Obama is scheduled to speak at a late-night Wednesday rally in Las Vegas as part of a two-day blitz of six battleground states that could decide who wins the White House, his campaign announced Saturday.
No details were available Saturday on the president's Las Vegas visit, his ninth trip to Nevada this year, including a three-day stay in Henderson to prepare for the first Oct. 3 debate.
Obama has come to the state at least 16 times since becoming president in 2009.
Romney has been here nearly as often in the past two years.
The dueling visits by Obama and Romney attest to Nevada's status as a swing state that remains up for grabs two weeks before the Nov. 6 election and with early voting under way.
Obama has the edge over Romney in the Silver State, according to recent polls, but the lagging economy in Nevada has made the president vulnerable.
Obama will kick off his two-day, nonstop tour across battleground states on Wednesday, his campaign said.
After leaving Iowa, Obama will visit Denver, then attend a "late-night grass-roots event" in Las Vegas.
After Nevada, he will hit Florida, Virginia and Ohio as well as Chicago where he'll vote early.
The public is invited to the Romney-Ryan rally Tuesday at the Henderson Pavilion, with doors opening at 9:45 a.m. The pavilion has 2,444 fixed seats, with overflow grass seating that can accommodate another 1,500 people.
Ahead of the final debate in Boca Raton, Fla., surrogates for Obama and Romney on Saturday set the stakes for the 90 minute face-off, which is set to be widely televised beginning at 6 p.m. PDT Monday.
Madeleine Albright, who was secretary of state under President Bill Clinton, said Obama has "passed the commander-in-chief test" during his first four years in office. He ended the war in Iraq as promised and is ending the war in Afghanistan, setting a timeline to do so by the end of 2014, she said in a telephone interview.
Al-Qaida leader Osama bin Laden was killed by the U.S. military under Obama's orders, she added, noting that Romney once said "it's not worth moving heaven and Earth" to hunt down the man responsible for the 9/11 attacks.
Albright also defended the president's handling of what she called the "Arab Awakening" and its aftermath, with longtime governments falling to revolutions in Tunisia, Egypt, Yemen and Libya – in the last case with U.S. support for rebel forces. Syria remains in violent turmoil with minimal and indirect U.S. intervention.
"Libya is not Syria," Albright said, adding the United States shouldn't take unilateral actions but should work with coalitions in the Middle East where problems aren't quickly solved.
"The Arab Awakening is a very long story," she said.
Obama has come under criticism from Romney for sloppy handling of the militant attack on the U.S. Consulate in Benghazi, Libya, which killed the U.S. ambassador and three other Americans.
The Obama administration initially blamed a protest for the violence and took days to publicly call it a terrorist attack.
Albright said reliable information "came from a variety of sources" and took days to sort out.
Obama has since called for an investigation into the attack and for tightened security, she noted.
"I think there has been an attempt by the administration to say what they know when they know it," Albright said. "I think the hard part is for you to give definitive answers when they don't exist anymore."
Albright scorched Romney for quickly criticizing Obama before all the facts were known.
"I think it's disrespectful to make this a political football," Albright said.
Eliot Cohen, a foreign policy expert who has helped Romney prepare for the debate, shot back that it was dis­respectful for Obama to campaign in Las Vegas the day after the U.S. ambassador was killed.
Cohen said U.S. embassies in the Arab world remained under assault by angry crowds following the Sept. 11 Benghazi strike.
"I do not understand how people can be critical of Gov. Romney and not see that what the president did and said is a lot worse because he is commander-in-chief," Cohen said in a telephone interview.
Cohen, who was a counselor to former Secretary of State Condoleezza Rice, said the Obama administration has not recognized how much al-Qaida and its allies have changed in recent years, resulting in an incoherent policy.
Cohen said al-Qaida has shifted from a tightly controlled central organization to franchises operating in unstable states.
"There's no question we've achieved things against the al-Qaida of 11 years ago," Cohen said. "But the enemy has adapted. And they've (Obama administration) fooled themselves into thinking our problem is with al-Qaida as it existed 11 years ago. The nature of the problem has expanded. I think that explains their inability to understand it correctly."
Albright said Romney and Ryan are not prepared to lead the nation on foreign policy because neither has experience.
In comparison, Obama served on the Senate Foreign Relations Committee before becoming president and Vice President Joe Biden is an experienced international hand, Albright said.
"Gov. Romney has kind of a shallow foreign policy," she said, adding he has "zero foreign policy experience."
Cohen acknowledged Obama as president has access to information and hands-on experience Romney can't match. But he argued Romney has dealt with foreign relations as head of the Salt Lake City Winter Olympics in 2002.
Cohen also said the former Massachusetts governor will have core U.S. principles to guide him as commander in chief.
Obama, Cohen argued, came into office wanting to reach out to U.S. foes and global competitors, from Iran to Russia and China, instead of shoring up relations with U.S. friends, from Israel to Japan to European countries.
"Romney's guiding principle is first you start with your friends," Cohen said. "You want international cohesion. Then deal with the in-between (countries) and those who are not your friends."
Cohen said Romney would be harder on China and on Iran, which is suspected of developing a nuclear program that could help its government build a bomb. Tough economic sanctions aren't enough to curb Iran's ambitions, and the United States must make it clear that the threat of military action is real, Cohen said.
"There's nothing that's more important than being credible," Cohen said. "That's probably the biggest difference between President Obama and Gov. Romney on Iran."
Albright scoffed at the tough guy talk coming from the Romney campaign. She said there's "no daylight between" the United States and Israel, which fears the nuclear threat from Iran and could take military action itself.
"If he thinks it's time to go to war, he ought to say so," Albright said of Romney.
As for China, she said Romney has proclaimed he would declare on his first day in office that China's government is a "currency manipulator" but he hasn't said what he would do the second day when China retaliates on trade.
She said Obama is winning cases against China in the World Trade Organization and there is no need to start a trade war.
Contact reporter Laura Myers at lmyers@reviewjournal .com or 702-387-2919. Follow her on Twitter @lmyerslvrj.
PRESIDENTIAL CANDIDATES TICKETS
Free tickets for Mitt Romney's presidential campaign event in Henderson can be picked up at these locations through Monday, from 9 a.m. to 9 p.m.:
• Las Vegas: 9640 W. Tropicana Ave., Suite 106
• Henderson: 157 N. Gibson Road, Suite 110
Tickets also are available online at www.mittromney.com/NV.
Tickets to Wednesday's President Barack Obama campaign event in Las Vegas can be obtained at these locations starting at 1 p.m. today, continuing at 9 a.m. Monday and Tuesday:
• Las Vegas: Pearson Community Center, 1625 W. Carey Ave.; East Las Vegas Community Center, 250 N. Eastern Ave.; Nellis Shopping Center, 1200 S. Nellis Blvd.; Arroyo Market Square, Las Vegas Beltway and Rainbow Boulevard; campaign office, 7469 W. Lake Mead Blvd., Suite 170.
• North Las Vegas: Lone Mountain, northwest corner of West Lone Mountain and North Decatur Boulevard.
• Henderson: Campaign office, 2925 Green Valley Parkway.
Obama tickets will be distributed on a first-come, first-served basis, with one ticket per person. Tickets are required for entry into the event.
Las Vegas Review-Journal