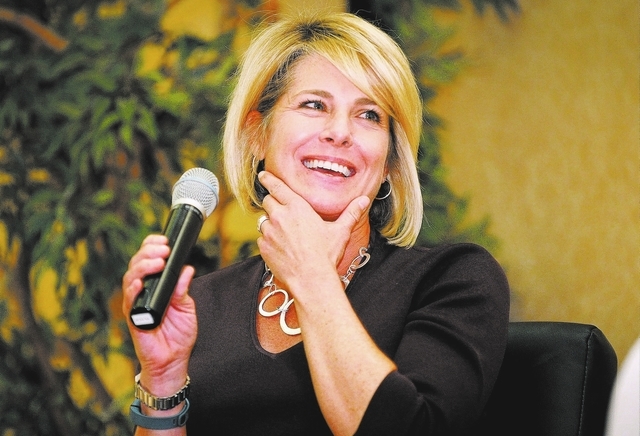 If you're waiting for a train from Victorville, Calif., to Las Vegas or hoping for a promptly built interstate from Southern Nevada to Phoenix, don't hold your breath — at least as far as the feds are concerned.
That was the message during an hourlong talk Monday between national and regional transportation experts.
Tom Skancke, a former transportation consultant who is now chief of the Las Vegas Global Economic Alliance, and Tina Quigley, general manager of the Regional Transportation Commission, each said transportation woes in Southern Nevada are, at least in part, because political forces beyond local control.
The talk at Texas Station, attended by about 60 people, was one in a series of Hashtags and Headlines events sponsored by the Review-Journal and moderated by columnist Steve Sebelius.
The talk covered a range of transportation issues but gained focus when the talk turned to money and time required to pull off big projects that require federal help.
One such project, the proposed high-speed train between Victorville and Las Vegas, met its apparent demise when it ran afoul of the rules of a U.S. Department of Transportation loan program that required, among other things, components of the project to be sourced from the United States.
"It is permanently suspended," Quigley said of the project, which had a cost estimate of nearly $7 billion. She referred to the "buy America conundrum."
She said, "To qualify for fed funds would have needed to be American technology, but there is no American high-speed train technology."
Skancke put a finer point on it.
"It is caught up in a political quagmire," Skancke said, adding that the obstacle could have been overcome if there were political will to go forward.
On the flip side, becoming a political prize or weapon can be the death knell for even well-meaning proposals, he said.
"When you get put into that kind of vortex, it is really difficult to get out," Skancke said.
Although Nevada counts Senate Majority Leader Harry Reid among its congressional delegation, Skancke said battles for funding and investment are bigger than any one politician.
"It is not one person in Washington, D.C., it is 435 plus the White House," he said.
The failed train plan wasn't alone among transportation ideas to be derailed by political forces.
Another proposal that can't gain political momentum needed for approval is the idea of paying for roads and highway through a mileage tax, as opposed to current taxes on fuel consumption.
Not only has the fuel tax rate remained flat despite inflation driving up the cost of projects, the tax can't account for people buying less fuel because vehicles are more energy-efficient.
In Clark County, Quigley successfully lobbied to temporarily index the local fuel tax to keep pace with inflation, but the index expires in 2016 and would need to win voter approval to continue.
Skancke said a mileage tax would be more comprehensive and fair because people would be paying for actual miles traveled.
"Wouldn't you rather pay for what you use than what you don't use?" he asked.
The two also talked about the proposed Interstate 11 freeway between Las Vegas and Phoenix, thought to be the only two major cities in the same region without such a connection.
Congress has designated a stretch of U.S. Highway 93 from Las Vegas to Wickenberg, Ariz., as an interstate route, but the project is unfunded.
Skancke said "in a perfect world" such a project could go from designation to construction in three to five years but estimated in reality it probably will take much longer.
Quigley said it will take lobbying pressure from officials in Nevada and Arizona to get the project moving.
"How do we make sure we are the squeaky wheel Congress is hearing about," Quigley said, saying the project still needs a designation from Wickenberg to Phoenix and assistance in getting needed land from the Bureau of Land Management.
Contact reporter Benjamin Spillman at bspillman@ reviewjournal.com or 702-383-0285.