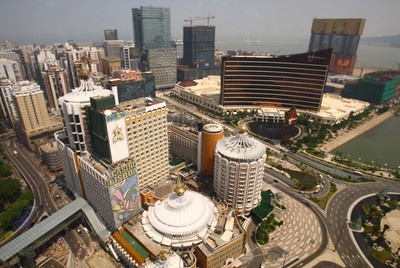 MACAU
Gaming has been part of Macau since 1937, when two Chinese citizens converted the city's Central Hotel into a casino. The pair held the monopoly until 1962, when controversial Chinese businessman Stanley Ho and his partners won Macau's exclusive gaming license, which they held until 2002.
Law enforcement has alleged Chinese organized crime triads influenced Ho's casinos.
The Portuguese colonized Macau in the 16th century as the first European settlement in the Far East.
In 1987, China and Portugal signed an agreement to create the Macau Special Administrative Region and return the area to Chinese rule by December 1999. China's government promised Macau would not fall under the country's communist economic system and would be autonomous in all matters except foreign affairs and defense.
Macau's government soon established the Casino Concessions Committee to select three new concessionaires with final approval given to the Macau SAR's chief executive, Edmund Ho (no relation to Stanley Ho).
In March 2002, the concessions were awarded to Stanley Ho, a partnership between Galaxy Entertainment and Las Vegas Sands Corp., and Wynn Resorts Ltd.
The three concession holders were allowed to each award a single sub-concession.
SJM — Stanley Ho
The 86-year-old Hong Kong billionaire, who is the executive chairman of Hong Kong-based Shun Tak Holdings Ltd., headed the original consortium of casino investors. The group, known as Sociedade de Turismo e Diversoes, held the casino monopoly for 39 years.
The original Lisboa was built in 1970 with its 12-story rounded hotel tower that resembles the old Sands Las Vegas. The smoky, aging casino continues to operate with 146 table games and 107 slot machines. The Lisboa hotel was expanded in 1991 to a total of 927 rooms.
SJM opened the neighboring Grand Lisboa, a $375 million casino, in February with 240 gaming tables and 480 slot machines. A 500-room hotel tower, being constructed in the shape of a giant lotus flower, is expected to open in February.
Including the Lisboa properties, SJM operates a total of 18 casinos in Macau, including the Babylon Casino on Fisherman's Wharf, Greek Mythology on Taipa Island, Grand Emperor, Golden Dragon and the Fortuna.
SJM also has several land parcels in Macau for future casino development, including the Shun Tak Nam Van site. It is adjacent to the Macau Tower, a Stratosphere-like observation tower, retail center and convention location.
Galaxy Entertainment Group
A Hong Kong-based company that originally bid on the Macau casino market with Las Vegas Sands Corp., Galaxy operates five casinos in Macau, including the President and the Grand Waldo on the peninsula.
In October 2006, Galaxy opened the $325 million StarWorld Hotel and Casino, a 34-story, 500-room hotel that features a casino with 500 slot machines and 211 table games.
Galaxy is building the Mega Resort near the Sai Wan Bridge, one of three arteries that connects the Macau Peninsula with Taipa Island and the Cotai Strip. Scheduled to open late next year, the Mega Resort is expected to include 2,500 hotel rooms in two towers and a casino with more than 300 table games and 1,000 slot machines.
Las Vegas Sands Corp.
The first American casino operator to enter Macau, Las Vegas Sands split with Galaxy and took control of the sub-concession. The company opened the $265 million Sands Macau in May 2004 with 300 gaming tables and 666 slot machines near the Macau waterfront. Within a year, the casino was paid off through cash flow.
The Sands Macau casino was expanded this year to include more than a 1,000 slot machines and more than 650 table games. A new 289-room hotel tower opened in September to complement the casino's original 51 rooms.
In the meantime, Las Vegas Sands has moved to become Macau's dominant casino operator.
In August, the company opened the $2.4 billion Venetian Macau on the Cotai Strip. With 3,000 hotel rooms and suites, The Venetian almost doubled the hotel offerings in Macau. The 546,000-square-foot casino, with 4,100 slot machines and 870 table games, is easily the world's largest gambling hall. The Venetian also includes 1 million square feet of retail space, 1.2 million square feet of convention space, and 15,000-seat sports arena.
Las Vegas Sands is not done building on the Cotai Strip. The company is developing five other casino sites on Cotai, with plans to spend more than $12 billion to build 11 hotel-casinos with almost 20,000 rooms. The hotels will include some of the world's most well-known brands and will open in phases through 2009.
The first of the new Cotai resorts, a 1,000-room Four Seasons Hotel, will open in February. Las Vegas Sands will operate the casinos at each of the Cotai hotel properties.
Wynn Resorts Ltd.
The $700 million Wynn Macau opened in September 2006 and immediately set out on an expansion plan.
The 600-room resort, which is a scaled-down version of Wynn Las Vegas, opened with 220 table games and 365 slot machines. A $450 million expansion to the casino, which added 25 table games and 200 slot machines, opened in September. Another casino expansion, adding 25 table games and 545 slot machines, is scheduled for completion in January.
A second hotel tower, the $600 million Wynn Macau Diamond Suites with 400 rooms, is expected to open by 2009.
Wynn also has secured a 52-acre site on the Cotai Strip where the company is formulating plans to develop up to three hotel-casinos.
Melco PBL Gaming
A joint venture between Australia's Publishing and Broadcasting Ltd. and Lawrence Ho, son of Stanley Ho, is targeting four casino locations in Macau on four different sites.
The partnership purchased a casino sub-concession from Wynn Resorts for $900 million last year.
The company's first casino is the $585 million Crown Macau, on Taipa Island, which opened in May. The 216-room upscale resort has a multilevel casino with 220 table games and 500 slot machines.
Melco PBL is spending more than $2.8 billion to develop the City of Dreams site across the street from The Venetian on the Cotai Strip. Expected to open in 2009, City of Dreams reportedly has shunned the idea of an underwater casino, but still plans a 420,000-square-foot gaming space with 450 tables and 3,000 slot machines. The site is expected to have multiple hotels totaling more than 1,700 rooms, including a Hard Rock and Grand Hyatt.
Melco PBL also is listed as the gaming partner in Macau Studio City, a multihotel and entertainment project being developed just down the road from City of Dreams on the Cotai Strip.
Melco PBL controls a potential casino location on the Macau Peninsula that is near the Sands Macau where the company plans to open a resort by 2010. Melco PBL also operates the Mocha Clubs, a chain of Macau slot parlors.
MGM Mirage/Pansy Ho
SJM sold its sub-concession in 2004 to a 50-50 joint venture between MGM Mirage and Pansy Ho, Stanley Ho's daughter. MGM Mirage paid $200 million cash and agreed to share 50 percent of all future earnings from the venture with Pansy Ho.
The $1.1 billion MGM Grand Macau is expected to open by December with 800 slot machines and 380 table games. The unusual hotel tower — three different levels marked by three different shades of gold glass — will have 600 rooms and suites and a glass-enclosed atrium, twice the size of the conservatory at Bellagio. Separately, Pansy Ho is heading a partnership that is building a nongaming hotel, retail and entertainment complex adjacent to the MGM Grand Macau.
The MGM Mirage-Pansy Ho partnership recently announced plans to pursue a site on the Cotai Strip for further gaming development.
Other Potential Development in Macau
Speculation centers on 2009, when Edmund Ho leaves office. Some analysts believe additional casino concessions might be awarded.
Meanwhile, a consortium of U.S. and Chinese developers is spending more than $1.7 billion on Macau Studio City, a development on the Cotai Strip that will include theater, television and film production studios, four hotels totaling 1,900 rooms, retail shops and a casino large enough for 400 table games and 1,000 slot machines. Melco PBL will operate the casino.
Former Las Vegas Sands gaming executive David Friedman is part of the development team on Studio City, which is under construction and scheduled to open in 2009.
Harrah's Entertainment entered the Macau picture last month when the casino operator purchased the 175-acre, 18-hole, Macau Orient Golf Course, just behind Studio City on the Cotai Strip.
The site is near the Lotus Bridge, one of two border crossings from mainland China into Macau. The company, which does not have a gaming concession, said it plans to operate the golf course for now.
MacauLas Vegas, Half a World AwayIn Depth Package