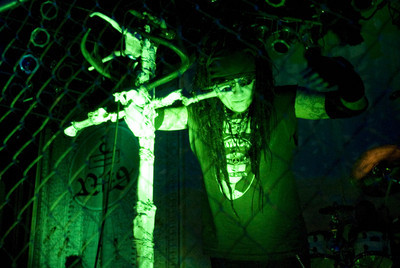 The irony was as thick as the scent of sweat-moistened denim.
Defiantly anti-war, the industrial metal firing squad that is Ministry protested armed conflict at a heated House of Blues on Wednesday night with tunes that sounded like the bloodiest of battles. Guitars rumbled by like Abrams tanks squashing some villagers, insistent double-bass drumming approximated the concussiveness of a carpet bombing and their singer barked into the mic like a field commander leading his troops on one last charge.
And in a way, he was doing just that.
"Let's go for the final attack," singer/guitarist Al Jourgensen bellowed during "Let's Go," Ministry's opening salvo, and he really meant it. Currently ensconced on their farewell tour, this was the group's last Vegas gig.
Keeping with the theme of the evening, the band even took the stage with their own kind of protective armor. They performed behind a chain-link fence, Blues Brothers-style.
It's as if they were expecting some abuse from the audience, and they did their part to raise some hackles. Despite a deep back catalog with lots of fan favorites spread out over a 27-year career, Ministry didn't play any vintage hits until the first encore of a two-hour show.
And even then, the band brought out a guest singer, Fear Factory growler Burton C. Bell, to handle vocals on two of the four chestnuts they did play: "N.W.O." and "Just One Fix" from the group's biggest-selling record, 1992's bracing "Psalm 69."
Instead of mining nostalgia, Ministry focused mainly on their three most recent discs, a trio of virulently anti-George W. Bush albums where the band denounces the war in Iraq and uses the president as a pin cushion.
"It's the final days of the Bush theocracy," Jourgensen announced at one point, relishing the moment, before delving back into a night of highly charged, partisan speed metal backed by video footage of marching soldiers and buildings on fire.
And the band's set at the House of Blues was plenty harrowing. There was the black grind of the Orwellian "Watch Yourself," the singalong truculence of "Lies Lies Lies" and the turgid gut punch of "Senor Peligro," a song as heavy as Jourgensen imagines Dubya's conscience to be.
But, like a whoopee cushion slipped into a coffin, Ministry tackles death and destruction with a sense of humor and more than a whiff of playfulness.
To wit, the band concluded the show with a trio of raucous covers, beginning by juicing up The Doors' "Roadhouse Blues" with some jet fuel and ending with a throttling of the Rolling Stones' "Under My Thumb," with Bell once again on the mic.
"Take it easy, babe," Bell yowled toward song's end, just before balloons fell down from the rafters, giving voice to a sentiment that this bunch never heeded.
Speaking of diffidence, Swedish brutes Meshuggah, who preceded Ministry, are an unforgiving bunch as well. They blasted the crowd with gnarled tech-metal defined by jags of dissonant guitar and choppy, almost arrhythmic tempos. Their tunes twitch like muscles spasms, with whiplash riffs circling one another in subtly melodic arcs.
Fronted by a singer who convulsed on the mic like an electric current was being passed through his body, the band's heady metal rained down on the crowd like an anvil shoved off a cliff.
As for the first volley of the evening, it was fired by Vegas' own Hemlock. Fronted by a burly dude who looks like a dreadlocked grizzly bear, the band bashed out a short set of well-received groove metal moodier than a grounded teenager.
"We've been together for 15 years, and after 141/2, we got a record deal," singer/bassist Chad Smith announced proudly, a fitting bookend to this night: As one band's legacy comes to an end, another's begins.
Contact reporter Jason Bracelin at jbracelin@reviewjournal.com or (702) 383-0476.
REVIEW Who: Ministry, with Meshuggah and Hemlock When: Wednesday Where: House of Blues Attendance: 1,000 (est.) Grade: B+