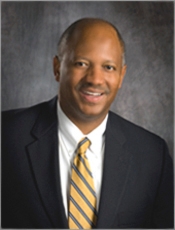 Confidence in the Clark County School District's superintendent search was shaken Monday when one of three finalists dropped out.
James Browder, superintendent of the Lee County School District in southwest Florida, withdrew to take a job as vice president of operations at Edison State College, also in Lee County.
The Clark County School Board will proceed with community meetings on Wednesday and interviews on Thursday with the two remaining finalists: Dallas Independent School District Superintendent Michael Hinojosa and Colorado Education Commissioner Dwight D. Jones.
The School Board also could decide Thursday to ask the McPherson & Jacobson search firm to produce a third finalist as it seeks to replace retiring Superintendent Walt Rulffes. The School Board's goal is to name a new superintendent by mid-October.
Browder's decision to withdraw and questions about the backgrounds of the two remaining candidates have some wondering about the quality of the search process and what appears to be a rush to make a decision on the part of board members.
"This will very likely be the most important superintendent selection in recent memory," said longtime political strategist Sig Rogich, who is chairman of the board for the Public Education Foundation. "I see no reason why they need to pick someone overnight."
Rogich, who in 1999 was selected to lead a seven-member superintendent search committee formed by the School Board that hired Carlos Garcia to replace Brian Cram, believes the community wants to slow things down. A decision could wait until after the November election, which will decide three School Board races.
Kevinn Donovan, a district parent and candidate for the Nevada Assembly, is concerned that Jones lacks the experience to handle a large urban system. As a superintendent, Jones has managed small districts such as Fountain-Fort Carson in Colorado, which has 6,000 students. Clark County, the nation's fifth-largest district, has 309,000 students.
Donovan also believes that Hinojosa should be disqualified because of the financial problems Dallas experienced on his watch. In 2008, a $64 million budget gaffe resulted in employee layoffs.
"CCSD has a declining school district population and is facing state budget cuts," Donovan said. "This individual simply will not work."
School Board President Terri Janison defended the search's integrity and the qualifications of both candidates. Hinojosa and Jones are "very strong," she said. In addition, Janison said the search firm has a group of at least 10 "very qualified candidates."
Hinojosa and Jones have said publicly they are intrigued by the opportunity to lead the Clark County district. Neither candidate returned calls for comment, but their admirers and detractors had plenty to say about them.
Dallas School Board member Edwin Flores said he was doing the "happy dance" Friday over news that the Texas district has managed to increase its financial reserves by $50 million to $91 million. Flores offered that as proof that Hinojosa is improving the Dallas district's finances. Dallas has an operating budget of $1.2 billion. Clark County's operating budget is about $2 billion.
In 2008, Hinojosa took heat for a $64 million budget error that required mass layoffs to balance the books.
Hinojosa accepted responsibility for the debacle. In his letter to the Clark County School Board, Hinojosa wrote, "No funds were missing and no funds were stolen. The problems were lack of controls and oversight."
Flores said the financial officers most responsible for the $64 million shortfall have since left the district. Hinojosa "was getting the same bad information I was getting," Flores said.
Part of the problem, Flores said, was that the Dallas business community had pressured the district to hire financial people who did not understand the complexity of public school funding in Texas.
To be fair, few people in Texas "really understand it," Flores said.
Anger over the $64 million mistake helped Bruce Parrott, a Hinojosa critic, win a board seat. Parrott said he is disappointed that Clark County is offering an annual superintendent's salary of $270,000. Dallas pays Hinojosa $328,000 a year.
"Can you offer him some more money?" Parrott said.
Support for Hinojosa on the nine-member Dallas board is precarious. Four members oppose him and two members are swing voters.
Flores, however, considers the 54-year-old Hinojosa a "rock star."
When Hinojosa took charge in 2005, 49 percent of Dallas students were passing state proficiency exams, according to The Dallas Morning News. That has risen to 64 percent. Graduation rates also have improved steadily, reaching 67.6 percent in 2009.
Clark County's graduation rate for 2009 was 68 percent according to district estimates, but other researchers have put it lower, at about 47 percent.
Hinojosa, who is bilingual, is an expert at helping students with limited English proficiency, Flores said. But Joyce Foreman, a community activist in Dallas, said she has disagreed with Hinojosa over ways to help black students close the "achievement gap."
Foreman described him as "standoffish" and more interested in the business community.
"I don't want to make him sound too bad because I want you to have him," Foreman said.
Hinojosa also fomented controversy in the Dallas district by forming the Office of Professional Responsibility, which is aimed at rooting out corruption. Some believe the creation of the office has resulted in cleaner internal investigations and better control over the use of purchasing cards. Others have mocked the office as an abuse of power, calling it the superintendent's own "secret police."
As superintendent of the Fountain-Fort Carson School District in Colorado from 2003 to 2007, Jones won accolades for narrowing the achievement gap for minority students. The district's enrollment is 18.5 percent black and 17.6 percent Hispanic.
In Clark County, about 41 percent of students are Hispanic and 14 percent are black.
The accomplishment was all the more impressive because Fountain-Fort Carson has a transient student population, said Van Schoales, the Colorado-based executive director of Education Reform Now, a national advocacy group.
Jones' success in the small district of Fountain-Fort Carson catapulted him to the office of education commissioner of Colorado. He has been credited with transforming the Colorado Department of Education.
Before Jones took over, "everybody thought it was useless," Schoales said.
Jones improved the state's accountability systems to recognize "what's working and what's not working" with schools. "That was a significant piece of work," Schoales said.
Colorado has 860,000 K-12 students. Jones manages 300 employees at the Colorado Department of Education.
In contrast, the Clark County School District has more than 38,000 employees.
In his application for the Clark County job, Jones said his experience in working with so many national and local organizations, such as the Council for Chief State School Officers and the Denver Children's Hospital, where he is a board member, has given him "a great depth and breadth of knowledge, insight and diplomacy that has helped me better support the 178 districts across" Colorado.
Jones, 48, answers to a partisan state Board of Education that is split 4-3 in favor of Republicans.
"Democrats and Republicans seem to equally like him, and that's pretty unusual for Colorado," Schoales said.
Jones has the reputation of being a "good listener," which is unusual for someone who is also known as a reformer, Schoales said.
Steve Joel, a consultant for the search firm of McPherson & Jacobson, noted that Jones has urban experience in directly managing schools in Baltimore and Kansas City, Mo. while he was operations vice president for Edison Schools Inc. from 1998 to 2001.
Some educators in Clark County said Jones' association with Edison Schools raises a red flag for them.
Edison currently manages six schools for Clark County. One of its former schools, then called West-Edison Junior Academy, was once considered one of the worst schools in the state, afflicted by crime and a poor academic record. Five years ago, the district took back management of the campus near Lake Mead and Martin Luther King boulevards and overhauled it, turning it into a K-12 campus called West Preparatory Academy.
Schoales acknowledged that "people have a problem with Edison being a for-profit company. He said Jones was there when they were "doing really good work."
As education commissioner, Jones has had to repay the state of Colorado $940 for making personal calls over two years on a public cell phone. He also has been criticized for buying expensive meals and office furniture at state expense.
These expenses were reported in the Colorado media, but "that's the most they could come up with," Schoales said.
Stephen Augspurger, executive director of the Clark County Association of School Administrators and Professional-technical Employees, worries that the incidents do not reflect well on Jones' integrity. He plans to ask Jones about it when he meets the finalists on Wednesday.
Jones also angered the Colorado Education Association by supporting state legislation to tie teacher evaluations to student achievement.
But Deborah Fallin, spokeswoman for the CEA, said the union realizes that "nobody agrees with everybody 100 percent of the time."
Jones "thinks very highly of teachers, he knows they're the key to making things happen in the classroom and student achievement," Fallin said. "He has come and talked to our group a couple of times. The teachers feel really good about what he has said and the dialogue he has with us."
Fallin believes one reason why Jones might be considering the Clark County job is that he "realizes it's at the district or school level where you really make things happen. I think he might be a little frustrated with bureaucracy."
Contact reporter James Haug at jhaug@reviewjournal.com or 702-374-7917.
PUBLIC MEETINGS
The public is invited Wednesday to two community forums to meet the two finalists for superintendent of Clark County School District. The first forum will be at Harmon Elementary School, 5351 S. Hillsboro Lane, near Mountain Vista Street and Hacienda Avenue, from 3:45 p.m. to 5:15 p.m. The second forum will be at Cimarron-Memorial High School, 2301 N. Tenaya Way, near Lake Mead Boulevard, from 6:45 p.m. to 8:15 p.m.
On Thursday, the School Board will begin interviewing the finalists at 7:30 a.m. at the Greer Education Center, 2832 E. Flamingo Road.