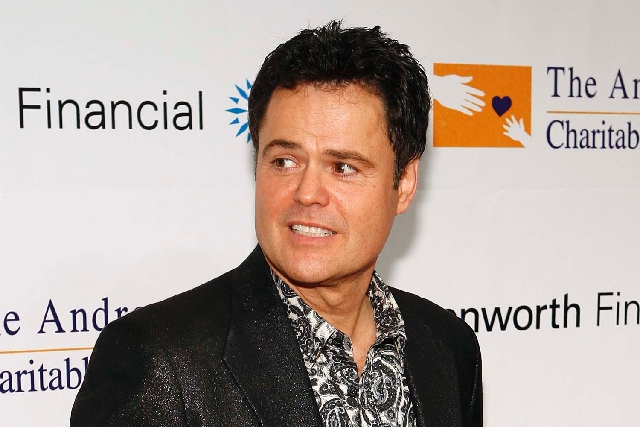 Donny Osmond was in rare form.
First he had a classic story about the time his father, George Osmond, survived a blowup with Frank Sinatra. Later, between bites of pizza, Donny Osmond shared a big announcement.
Osmond, a headliner at the Flamingo, told his Sinatra story while being honored during Saks Fifth Avenue's Vegas Dozen fundraiser Wednesday on the Fashion Show runway.
He was 8 or 9 years old, in the mid-1960s, when the Osmonds were Nancy Sinatra's opening act at Caesars Palace.
According to Osmond's father, "Nancy wasn't having a very good day" during the dress rehearsal and let loose some X-rated language in front of Donny.
The only other people in the theater were Frank Sinatra "and Guido and Vito," Osmond said, sitting near the stage in a booth.
George Osmond goes ballistic. "My dad rips him a new one," said Donny, recalling his late father's account.
The next day his father is backstage when a man approaches and says, "Hey, are you George Osmond?"
Yes, the senior Osmond said.
Reaching inside his suit, the man says, "Frank's got a little gift for yuhz." Out comes a envelope containing $1,000 in cash and a handwritten note from Ol' Blue Eyes, apologizing for his daughter's language.
"Here's the crime of the whole thing," Osmond said. "My dad put the thousand dollars in his pocket and throws away the letter! I told my dad, 'Do you have any idea how much that letter would be worth on eBay today?' "
At the after-party at Saks Fifth Avenue, I brought up his rumored big announcement.
He's putting together a Las Vegas-based "Ed Sullivan-type of TV show coupled with social media aspects." Sullivan's variety show was a ratings giant for CBS from 1948 to 1971.
"I think people are smart enough to judge for themselves," he said, hinting that the celebrity-judged dance and talent shows may have run their course.
He wasn't done for the night. He had some other news.
"I want to be the first person to ride The Linq Ferris Wheel," he said. "And you can write that!"
THE SCENE AND HEARD
Neil Moffitt, CEO of Angel Management Group, and Scott Sibella, president and COO of MGM Grand, presided at Thursday's ribbon cutting ceremony for Hakkasan nightclub, said to be built at a cost between $140 million and $170 million. …
The public opening of La Comida, the downtown Mexican restaurant partnership that includes Michael and Jenna Morton and John O'Donnell, has been moved to Thursday.
SIGHTINGS
In town for CinemaCon, the theater owners convention: Johnny Depp, spotted at Town Square on Wednesday. He and co-star Armie Hammer were here to promote "The Lone Ranger." Others pushing their new films: Sandra Bullock and Melissa McCarthy for "The Heat," Ben Stiller and Kristen Wiig for "The Secret Life of Walter Mitty" and Adam Sandler, Kevin James, Salma Hayek and David Spade for "Grown Ups 2." … Nicolas Cage and Carrot Top, having lunch at the Vintner Grill on Thursday. … Morgan Freeman, at the Bacchanal Buffet (Caesars) on Thursday. … Lisa Vanderpump of "The Real Housewives of Beverly Hills," with her husband, Ken Todd, at Andrea's (Encore) on Wednesday.
THE PUNCH LINE
"There are rumors that NBC is planning to produce a new season of the sitcom 'Friends.' Experts say it's been nine years since the show went off the air, so only a few people would watch, making it the highest- rated show on NBC." — Craig Ferguson
Norm Clarke's column appears Sunday, Wednesday and Friday. He can be reached at 702-383-0244 or email him at norm@reviewjournal.com. Find more online at www.normclarke.com. Follow Norm on Twitter @Norm_Clarke. "Norm Clarke's Vegas," airs Thursdays on the "Morning Blend" on KTNV-TV, Channel 13.