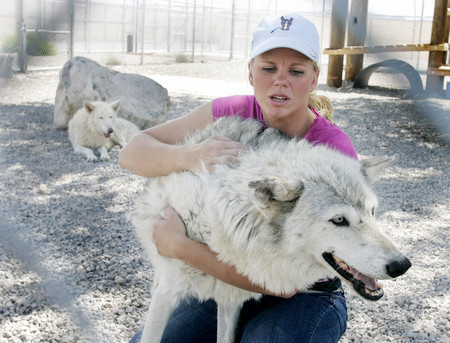 Two rangy wolves wander inside a chain-link pen until they spot three people approaching.
They freeze, yet don't snarl or recoil. They just stare.
Kelli Caracci opens the gate, steps inside and kneels down as the two wolves playfully sidle up and lick her face in the same adoring way house dogs would.
Wolves are terribly misunderstood, said Caracci, 32, who recently moved her nonprofit sanctuary from Pahrump to a site south of St. Rose Parkway, creating the only wolf sanctuary of its kind in Clark County.
Known as the Ba'cho Nowhidee Wolf Sanctuary, the 4-acre site houses 15 wolves with room for five more.
The animals come as beleaguered orphans that are too skittish to be adopted and too tame to be released into the wild, making a sanctuary their only viable home.
"They've been hurt. They've been abused. They've been abandoned," Caracci said.
All were born in captivity and are mixed with dog breeds, she said, noting that pure wolves are rare even in the wild.
The sanctuary looks like a compound, with two layers of steel fencing around the 8-foot-high enclosures where the wolves are kept. At the center stands a mobile home where Caracci and her husband, Chris, live.
The couple, who have cared for wolves since 2005, don't plan to open the sanctuary for public tours, except maybe school groups. In fact, the outer fence is shrouded to hide the site from passers-by.
Within the pens, wolves can roam, play and climb on wooden platforms. In many shelters, they would be caged in kennels, Caracci said.
She estimated the fencing alone cost $100,000.
"You want to make sure they can't get out, but more important anyone can't get in," Caracci said.
MYTH VERSUS FACT
Contrary to popular belief, wolves are shy and seldom attack unprovoked, she said.
As if for emphasis, the dark-haired wolf she is petting lazily flops on the ground and gives her an affectionate glance.
"They're not these mean, horrible, aggressive beasts," Caracci said.
In the past 300 years, documented wolf attacks on people in the North American wilderness have been sporadic. Healthy wild wolves have maimed humans only a couple dozen times and might have killed a Canadian man in 2005, though opinion is split on whether he was mauled by wolves or a bear.
Wolf attacks on people have been more common in other parts of the world, especially when the animals were rabid or starved. Some scholars believe folk tales like "Little Red Riding Hood" sprang from the sight of ravenous wolves prowling European countrysides during the plague epidemics.
Wolf-dog hybrids kept as pets account for most of the serious attacks on humans in recent decades.
The animals can make good pets as long as owners understand how they differ from full-blooded dogs, Caracci said.
A human scent sets off a wolf's defenses, so a person who wants a pet wolf must invest the time to bond with it, Caracci said. When she adopts a wolf, Caracci sleeps with it outside for a week.
Some misguided people adopt wolves as guard dogs, which fails miserably, she said.
"Strangers come, and they retreat without question."
Wolf breeds are more willful and moody than dogs and can never be completely domesticated, she said. They resist attempts to manhandle them.
"If you pick them up or if you try to take control of them, they'll let you know that you're not in control," she said.
The blend of dog and wolf creates conflicting impulses, such as obedience one moment and aloofness the next, making it paramount to respect a wolf's mood, she said.
Don't pet or grab a grumpy wolf, and don't get in the middle of two wolves tussling, Caracci said.
State laws about wolf attacks are strict. If a wolf tears into a person, even defending itself, it must be put down.
Caracci told of a woman who bred wolves in Caliente, about 150 miles north of Las Vegas. One day, the woman snatched a cub from a mother wolf, inciting the pack to jump her. As the woman lay maimed in the hospital, her husband euthanized the adult wolves and began drowning the babies.
Caracci rescued one cub, which is now full-grown.
"It takes knowing the animal to protect yourself and the animal," she said.
The Caraccis get many of their wolves from the West Michigan Society for the Protection and Care of Animals, a sanctuary that houses 50 wolves, along with horses, bears and exotic cats.
She and her husband, an ex-Navy SEAL who trained dolphins to detect underwater mines, learned much about raising wolves from the shelter's owners.
Jim Pearson, who runs the Michigan sanctuary, said the Caraccis often take his overflow of wolves. "They're very knowledgeable about the animals," he said.
Pearson agreed that wolves have been maligned. If raised as pups around people, they'll be friendly, though owners must respect the "stay away" growl.
Owners must build a high fence to corral the animals outdoors, Caracci said.
The county required three layers of tall fencing before the Caraccis could get a permit for their sanctuary, said Joe Boteilho, who oversees county animal control. He noted that Siegfried and Roy's Secret Garden had to meet strict codes for enclosing tigers, lions and an elephant.
"Different species but the same goal, the safety of the public," Boteilho said.
WOLF KINSHIP
When not tending the wolves, Caracci works as a nanny. She smiles at how she is a full-fledged nurturer. She becomes reflective as she expresses the kinship she feels with wolves.
"They are regal. They are very sweet. They are very humble," she said. "It's an honorable thing to be trusted this much by an animal."
Mimicking their traits not only makes you better at handling them, it makes you a better person, she said.
Caracci doesn't plan to expand the sanctuary beyond 20 wolves, because she would have to hire a helper, who might get flustered and yell or slap at a wolf, traumatizing the animal. Regaining a wolf's trust can take years, she said.
Limiting the shelter's size means turning down requests to rescue wolves, something she hates doing because she knows they will be euthanized. It breaks her heart, she said, but she can only save so many.
"The happiest day the sanctuary would ever have is if it closed its doors because it's not needed anymore."
Contact reporter Scott Wyland at swyland@reviewjournal.com or 455-4519.
WOLF SANCTUARY
For more information, contact the Caraccis at 775-253-4444 or visit www.ourbrotherthewolf.org.