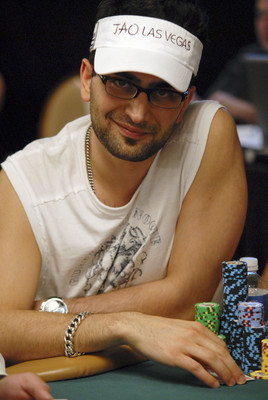 Pamela Anderson says she's all-in love with a professional poker player.
During an appearance Wednesday on "The Ellen DeGeneres Show," Anderson declined to identify her new mystery man, but there's scuttlebutt in the poker world that she's been seeing 29-year-old Antonio "The Magician" Esfandiari.
"I paid off a poker debt with sexual favors, and I fell in love," Anderson told DeGeneres. "It's so romantic. It's romance."
Pressed for details, Anderson said, "I'm not really engaged. I don't know what I am. We may never get that far. We're in love. This is nice."
Anderson, who is Hans Klok's assistant in "The Beauty of Magic" at Planet Hollywood Resort, claims she lost $250,000 in a poker game and was offered an "Indecent Proposal"-like out to clear the debt.
If she and Esfandiari are an item, they're keeping it way under the radar. There have been no public sightings of the two together, and prior to her VMAs red carpet walk with Klok, someone in her camp asked that they be introduced as "Pamela Anderson and her boyfriend Hans Klok."
Hours later, she attended an after-party at Blush (Wynn) with Rick Solomon, Paris Hilton's co-star in a very famous video. Even later, she and ex-hubbie Tommy Lee were seen together at LAX and Noir Bar at the Luxor near dawn Monday.
FALLOUT FALLING OUT
The Mirage's Jet nightclub is downplaying a report that claimed the father of Jessica and Ashlee Simpson teamed up with Fall Out Boy frontman Pete Wentz in a brawl with Jet security on Sunday.
A New York Daily News reporter at the scene wrote that the 5-foot-7 Wentz repeatedly slugged Jet bouncers during a disagreement that occurred while Wentz, girlfriend Ashlee and her father, Joe Simpson, were leaving the club.
During the altercation, Wentz was shoved, knocking Ashlee into a wall, according to the reporter.
Joe Simpson jumped into the fracas and later told the Daily News, "When somebody messes with my baby, then it's over!" and with that, drew a finger across his throat.
"In reality, the incident was far less theatrical than described in the overblown media accounts," Jet spokesman Alex Acuna said.
THE SCENE AND HEARD
Britney Spears went with an illusion after all in her comeback performance Sunday in the opening of the MTV Video Music Awards at the Palms. She had a spray-on tan that specifically defines the abs and "was supposed to make it look like she'd spent hours in the gym (as opposed to the bar)," wrote US magazine. …
Cirque du Soleil is honoring more than 50 original cast and crew members of "O" who will be celebrating 10 years with the show. The group has been working together since 1997, the year before the Bellagio opened. Gilles Ste. Croix, senior vice president of creative content, will be making a presentation. …
The question came up along red carpet row: "Where are The Killers?" The hometown heroes were missing from the VMA weekend. The answer: They're still on their North American tour. Manager Robert Reynolds said the band finished recording a duet with Lou Reed of "Walk on the Wild Side" fame. It will be on an upcoming album that comes out around Thanksgiving. A video project is planned with Anton Corbijn, who put together the video for "All These Things That I've Done" and is known for his work with U2. …
Rachel Smith, meet Rachel Smith. It's not often a journalist interviews his or her namesake. It happened Sunday night to KVVU-TV, Channel 5 reporter Rachel Smith, who held up her credential during a VMA red carpet introduction to Miss USA Rachel Smith of Tennessee to prove it. "You're doing a great job of representing our name," KVVU's Smith said. We won't mention that little misstep in the Miss Universe contest when the Miss USA Smith slipped and fell on the stage during the evening gown competition. …
THE PUNCH LINE
"A judge saw Britney Spears' performance on the VMAs and immediately granted Kevin Federline sole custody of the cheesecake." — Harrah's headliner Rita Rudner
Norm Clarke can be reached at 383-0244 or norm@reviewjournal.com. Find additional sightings and more online at www.normclarke.com.
NORM CLARKEMORE COLUMNS