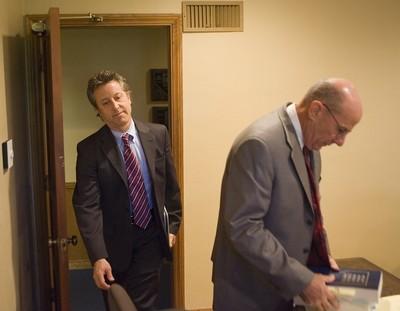 Attorney Mitchell Posin's path to a four-month voluntary suspension from practicing law was partially paved by an act of theft committed by his former partner — his father.
Under oath, Posin on Monday told a disciplinary commission of his peers that Murray Posin stole $191,500 from the Posin & Posin attorney-client trust account on July 25, 2005. The father died in March, and the money was never returned, the son said. That left the firm unable to pay clients with settled personal injury claims.
That, with the animosity that blossomed between the Posins before the elder lawyer died, contributed to a flurry of complaints to the State Bar of Nevada, which called upon Mitchell Posin to explain his conduct in 14 separate matters involving 21 clients.
"When I look at some of these facts, it's not the way I see myself," he said as he examined a 30-page document that itemized professional code of conduct violations that touched on his failures in diligence, competence, client communication and cooperation with the bar investigation.
David Clark, deputy bar counsel, presented the case to the Southern Nevada Disciplinary Board and said the explanation does not stretch far enough to cover all the complaints. Many of the problems brought to light by the bar investigation predated Murray Posin's theft, Clark said.
"What you are going to find here is problem after problem, case after case of money just sitting there," said Clark, who added that the firm's financial practices were marred by "years of sloppy accounting and years of dereliction."
Mitchell Posin's failure to distribute settlement awards in a timely fashion to his clients in personal injury lawsuits made the money subject to Murray Posin's theft, Clark said.
Among the cases that spurred the bar to take action against Mitchell Posin are the following:
• Monica Allison retained Mitchell Posin to represent her in a federal criminal matter in Texas. Allison paid for him to travel to Texas in 2006 to meet with her and federal prosecutor Shamoil Shipchandler. Shipchandler offered Allison a misdemeanor plea agreement, but Mitchell Posin failed to respond to the offer by the Oct. 25, 2006, deadline. As a result, Allison was arrested on Jan. 8 on 24 felony counts.
• New Yorkers Michael and Cheryl Toffel hired him to represent them after they were injured in a 2000 traffic accident in Las Vegas. The Toffels were awarded $45,000 each, but Mitchell Posin did not tell them of the settlement, the complaint said.
• Anrique and Linda Barton hired him in 2005 to seal Anrique Barton's criminal file so he could obtain a job in Washington. Although Mitchell Posin was paid $1,631, the records were never sealed, and Barton lost his job.
• Texas truckers Bruce and Debra Raines retained Posin & Posin to represent them after a 1997 accident in Las Vegas. The couple had difficulty reaching Mitchell Posin to discuss the case between 2000 and 2003. Eventually, the couple learned that because he had failed to appear at a 2002 hearing, a judgment had been entered against them. The couple has filed a lawsuit against Mitchell Posin.
Those issues were exacerbated by his lack of cooperation with bar inquiries into those client grievances. Clark said that more than 50 letters from the bar to Mitchell Posin about the complaints were answered incompletely, late or in some cases, not at all.
"We are a self-regulating profession," Clark said to members of the disciplinary board, composed of a rotating pool of attorneys and a representative from outside the profession. "One of the obligations is that you have to respond to the state bar."
Attorneys Thomas Ryan, Nicholas Santoro, Bruce Leslie and Lary Lamoreux sat on the disciplinary board on Monday. Erin Beasley represented the public on the board.
After hearing a full day of arguments from both sides in the case, board members decided to let Mitchell Posin serve a four-month voluntary suspension, which will start Aug. 1.
The one exception to the suspension is his role as appointed defense counsel in a complicated federal court case involving $485 million alleged to have been embezzled from the Bank of China.
They also put together a list of conditions that he is to comply with, and they will revisit his case at the board's November meeting in Las Vegas.
Santoro, board chairman, gave him five to 10 days to finish paying off all of his clients who had complained. Mitchell Posin said he has made up the majority of the $191,500 taken by his father by liquidating his own retirement accounts and cashing in other investments. His mother has agreed to lend him $50,000.
Santoro directed him to put together a better system of accounting, subject to approval and review by the bar. If the conditions are not met or other violations occur, Mitchell Posin risks a lengthier suspension.