Paris confusion is sign of the times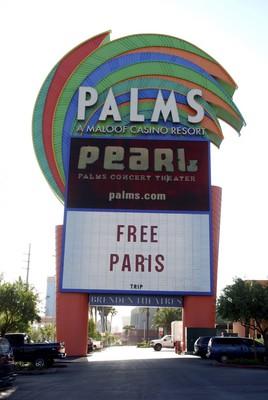 Not everyone read the fine print on that "FREE PARIS" message on the marquee at the Palms.
Easy to miss, at the bottom of the message that isn't what everyone thinks, is the word "trip."
Instead of a statement of support for jail-bound Paris Hilton, it's a promotion for the Palms new Bistro Buffet. Try the buffet and you qualify for a drawing for a free trip to see Paris, as in France.
"We've had a lot of response, a lot of calls," said Palms owner George Maloof, who purchased a full-page ad that's running in today's Review-Journal.
A hopelessly confused male who attended the Palms' Ditch Fridays pool party asked, "Does that mean I get a free trip to see Paris in jail?" said Maloof, a pal of Hilton's.
"We thought it would be fun to play off it," he said, referring to Hilton's run-in with the law that will send her to a Los Angeles jail for up to 45 days June 5 for violating terms of her 2006 drunken-driving arrest.
A week's revenue from the buffet, probably $60,000 to $70,000, will be donated to Mothers Against Drunk Driving (MADD), Maloof said.
BRRRIGHT IDEA
V Theater illusionist Nathan Burton, or in this case Brrrrrr-ton, will become a human popsicle on May 21 outside Planet Hollywood Resort.
He'll attempt to spend 24 hours inside 10 tons of ice to promote the resort shopping mall's name change from Desert Passage to Miracle Mile. Ninety-six showgirls/dancers, rotating four at a time, will join Burton inside the ice blocks, formed in a giant M.
"It's the toughest stunt I've done to date," said Burton, who won't sleep or sit during his icy lockup.
"It's pure endurance. The doctors' biggest concern is hypothermia," said Burton, who will return to NBC's "America's Got Talent" as a guest.
THE SCENE AND HEARD
Kara Kelley, president and CEO of the Las Vegas Chamber of Commerce, has attended hundreds of meetings. None ended in a mass evacuation, until Thursday. Kelley was among thousands ferried from Santa Catalina Island, Calif., when the town of Avalon was threatened Thursday by a brush fire. She was in a meeting as chairwoman of the Western Association of Chamber Executives when sirens went off and everyone was told to walk to the beach. Alarmed residents left so quickly that when Kelley went to check out of her motel, "no one was there to take the key." Under a cloud of smoke and ash, she boarded a boat about 10:30 p.m. for the trip to Long Beach. One of Kelley's pet project's: disaster preparedness for businesses. …
The late Bobby Darin is being enshrined in the Las Vegas Walk of Stars on Monday, on what would have been his 71st birthday. An invite-only 11 a.m. ceremony is planned at the Flamingo. Darin, who at one time was the highest-paid performer on the Strip, died at age 37 after heart valve surgery in 1973.
SIGHTINGS
Tom Hanks, cooling off at Tryst (Wynn) on Friday night and at "Love" (Mirage) on Saturday with his family. … Eddie Murphy, dining at Joe's Seafood, Prime Steak & Stone Crab (Forum Shops at Caesars) on Saturday. … Pamela Anderson and members of the rock group Nickelback, partying Friday at Tao nightclub (The Venetian). Anderson made an appearance at the Playboy Club and danced at Moon (Palms).
THE PUNCH LINE
"How about these fires? Even celebrities have been affected by the fires. Last night, David Hasselhoff was lying on the floor eating a flame-broiled hamburger." — Jay Leno
Norm Clarke can be reached at 383-0244 or norm@reviewjournal.com. Find additional sightings and more online at www.normclarke.com.
NORM CLARKEMORE COLUMNS