Paris Hilton pleads guilty, sentenced to year of probation
September 20, 2010 - 6:40 am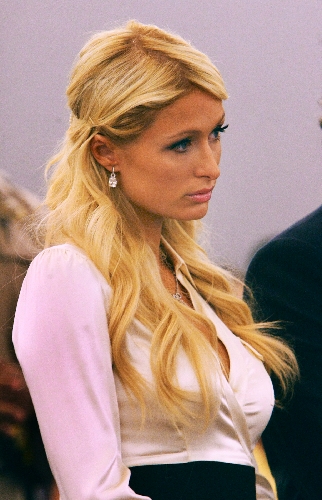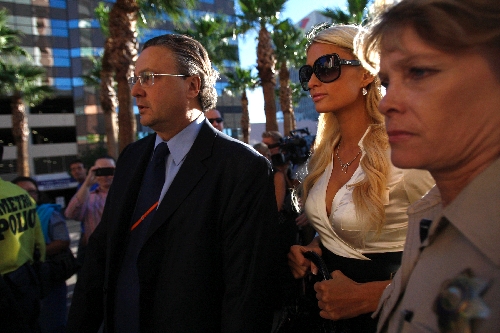 After warning Paris Hilton that the Clark County Detention Center isn't "the Waldorf-Astoria," a Las Vegas justice of the peace sentenced the celebrity socialite Monday to a year of probation after she pleaded guilty to two misdemeanors.
Standing before Justice of the Peace Joe Bonaventure, Hilton admitted that both the 0.8 gram of cocaine and the Chanel handbag where it was found were hers and said she was guilty of misdemeanor drug possession and misdemeanor obstructing an officer.
"I was in possession," Hilton said meekly. She then told Bonaventure that she had lied to a Las Vegas police lieutenant when she told him the handbag containing the cocaine wasn't hers.
The hotel heiress — who lived at the Waldorf-Astoria, which is part of the Hilton chain, when she was growing up — was arrested Aug. 27 on one felony count of cocaine possession after she opened the Chanel flap bag to get some lip balm and a small plastic bag of cocaine fell out, landing in the palm of the lieutenant. She accepted a deal from Clark County prosecutors that reduced the felony to two misdemeanors.
Bonaventure sentenced Hilton to two consecutive six-month sentences in the county jail, which were suspended. Hilton was placed on a year of informal probation, meaning she will not have to report to a probation officer. According to the sentence, if Hilton is arrested during her probation, she will have to serve a full year in jail.
"The purpose of this, at this point, is that you change your conduct. If you're not changing your conduct, the purpose then shifts simply to punishment," Bonaventure told Hilton in front of a packed courtroom at the Clark County Regional Justice Center. "When you break the law here (in Clark County), there are consequences.
"I'm going to warn you, Miss Hilton, you've now been sentenced to one year in the Clark County Detention Center. The Clark County Detention Center is not the Waldorf-Astoria. But I assure you that if you violate the terms of your probation, you will serve one year in the Clark County Detention Center," Bonaventure said.
The justice of the peace asked if Hilton understood. She said, "Yes, your Honor."
The courtroom was packed with media and folks who just happened to be on Bonaventure's Monday morning calendar with their own cases.
The only attempted contact with Hilton by a member of the public was made by a skinny, white-bearded man who tried to hand her attorney an opened bag of pretzels. He was quickly escorted from the courtroom by marshals.
After leaving the courtroom, Hilton took out a mirrored blush compact and checked her makeup as she walked toward the elevators.
The 29-year-old walked out the front door of the Clark County district courthouse accompanied by her attorney David Chesnoff, a throng of court marshals and a mob of photographers, TV news crews and reporters.
She was then whisked away in a black Cadillac Escalade about 8 a.m.
According to the plea agreement, Hilton must stay out of trouble. "Defendant agrees that an arrest for any charge, excluding minor traffic violations for which a citation is issued, shall result in the immediate termination of her probation and the execution of the suspended sentences." A minor traffic violation is anything other than a reckless driving or driving under the influence charge.
Hilton must also successfully complete a substance abuse program, pay a $2,000 fine and perform 200 hours of community service, according to the plea deal. The nature and location of the community service will be determined later.
Chesnoff, who has represented numerous celebrity clients in Las Vegas, said Hilton "accepted responsibility" and has been "polite and contrite through the whole procedure. I think she's on the road to success here."
He said she will likely continue her charitable activities with animal rights groups and children's hospitals to fulfill her 200 hours of community service. He would not comment on which substance abuse program she would attend, but told Bonaventure it would be an outpatient program.
Chesnoff said Hilton's family has strong ties to Las Vegas, and she will likely return.
"She loves Las Vegas. She loves the people of Las Vegas. I'm sure she will return," he said.
If Hilton satisfies all the requirements of her probation, she will not have to attend her next scheduled court appearance, set for Sept. 20, 2011.
According to an amended criminal complaint, the obstructing charge was added because Hilton lied to police when she said the Chanel bag wasn't hers.
Hilton told police the purse and the cocaine belonged to someone else, though other things in it — $1,300 cash, credit cards, cigarette rolling papers and a prescription pill to treat asthma — belonged to her. Hilton said she thought the cocaine was gum, according to her arrest report.
"In truth, the Defendant purchased the Chanel handbag months earlier," the complaint states.
The Chanel handbag was featured in numerous tabloid photos the night of the arrest, and it was soon discovered that Hilton had on July 15 posted a photo of the bag on her Twitter account, saying, "Love my new Chanel purse I got today :)."
Hilton originally was charged with felony cocaine possession. That charge would not have resulted in any jail time. Statute requires mandatory probation for a first-time drug possession conviction, though a judge could assign jail time as part of the probation requirement.
Hilton, dressed in a black-and-cream wrap dress and carrying a black purse, arrived at the courthouse about 7:15 a.m. and was led through a metal barrier and up the steps by several court marshals without answering questions.
The courthouse steps were packed with local and national media as early as 5:30 a.m., but the mood was relatively calm in the hours before Hilton's appearance.
Those waiting to enter the courthouse for their own early morning hearings seemed mildly interested in the buzz as Hilton arrived but not overwhelmed.
"I guess we're not as important as Paris Hilton," mused one woman as the socialite was escorted to the front of the line.
Comedian Anthony Barbieri, a prankster best known for his celebrity-obsessed character "Jake Byrd," chased Hilton into the courthouse with a sign that read "She's Not Scarface" on one side and "Justis 4 Paris" on the other.
"You can't tame that white tiger," he shouted at Hilton as she marched into the court. "She's back, folks, Paris is back!"
In an interview with reporters in his Byrd character after Hilton was out of sight, Barbieri claimed he took a bus from Chino, Calif., to witness Hilton's court appearance.
Wearing a "Stop the Parisecution" T-shirt and a "#1 Fan" ball cap, Barbieri said he couldn't believe cocaine was illegal in Las Vegas.
"Don't you think Las Vegas owes her an apology?" he asked.
"This is a woman with countless Chihuahuas to take care of, her own perfume line," he said. "And they're sticking her in there like a common thug."
One woman waiting to accompany her daughter into the courthouse said she was glad Hilton had to enter the same way everybody else does.
Hilton's latest arrest came when her boyfriend, nightclub mogul Cy Waits, was stopped by a motorcycle officer who said he smelled marijuana coming from Waits' 2009 Cadillac Escalade on the Strip near Wynn Las Vegas. Hilton was a passenger in the vehicle.
Waits, 34, was arrested on a misdemeanor charge of driving under the influence of alcohol or drugs.
He spent the night in jail before he was released on $2,000 bail with a Nov. 29 court date.
After the incident, casino mogul Steve Wynn cut ties with Waits and banned Hilton from his properties.
Hilton has one previous conviction. She pleaded no contest in 2007 to alcohol-related reckless driving. She was sentenced to 45 days in jail but was released after 23 days.
Hilton was arrested this summer after the Brazil-Netherlands World Cup match in Port Elizabeth, South Africa, on suspicion of possession of marijuana. The case was dropped at a midnight court hearing.
Las Vegas Review-Journal writer Mike Blasky contributed to this report. Contact reporter Francis McCabe at fmccabe@reviewjournal.com or 702-380-1039.
Paris Hilton pleads guilty in Las Vegas court
Paris Hilton pleads guilty in Las Vegas court
Lohan to appear in court
BEVERLY HILLS, Calif. — A judge issued an arrest warrant Monday for Lindsay Lohan after the actress acknowledged failing a drug test less than a month after she was released from inpatient rehab.
Superior Court Judge Elden Fox also revoked Lohan's probation in her 2007 drug case while issuing the bench warrant in Beverly Hills.
However, the warrant was stayed, and Lohan was allowed to remain free pending a hearing Friday to determine whether she violated her probation.
Fox previously threatened the actress with 30 days in jail for each violation. He must now decide whether to send her back to jail or into treatment.
Lohan must attend the hearing. A message left with her attorney Shawn Chapman Holley was not returned.
The warrant was issued after Fox took over the case last month and laid out a path paved with therapy sessions and 12-step meetings that could have brought Lohan's drug case to an end.
Lohan confirmed on her Twitter page last week that she failed the court-ordered drug and alcohol screening.
"Regrettably, I did in fact fail my most recent drug test," she tweeted.
She also said, "substance abuse is a disease, which unfortunately doesn't go away over night. I am working hard to overcome it."
Lohan was freed from jail on Aug. 2 after serving 14 days of a 90-day sentence for violating her probation in the 2007 case involving drug use and driving under the influence.
Another judge had required her to begin a three-month stint in rehab. Fox, however, agreed on Aug. 25 to release her after reviewing reports by her doctors and medical records from a three-year period.
THE ASSOCIATED PRESS