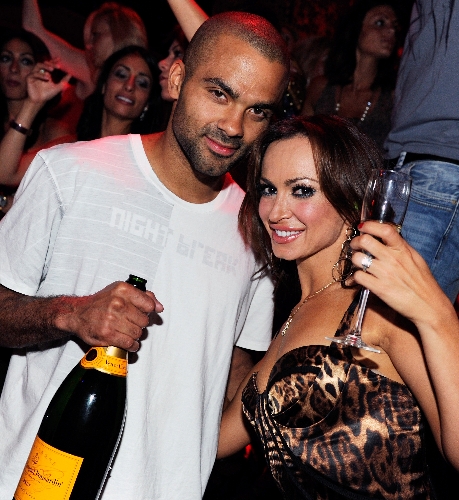 Tony Parker continues to rub his divorce in the face of Eva Longoria.
Last year, he and Eva were all about her restaurant-club Beso-Eve. Post-split, he keeps popping into rival clubs on the Strip and restaurants at Tao and Lavo.
On Saturday, he hung briefly with "Dancing With the Stars' " Karina Smirnoff then danced with petite brunettes. On Sunday, he ate at Lavo with his brother and friends, then partied at club Lavo.
At least he's not chatting up the ladies at Beso-Eve, or at Todd English P.U.B. next door to Beso-Eve.
That's not a suggestion, Tony, but it would make the news.
TRAVIS PASTRANA'S PROPOSAL
Motocross and skateboarding hero Travis Pastrana got engaged in an extreme way at his Nitro Circus Live this weekend at the MGM Grand.
He was standing atop a huge ramp, about to soar down on his skateboard when he grabbed a microphone.
"I hate to interrupt this show," he said. "The love of my life is at the bottom of this ramp."
He skidded to the ground. His girlfriend, the skateboarder Lyn-Z Adams Hawkins, was carried to him by a Nitro worker.
"Will you marry me?" Pastrana asked.
She said yes. He picked her up. Loud speakers played Elvis' "Can't Help Falling in Love."
He had planned to propose later in the show.
"But I was too nervous" to wait, he said. "Lyn-Z, I love you."
The crowd went wild. You can see it on YouTube by searching for "Travis Pastrana's proposal."
Later, they celebrated at Studio 54, where he announced the engagement to clubbers.
THE MARIAH-NICK TWINS
New daddy Nick Cannon DJ'd at Paris club Chateau this weekend, and he said the motherhood journey has been an eye-opener for Mariah Carey.
"She really knows what being a woman is being about now. Before childbirth, most women don't have any idea. … She's in that exclusive club now."
I asked him whether Carey screamed in tune in the delivery room.
"She was actually really calm. The only thing that was bad for her was the epidural. Other than that, she was good."
He explained again why he and Carey named their twins Moroccan and Monroe.
"Monroe for my daughter — my wife has always been inspired by Marilyn Monroe," he said on a red carpet.
"Moroccan … I proposed to my wife in our Moroccan room in our house. We've got a lot of Moroccan-inspired stuff around the crib. It kind of works. But we call him Roc, so our kids' names are Roc and Roe."
Cannon, friendly and in good spirits as usual, was also working in Vegas last week, filming "America's Got Talent."
"Family comes first always. But you gotta feed your family, as well. So I've got mouths to feed. So I don't sleep now."
SIGHTINGS
Carmen Electra rimmed a bathtub and danced with local Pussycat Dolls for the debut of Planet Hollywood's Pussycat Dolls Burlesque Saloon. Pussycat leader Robin Antin watched next to Matt Goss and his dancers. Afterward, female clubbers jumped onstage in short dresses and no undies, while some of us males looked up and saw France. … For photos of weekend sightings, check my blog at lvrj.com/columnists/Doug_Elfman.html to see how everyone looked — Parker, Smirnoff in a bathing suit, Electra in that tub, Pastrana and fiancée, Allison Janney, Teri Hatcher, Jaime King, Lindsey Vonn, America Ferrera, Cheryl Burke, Gavin Rossdale, Raven, Tori Spelling, Stephanie Pratt, Rosario Dawson and Mark Ballas.
QUOTE UNQUOTE
"RIDE ME" — Spelled out in a big rhinestone necklace worn Saturday by "Absinthe" performer Angel Porrino at Studio 54.
Doug Elfman's column appears Tuesdays, Thursdays and Fridays. Contact him at delfman@reviewjournal.com. He blogs at reviewjournal.com/elfman.