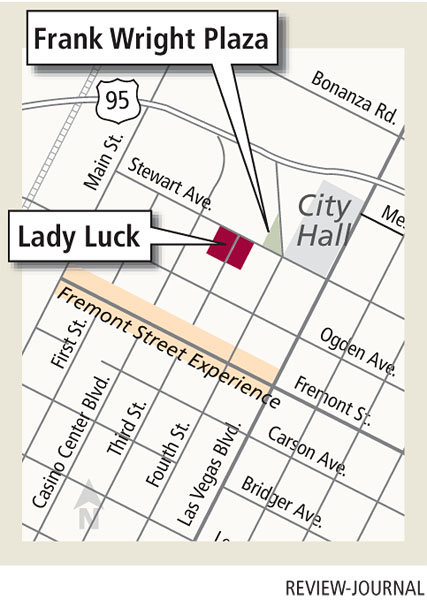 Many of those hanging out at Frank Wright Plaza on Wednesday afternoon met news of the downtown park's impending closure with a shrug.
Regular visitors to the small park across from City Hall are mostly down on their luck or homeless, and they've gotten used to being shooed along.
"I don't care," said John, 58, who was relaxing under a tree with a buddy. "I'll just lay on the sidewalk."
But outreach workers say they are saddened to see homeless people squeezed out of another city park and worry about them having fewer places to go.
"When you tear parks down, homelessness doesn't end," said Linda Lera-Randle El, director of the Straight from the Streets homeless outreach program. "It just moves it around, stirs it like the dust. It's a whirlwind."
The city plans to close the park at Stewart Avenue and Fourth Street on Tuesday. It will be converted into a construction "staging area" for upcoming roadwork along Stewart and for work on the adjacent "Mob Museum," said David Riggleman, a city spokesman.
The park's concrete benches will be uprooted, its grass replaced with gravel. Fencing will surround the park.
Some have suggested that the closure has less to do with construction work and more to do with the city wanting to rid the area of the scores of homeless people who gather there each day to socialize, smoke and nap in the shade.
"I think they're doing it to run the homeless people out of town," said Andrew Noles, a 38-year-old who recently became homeless after his wife lost her job.
Riggleman said the notion is "absolutely not" true. The park's closure is all about development in the downtown area, he said.
"Anyone paying attention would understand our driving force" was development, he said. "It wasn't to create a problem for anyone using the park."
The city has agreed to eventually sell 200,000 square feet of downtown land, including the park, to developers of the neighboring Lady Luck, as long as terms of a development agreement with the city are met.
The city closed Huntridge Circle Park, on Maryland Parkway near Charleston Boulevard, in November 2006 after months of complaints about homeless people who congregated there and the fatal stabbing of a homeless man. The park remains closed.
Jaycee Park, another popular hangout for the homeless, has been closed since January for $10 million in renovations that won't be complete until early next year.
Teams of outreach workers have been concentrating on Frank Wright Plaza in recent days, trying to get those who will agree into shelters and other services.
But the homeless who spend their days at the park tend to be especially difficult to work with, said Rich Penska, an outreach worker with HELP of Southern Nevada.
"They are some of the most service-resistant, the most entrenched in homelessness," he said.
Gail Sacco, an activist for the homeless, said closing parks makes it harder to help the homeless because they are no longer concentrated in one area.
"They're spreading homeless people all over the city," she said.
Sacco made headlines in recent years for fighting the city's attempt to make it illegal to give food to the homeless in city parks. She had regularly passed out food to the homeless at Huntridge and other parks.
A city ordinance to make it illegal to do so was thrown out in court.
Sacco said around 200 people visit Frank Wright Plaza each day.
"It's not near a residential area or near schools," she said. "They're not bothering anyone."
Those 200 people have to end up somewhere, she said.
"Now they'll go to parks in residential areas."
Noles, who said he has trouble working because of health problems, wasn't sure where he would spend his days when the downtown park is no longer an option.
"I'll probably be sitting on the street."
Contact reporter Lynnette Curtis at lcurtis@reviewjournal.com or 702-383-0285.