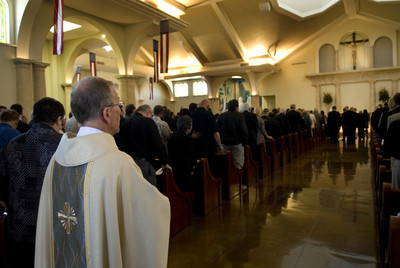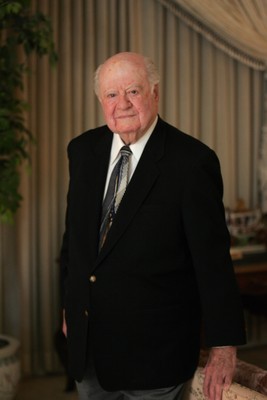 Robert Maheu, a man widely known as the face of billionaire Howard Hughes and a successful spy in World War II and the Cold War, was remembered Saturday as an enchanting raconteur, accomplished cook and impish grandfather who went by the nickname "Pepper."
People described Maheu, who died Monday at the age of 90, as "Howard Hughes' man who ran Nevada," said Joe Brown, a longtime friend who first met Maheu through doing legal work for Hughes' company.
But that, he added, was "just the tip of the iceberg, and a small slice of Bob's life."
Brown and Maheu's son Bill offered eulogies to mourners at St. Viator Catholic Church, remembering a man who loomed large during the era when Las Vegas' casinos shifted from Mafia-infested operations to corporate-owned enterprises.
Bill Maheu remembered arriving in Las Vegas as a boy with his family using the assumed name of Murphy, since Maheu didn't want it to be known he was doing advance work for Hughes.
Bill Maheu ended up blowing their cover in public: "I asked him if the Murphy bit was over, because I was starting school on Monday and I didn't know how to spell it," he said.
The senior Maheu's other undercover exploits went more smoothly.
In World War II, he posed as a German sympathizer while working for the FBI and spread misinformation about the Normandy invasion. He later helped derail a contract that had given shipping magnate Aristotle Onassis a monopoly on shipping Saudi Arabian oil, and forged connections with the mob to set up an assassination attempt on Cuban leader Fidel Castro — a plan that was ultimately scuttled.
After World War II, Maheu set up an investigations agency that counted the CIA as a client.
He came into contact with Hughes in the 1950s and began working for him full time in 1966. Maheu acted as the billionaire's agent as he acquired casinos and real estate in Nevada, and as Hughes peddled his money and his influence locally and nationally.
That era ended in 1970, when Hughes' inner circle spirited him out of Las Vegas and corporate infighting left Maheu out in the cold. The two had never met face to face. He returned to his investigations business.
"He was a loyal and faithful friend," Brown said. "Of all the things that he accomplished in his life, he was most proud of his family."
Everyone knew all about the colorful past, Bill Maheu said, so he instead focused on his personal portrait of his father: a backgammon and tennis nut who made tiny burgers and baby pancakes for his grandchildren and concerned himself with the daily details of those closest to him.
"He was the sounding board for the entire family," Bill Maheu said. "Those conversations will be sorely missed.
"I am not only proud of what my dad accomplished, I am proud of how he did it. He was a gentleman, and a gentle man."
Contact reporter Alan Choate at achoate@reviewjournal.com or 702-229-6435.