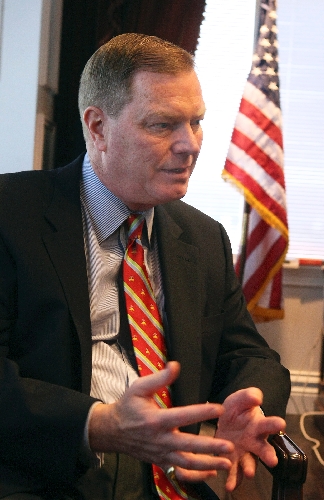 His students at The Meadows School don't look at him quite the same now.
Not after his face has been plastered on television screens and his name has been in news headlines from Las Vegas to Wall Street.
"Now I'm a celebrity. Not just a headmaster, but some guy who's been on TV," Henry Chanin said Monday, three days after a jury awarded him and his wife $500 million.
Chanin said he never sought the spotlight or the money when he sued the two drug companies who made and sold the anesthetic linked to Southern Nevada's hepatitis C outbreak.
The lawsuit, he said, was about making sure the drug companies changed in the name of public safety.
"We're dealing with human lives here, and if they could do anything to make their products safer, they ought to," Chanin said at the office of his lawyer, Robert Eglet.
Chanin, 62, and his wife, Lorraine, had sued the Teva Parenteral Medicine and Baxter Healthcare Services on several product liability claims related to propofol, a popular anesthetic that was used at the Desert Shadow Endoscopy Center when he was infected with hepatitis C in 2006.
His case was one of nine linked to two Las Vegas endoscopy clinics by health officials who in 2008 notified 50,000 patients about possible exposure to hepatitis, HIV and other blood-borne diseases because of unsafe injection practices at the clinics run by Dr. Dipak Desai.
Their lawyers argued that the drug packaging did not include appropriate warnings against reusing vials between patients and that the 50-milliliter vials of propofol should not have been sold to endoscopy centers because they tempted nurses to reuse the vials instead of throwing away leftover sedative.
Despite previous outbreaks and knowledge that 50-milliliter vials were being misused, the companies continued to make and sell them to the endoscopy centers because they were more profitable than safer, 10-milliliter vials, the Chanins' lawyers argued during the three-week trial.
"This was an issue of the drug companies putting out a defective product, not whether there was negligence or not," Eglet said.
A jury found the companies liable and awarded the Chanins $5.1 million in compensatory damages and $500 million in punitive damages against Teva and Baxter.
Teva plans to appeal.
"The label for its propofol product clearly states that it is for single patient use only and that aseptic procedures should be used at all times," the company said in a statement from its headquarters in Jerusalem. "Teva believes that the evidence clearly showed that if the plaintiff contracted hepatitis as alleged, it was because a properly labeled product was blatantly misused at the clinic in question."
Chanin said he hoped the large verdict would send a message across the world, and it seems it did.
"We're on the radar screen," he said.
Chanin knows the victory was just round one of what he expects to be a drawn-out legal battle, starting with post-trial motions and an official appeal in the next few months.
He already has invested more that two years in the fight, but he said he won't be satisfied until every other infected patient is compensated by the drug companies who stood by while hepatitis outbreaks continued around the world.
"By golly, the medical professionals in Las Vegas let everyone down," Chanin said. "But they haven't been traveling around the world causing these outbreaks."
Contact reporter Brian Haynes at bhaynes@reviewjournal.com or 702-383-0281.