PEPCON explosions rocked Las Vegas Valley in 1988
January 29, 2014 - 10:14 am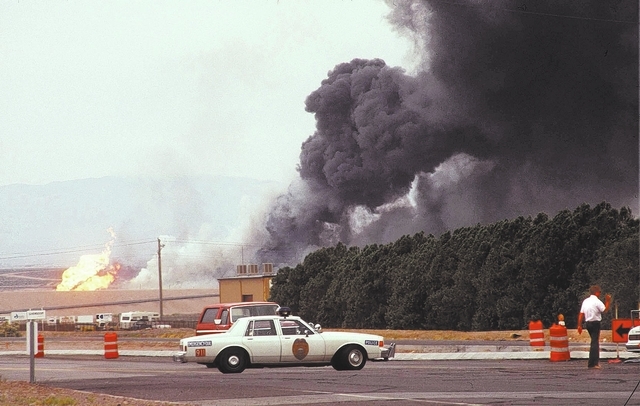 By the 1980s, Las Vegas had built instant recognition as the world's gambling capital. Late in the morning of May 4, 1988, many people, including locals, would learn that it was also the manufacturing center for a white powder called ammonium perchlorate.
Pacific Engineering and Production Co. of Nevada, known as PEPCON, and Kerr-McGee Chemical Corp. both operated plants within 1½ miles of each other in eastern Henderson, near the current-day junction of U.S. Highway 95 and the 215 Beltway.
A key additive to rocket and missile fuel, ammonium perchlorate is not dangerous in itself but magnifies the bang of other fuels.
On that day in May, a fire started around 11:30 a.m. at one of the PEPCON buildings, leading to three major explosions in four minutes that began at 11:53 a.m. When it ended, two people had died, and more than 370 suffered injuries.
The PEPCON facility was leveled as was a nearby marshmallow plant. Windows shattered as far away as the Las Vegas Hilton, just part of the $74 million total damage.
A Sandia National Laboratories report said the blasts equated to 1 kiloton, the size of a small nuclear weapon. The explosions also triggered several small earthquakes.
"The final explosion went off, and (PEPCON) basically disappeared," dock worker Joe Hedrick said. "Boulder Highway looked like a war zone. There was glass everywhere and very few people were out."
The U.S. Fire Administration, working with the Clark County Fire Department, traced the cause to welders repairing the steel frame of a wind-damaged PEPCON building, setting off a chain reaction that reached ammonium perchlorate stored in 55-gallon plastic barrels.
The U.S. Labor Department and the state's Occupational Safety and Health Division focused on a leaky natural gas line as the culprit. The two agencies differed on the number of explosions, counting as many as seven.
American Pacific Corp., PEPCON's parent company, dryly notes in its company history that it "relocated its (perchlorates) manufacturing operations from Nevada to a new state-of-the-art facility in Cedar City, Utah."
The subsidiary's name was changed to Western Eletrochemical Co., with no mention of the events of May 1988.
American Pacific bought Kerr-McGee's ammonium perchlorate business in 1998, making it the sole source in the United States.
Contact reporter Tim O'Reiley at toreiley@reviewjournal.com or at 702-387-5290.

Celebrating the Silver State