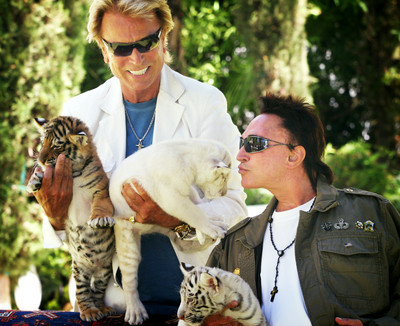 If you've got the big Saturday night ticket, you will see Siegfried & Roy perform for the first time since Roy was mauled by a tiger onstage at The Mirage in 2003.
This is at a Bellagio charity dinner, billed as their final performance, not a comeback, to help raise hundreds of thousands of dollars for the Lou Ruvo Brain Institute.
A spokesman for the illusionists, Dave Kirvin, wouldn't tell me whether animals will be present.
"All I can say is that Siegfried & Roy have always delivered the unexpected and Saturday night should be no different," Kirvin's e-mail says.
Siegfried & Roy don't perform anymore, but they keep tigers and other animals in captivity in Las Vegas. The People for the Ethical Treatment of Animals, a longtime critic, isn't pleased.
After Roy's mauling, people who worked around the act told PETA the cats were then confined to dark and barren glorified kennels, although PETA never confirmed that independently, says PETA's Lisa Wathne, a captive exotic animals specialist.
"I challenge them — if they truly care about tigers, as they say they do — they would stop breeding these animals, and take some of the vast funds — monies they have made off the backs of these tigers — and retire them to a sanctuary, where they can spend the rest of their lives in as natural conditions as possible," she says.
Siegfried & Roy have always insisted the animals are well-cared for. I asked Kirvin for a response to PETA's assertions.
His e-mail says: "Siegfried & Roy's global reputation for the conservation and well-being of rare and endangered animals is all but unrivaled and therefore they have no inclination to comment on remarks from an organization that spends less than 1 percent of its annual multimillion dollar budget on actual animal welfare."
Wathne points out other people were injured by some of the act's tigers.
"White tigers are not nearly extinct in the wild, as Siegfried & Roy claim, because they're not a species. They're simply an aberrant color variation of Bengal tigers," she says. "There's a huge overpopulation of captive tigers.
"But wild tigers in their natural state live in India. They live in forests and jungles. They roam over vast distances. They typically have territories that cover hundreds of miles."
The Association of Zoos and Aquariums condemns breeding white tigers, and an Oxford study asserted animals disposed to roam big distances are driven "insane" by captivity, she says.
People who see captive tigers and tiger cubs may say, "aww," but she says, "they should think how very, very sad, that these magnificent animals are spending their lives in captivity, that they're doomed to a life of boredom and frustration."
ONSTAGE THIS WEEKEND
Dokken rocks Santa Fe on Saturday. I interview Don Dokken in today's Neon section. Also in Neon this weekend: Ron White, Los Lobos, Big Head Todd & The Monsters, Emerson Drive and Craig Ferguson.
Send tips and comments to delfman@reviewjournal.com or comment online at reviewjournal.com/elfman. My column appears Sundays, Mondays, Tuesdays and Fridays.