Pilot program will issue unified license for contractors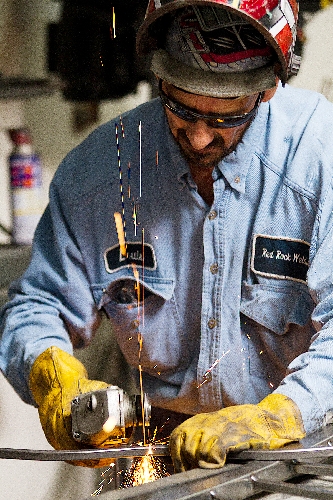 If all goes as planned, by this time next year Todd Henderson of Red Rock Welding and other contractors will be able to get one business license to operate in communities across the Las Vegas Valley, which he said would be a vast improvement over the current system.
"It's slow and drawn out. It's a hassle," he said of having to get separate business licenses for Clark County, Las Vegas, North Las Vegas and Henderson to work in each jurisdiction.
"They all have different rules. We should all have one rule. We live in the same valley."
Having a unified business license for contractors would be a first step toward a long-discussed goal of sharing or consolidating local government services, an idea that many local leaders have promoted for years.
Legislation passed in the last session established a pilot program requiring Clark County and its three largest cities to have that license available by June 17. Boulder City is participating voluntarily.
"They were all for it," said state Sen. John Lee, D-North Las Vegas, who sponsored the legislation.
The entities were already studying sharing services such as business licensing, but his legislation set up a deadline.
"The individual local governments have desires to do what's right, but they can't get all the managers to decide it's important at the same time," said Lee, who runs a plumbing business.
If successful, the licensing process will look easier from the outside. The person seeking a license would go into any jurisdiction's office to obtain a "multi­jurisdictional" license, said Karen Duddlesten, Las Vegas' business services manager. They will be able to pick the entities where they want to be licensed.
It would be up to the cities and the county to direct the license fees and the licensing information to the proper jurisdictions. The nuts and bolts of that process will be shaped over the next year.
"Each one of these entities licenses differently," Duddlesten said.
Even within the contractor category, definitions, requirements, renewal dates and the like differ, meaning the governments will have to come up with a unified ordinance with one set of rules.
"We have different computer systems," she said. "We have to get all of those systems to work together and securely exchange data so that the public has information on our website about who is a licensed contractor and what jurisdiction they are licensed in."
Duddlesten told the Las Vegas City Council that solving the computer compatibility problem could be expensive, but no cost estimates are available yet.
There are about 10,000 contractor licenses in Southern Nevada, Lee said, which should provide a big enough pool that the new system can be fully tested before adding other license types.
That's definitely the plan, Duddlesten said.
"The model is very expandable to other types of licenses," she said.
Next on the list will be other "mobile" businesses, such as delivery companies, florists and locksmiths, all of whom work across jurisdictional lines.
"For example, a florist — you might have your business location in Henderson. You deliver flowers all over the valley," she said.
Consolidation discussions have taken many forms over the years, from topics such as pooling government purchasing decisions and park maintenance to outright combining cities into a larger entity.
Some combinations have already taken place. The Metropolitan Police Department merged the Las Vegas Police Department and the Clark County Sheriff's office in the 1970s. Las Vegas and Clark County already share a library district, the valley's housing authorities are now under one regional roof, and the Regional Transportation Commission of Southern Nevada operates public transit and planning functions, to name a few.
Consolidation is often pitched as a money-saving undertaking, but the record on that is mixed and no mention of potential cost savings has been made in the push to streamline business licensing.
The existing system "makes it harder to do business," said Henderson, the welder. "It's more time-consuming."
Anything that addresses those complaints will pay off in the long run, said Randi Thompson, state director for the National Federation of Independent Business, one of several groups that supported the legislation.
"What would be nice is to have one definition of what a business is in the same community," she said. "Anything that's going to make it easier to get a business license is good for business."
Contact reporter Alan Choate at
achoate@reviewjournal.com or 702-229-6435.