Pilot survives crash landing in experimental plane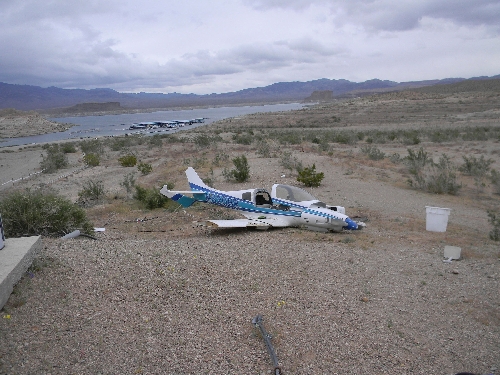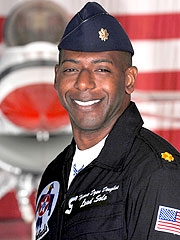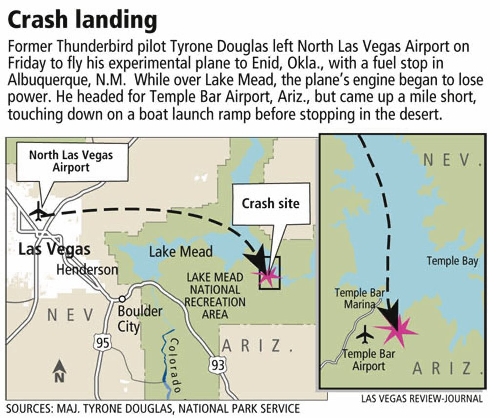 When Air Force Maj. Tyrone Douglas took off Friday from North Las Vegas Airport in his privately owned experimental airplane, he didn't know that he would have a new war story to tell.
Instead of flying combat sorties in an F-16 over Iraq or steering a red-white-and-blue Thunderbirds jet in a daring "calypso" maneuver toward an opposing jet at more than 500 mph, this story is about how he fought to stay airborne over Lake Mead and barely made it to a level landing spot near Temple Bar Marina in Arizona.
"I was the most blessed man on the Earth that day," the 36-year-old former Thunderbirds pilot said about his brush with death. His plane's wreckage had just been hauled back to North Las Vegas Airport on a flatbed truck.
He had flown his amateur-built, single-engine Lancair 320 earlier in the day before he set out to fly it to a new home in Enid, Okla., near Vance Air Force Base. That is where Douglas had been transferred a year ago to be the top training jet instructor pilot after a stint as lead solo pilot with the Thunderbirds demonstration team at Nellis Air Force Base ended after the 2009 air show season.
He had bought the Lancair aircraft from a general several years ago and had last flown it in December before taking it out Friday.
Douglas was confident he could make it to his destination, stopping for fuel in Albuquerque, N.M. He has racked up more than 3,000 hours flying F-16 Fighting Falcons and 500 hours flying civilian aircraft.
Everything seemed to be working until 20 minutes after takeoff from North Las Vegas when he noticed the engine losing power high above the lake.
It was like driving a car and stepping on the gas but no acceleration occurs, he said.
"The engine was rolling back. There was no sputter."
Douglas was cruising about 200 mph and losing air speed. He was about four or five miles from the nearest airstrip, Temple Bar Airport, a sliver in the desert that he had seen many times flying over the area with the Thunderbirds.
Instinctively, he initiated his emergency landing procedure — as it's known in aviation circles for propeller-driven planes — or SFO, short for Simulated Flame Out landing, the phrase used by the jet set.
"Basically you know what speed your airplane glides, even though it doesn't go very far. You get yourself to that speed, then you start descending," Douglas said in an interview Tuesday.
The perfect glide speed for this airplane is 85 knots, about 98 mph. That meant he would decrease the power to half of the cruise speed. He pointed the nose downward on a 5-degree slope.
"I was looking for a road or anything flat to land on," he said. "The airstrip was a little too far away."
He said he didn't want to ditch the plane in the lake.
"With a prop-driven plane you could be in a world of hurt. It could flip over, and you'd get knocked out."
Then he saw the Temple Bar boat ramp.
"It's a curve and big hill on the west side. I didn't know if I could turn the airplane, so I aimed for the end of the boat ramp to head southeast into the dirt, flat area," he said.
Maintaining his glide speed, he maneuvered the plane so that the landing gear would briefly touch the surface of the asphalt ramp before rolling onto the flat stretch of desert.
"We call it 'putting it down on brick one,' " he said. "I landed, bounced one time and was rolling along the ground trying to get it stopped before it goes up that hill.
"The tires aren't biting to slow it down."
By the time he hit some rough ground, he was going about 40 mph.
Finally, the aircraft, or what was left of the two-seater, came to rest.
"I'm fuzzy for the next minute and half. I get unstrapped and get out of the airplane. I can tell I'm going into a little bit of daze from hitting the glare shield," he said.
When the plane bumped off the boat ramp road, his head hit the instrument panel.
A couple of workers at the marina ran to help him get away from the wreckage, where about 15 gallons of gasoline had leaked.
National Park Service medical responders gave him first aid. And, using a phone at the marina, he called his wife, a former Air Force aerospace physiologist, to tell her he was OK.
As a precaution, he was airlifted to a Las Vegas Valley hospital where doctors put eight stitches in his head, X-rayed a "pretty big bruise" on his arm and gave him a CT scan.
While transportation safety investigators try to determine what caused the engine power loss, Douglas said he's not sure whether he'll return to the cockpit of an experimental plane.
"Right now, my mind says stick with Air Force flying," he said.
"Machines break unexpectedly, but I still know my chances are higher of getting into a fatal accident in a car."
His advice to fellow pilots: "Practice your emergency landing procedures. Know what you're going to do if you lose an engine."
Douglas, who was on leave, said he intends to take a commercial flight to Oklahoma to reunite with his family.
Contact reporter Keith Rogers at krogers@reviewjournal.com or 702-383-0308.