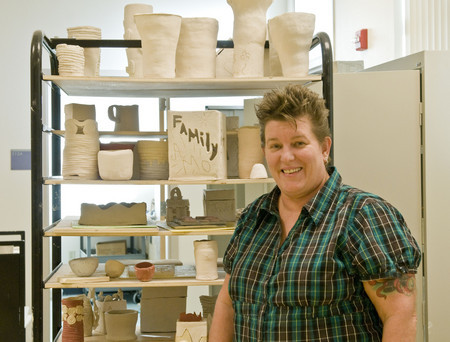 As a teacher at the new Sunrise Mountain High School, Terri Galietta disliked seeing the campus littered with plastic bottles.
In the course of finding a way to pay for recycling the litter, Galietta snagged a $15,000 grant for her school, found a way to teach students a marketable skill and showcased the products of recycling.
Tapestries woven with the fibers of shredded plastic bottles hang on the walls of the northeast valley campus on Los Feliz Street near Lake Mead Boulevard. The school currently is displaying a forest scene of Sunrise Mountain, but the wall hangings might also be used to illustrate school lessons, said Principal John Barlow.
"What's great is that we get to do so many cool things," Barlow said.
That wouldn't have been possible if the art teacher hadn't won a contest sponsored by Purina, the maker of Yesterday's News, a kitty litter made from paper. Galietta said the "coolest day of my career was the day I could give my principal a check for $15,000." The money was a surprise to Galietta, who had forgotten about the contest she entered last summer. Annoyed at the sight of kids throwing away plastic bottles, Galietta stayed up late one night and found the contest online.
When she was notified in November that she had won, she almost lost the money because she was slow in claiming the prize within a 72-hour deadline.
"I got an e-mail saying I had won the contest," Galietta said. "I deleted it. I thought it was spam. The next day, I got another e-mail. I thought, 'Oh, you evil people.' I erased that one too."
Finally a Purina representative called Galietta's at home and got through to her. "That's when the screaming started," Galietta said.
With approval from her principal, Galietta decided to use the prize money to start a T-shirt screen-printing business. School officials hope the business will generate income for both recycling and art supplies. As part of the financially strapped Clark County School District, Sunrise Mountain's art program is desperate for basic supplies.
Sunrise Mountain is currently negotiating with several different companies to haul away its plastic bottles. Cost estimates for the service are between $300 and $600 a month.
The school got a bargain on the screen printer from Press-A-Print, which normally sells for $18,990 as part of a package for setting up a T-shirt business. Press-A-Print agreed to lower its price by $5,000, said Arlo Nelson, business development consultant for the company. Press-A-Print customers also get reduced prices on T-shirts.
"They're just putting a few cents of ink on that shirt," Nelson said. "If they sell it at $6, their profit is over $4."
Because she also has raised donations, Galietta said she has more than $4,000 to get the business started. "We are set," she said.
Galietta is optimistic the business will succeed. She knows the demand is great because many coaches have already contacted her about potential business. She would like to eventually expand to serving all district schools and the community as well.
Galietta said students who work to support the recycling program will learn a marketable skill –T-shirt design — they can use after graduation.
Other students may also want to get involved, Barlow said. Marketing students, for example, might help promote the business. The Key Club, a community service club, will organize the collection of plastic bottles and put out bins at high traffic areas in the school.
In recognition of Sunrise Mountain's recycling efforts, Pictographics is donating the tapestries to the school at a reduced price, said Craig Miller, a co-owner of the Las Vegas-based business.
Pictographics designs and illustrates fabrics made from water-based dyes and the raw material of old plastic bottles. Once the tapestries are worn and faded, they are recycled into carpet pads.
Pictographics purchases its recycled fabric from a supplier. Because of the many manufacturing steps involved, it cannot be said with certainty that the same plastic bottles collected at Sunrise Mountain will be used for the school's tapestries, Miller said.
But Miller likes that students are getting an "object" lesson on why they should recycle.
"If you do something good, something beautiful will come back," Miller said.
Galietta, 50, only began teaching five years ago. A former high school dropout, she worked multiple jobs at fast-food restaurants to support her family.
She went back to college at California State University, Sacramento when she was 39 to answer a challenge from her oldest daughter, Wendy Galietta, who is a photojournalist for The Washington Post.
"Basically my oldest gave me an ultimatum: 'If you don't go to college, I am not going to college,'" Galietta recalled. She remembers throwing up in the parking lot on her first day of classes and thinking that she didn't belong in college.
"I was afraid to go home because I was afraid to tell my daughter I was afraid to go to school," Galietta said. "So I went to school."
The daughter of peach farmers, Galietta said she was the first member of her family to graduate from college.
She went to work for the Clark County School District five years ago because she could not find a job in her native California. So far, she is proud of her career.
"Not too bad for an old lady," Galietta said.
Contact reporter James Haug at jhaug@reviewjournal.com or 702-374-7917.