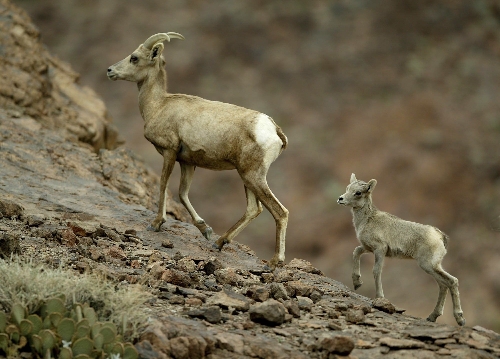 RENO — Pneumonia outbreaks that have killed hundreds of bighorn sheep this winter in several Western states have wildlife officials grappling with how to minimize the impact.
The disease shows up sporadically in wild herds, but it's unusual to have so many outbreaks in so many states, wildlife officials said Friday.
More than 400 ill bighorn sheep in Nevada, Montana, Utah and Washington state have died or have been killed by wildlife officials this winter, and the death toll is expected to rise in coming weeks. More than half were from four herds in western Montana alone.
"I'd lean toward saying this is unprecedented," said Vivaca Crowser, a spokeswoman for Montana Fish, Wildlife & Parks.
Wildlife officials said there's no effective treatment or vaccination for pneumonia, so they're left with few good options: let the disease run its course or start killing sick sheep to save the healthy ones.
"It's not a pleasant task but we know if we don't get ahead of the disease, we could lose everything," said Charlie Greenwood, a wildlife manager with the Utah Division of Wildlife Resources.
It can be difficult to determine what causes a pneumonia outbreak, said Krysten Schuler with the U.S. Geological Survey's National Wildlife Health Center in Madison, Wis. The causes can include factors that are bacterial, parasitic or viral, she said.
While domestic sheep carry pathogens that can infect bighorns, there's no evidence linking them to any of the pneumonia outbreaks, wildlife officials said.
"We don't have evidence for what the source point is for the pneumonia," said Donny Martorello, wildlife manager at the Washington Department of Fish and Wildlife.
"It's such a complicated thing," said Joe Doucette, a spokesman for the Nevada Department of Wildlife in Elko. "There's so many unknowns and they're trying to study everything."
In northeastern Nevada, 79 sheep have died in the adjoining East Humboldt and Ruby ranges, and wildlife officials think the outbreak could end up killing as much as 80 percent of the 340 bighorns there.
"There's a distinct possibility it could be catastrophic like 1995-96," when a similar outbreak killed 140 of 160 bighorns in the Rubies, Doucette said.
Signs of pneumonia began turning up in November across the West, and the outbreak has continued to spread since then.
Caleb McAdoo, a biologist with the Nevada wildlife agency, said the full extent of the outbreak won't be known until the spring when aerial surveys of sheep are performed. He expects the death count to significantly climb.
When pneumonia takes hold in sheep, it's nearly always fatal. The lungs fill up with fluid and they can die within days or a week. It also spreads fast because sheep are so social.