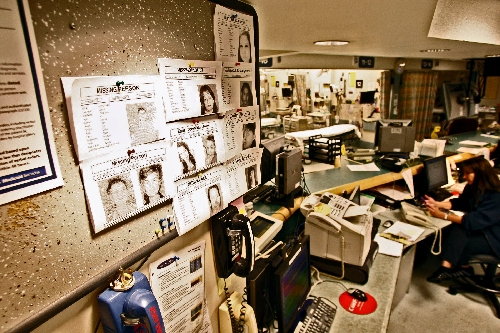 From the time a person goes missing, every minute is crucial. To investigators, time can mean the difference between safely returning the individual home or finding a body. To a family, time can mean waiting until the relative is found or preparing to hear the worst. To hospitals, time can mean stabilizing a "Jane Doe," trying to identify the person, finding her family and then contacting police.
For Billie Jean James, who vanished April 22 from her home near M Resort, timing is everything.
According to the Metropolitan Police Department, an average of 19 people are reporting missing each day in Las Vegas. That's almost 7,000 missing people per year, including runaways.
The era of faces on milk cartons is long gone, replaced by social networking sites and other fast-paced technology to get information out. Though missing person fliers remain a staple during investigations, none of these resources mean much without communication of all parties involved.
Billie Jean's purse, keys and credit card were left on the couch. Her white Nissan truck is still parked in the driveway, right where she left it last. Meanwhile, Bill James, her husband of 40 years, agonizes at home.
Family and friends have started a Facebook group to exchange information . Members worry Billie Jean may have wandered off after suffering a stroke that wiped out her memory. They conducted a search Saturday that turned up nothing.
Police have searched three times around the home and desert. Officers in helicopters have searched with heat sensors, while those on the ground are using horses, ATVs, dogs and other resources. But when it comes to alerting area hospitals, the police response has been inconsistent .
Police use an automated computer program where a missing person's information is plugged into a flier template and e-mailed or faxed to hospitals, schools, casinos, media, law enforcement agencies and elsewhere. That's a large database of e-mails and phone numbers where one typo can determine whether someone receives information or not.
Most emergency rooms received information the next day about Billie Jean's case from faxes, phone calls or visits from police. But the region's only public hospital heard nothing.
One week later, officials at University Medical Center said they still had not received information from Metro.
"There's nothing in the emergency department," said Danita Cohen, UMC spokeswoman. "If Metro faxes in we would post it. The last fax we got from them was three weeks ago about a missing man."
Sgt. Peter Ferranti of the police missing persons unit said the error could be caused by a computer glitch or a misplaced flier.
"I'm not saying our system is perfect," Ferranti said. "They could have gotten misinformation, or there could be more than one fax machine. I can see how UMC might not get a flier, but I know we've made personal phone calls over there."
About five miles away from the James' home, authorities sent fliers to St. Rose Dominican Hospital's Siena Campus. Hospital officials there said they received information about Billie Jean's disappearance the next day.
"Police are used to us calling them for missing people. I don't know that they would send us a missing persons flier of everybody missing," said Katie Ryan, emergency director at the hospital's San Martin campus. "If we can't identify the person, we call police."
Bill James, Billie Jean's husband, was critical that hospital officials would try to identify a "Jane Doe" before contacting police.
"It seems to be a disconnect there," Bill James said. "You would think sometime anybody comes in unconscious or unidentified (the hospital) would call police first. That seems, to me, to be a problem."
Photos of Billie Jean's face and last known whereabouts are posted on a small bulletin board in the emergency room 16 miles away at Sunrise Hospital and Medical Center. Her picture is surrounded by the faces of a half dozen other missing people.
"We get patients like this all the time," said Jeff Johnston, director of emergency services. "Our first step is to look at our missing persons list. If they're not there we usually call Metro and let them know where they were picked up in an ambulance."
As a trauma center, Sunrise gets patients who are in "very poor shape" and "so horrendously injured we can't take the time to find a wallet in the back of pants half torn off," Johnston said.
Many other variables factor into how police and hospital communicate with each other, including a patient transfer to a different area of the hospital, shift changes and HIPAA laws, Ferranti said.
Billie Jean's name could be easily confused by hospital staff to be male if she was disoriented and only giving a partial name, Ferranti added.
"People who stay missing are very rare. This is a very unusual case with the time it's taken to find (Billie Jean) in a facility, or in the desert, or in the morgue. Our concern level rose, we've done all those checks at the hospitals, morgues, jails. At one week to 10 days we were at our wits end. She's at the top of our radar right now."
Police are asking anyone with information to contact the missing persons unit at 702-828-2907 or 702-828-LOST (5678).
Contact Kristi Jourdan at kjourdan@reviewjournal.com or 702-383-0279.