Police investigate loss of sports funds at Coronado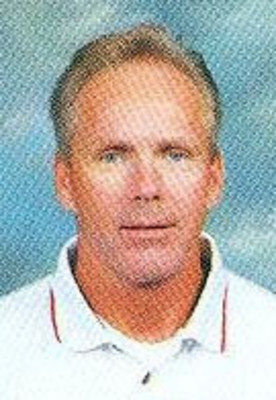 Clark County school police are investigating the theft or loss of thousands of dollars in funds raised by students in the football program at Coronado High School.
More than $20,000 generated by student athletes at the Henderson school is unaccounted for, sources within the Clark County School District said.
Coronado's head varsity football coach, John Mannion, acknowledged last week that he was responsible for overseeing the funds but said the money at issue is roughly $6,000.
Mannion, 50, said that he believes the money was stolen in late August and that he is willing to reimburse the school.
"There was money taken from a cabinet in the football office," Mannion told the Las Vegas Review-Journal. "I'm saying between $5,000 and $6,000."
Coronado's freshmen football coach said he gave Mannion about $11,000 raised by his football players that same month.
He said he doubted Mannion's account of what took place and contended that from July to January, Mannion failed to turn in student-generated money to the school banker.
The coach spoke on the condition that his name not be used, saying he did not want to be linked to Mannion.
"If the money was stolen, why didn't he report it right away?" the freshmen coach asked. "This wasn't the school's money, it was the kids' money. It makes me sick."
Coronado's banker could not be reached for comment. Coronado Principal Lee Koelliker did not return numerous calls for comment.
A district audit of Coronado's finances also is examining unpaid bills related to the school's football program.
"At a minimum for this account, proper records were not kept," said district spokesman Michael Rodriguez. "Whether or not there was misappropriation of that account is what we're looking into."
School police Lt. Ken Young said officers recently began the investigation.
"It's a financial investigation," Young said. "That's all I can say at this point."
Southeast Region Assistant Superintendent Patrick Skorkowsky would not discuss details of the matter because the audit was not completed. He did say that the audit began in mid-February and that the district's Internal Audit Department had alerted school police.
A Review-Journal request for preliminary audit results was denied. The last district audit of Coronado was done in June 2006, Skorkowsky said.
Mannion was hired as Coronado's head varsity coach last May. Coronado's record was 3-7 last year, and the school tied for last place in the Southeast League at 1-5.
Mannion also teaches weight lifting. He has worked in the district since 1991 in various jobs, including custodian, support staff worker and football coach.
Mannion said he feels responsible for not properly tracking the money raised by students in his program.
"I understand I was responsible for it while it was in my possession," he said of the missing funds. "I'm not going to back down from that. I'm not going to hide from that."
Mannion said he has spoken with school police and is confident the investigation will clear him and his staff.
A sign of financial trouble within Coronado's football program surfaced in January, when the school sent a letter to parents of varsity football players asking them to pay $77 each for homecoming jerseys.
"In reviewing the football budget we found that varsity players who were issued a personalized homecoming jersey did not submit payment for that jersey," said the Jan. 22 letter, sent out by Coronado Assistant Principal Sam Johnson, who oversees athletics.
However, the freshmen coach said students had raised money specifically for those jerseys during the summer. The letter requesting payment was sent after the school learned of the missing football funds, he said.
"It was part of a cover-up to generate money as fast as they could," the freshmen coach said. "At that point, they had a negative balance."
A parent of a varsity football player corroborated the freshmen football coach's account.
"We've been told there is no money to pay for the jerseys even though we sent it in" through fundraising efforts, she said. The parent asked not to be named because, she said, her son "will never see the light of day on the football field" if she is identified.
Mannion said he and his staff worked afternoons during the summer. He told the Review-Journal that he did not turn over several thousands of dollars raised by students to a school banker for weeks at a time because the banker was not working when he and his coaching staff were on campus.
He said he was not trained by the school on how to properly manage student-generated funds.
"I didn't know anything about how the banking was done at Coronado High School," Mannion said.
Skorkowsky said the audit is also looking at what accounting training did or did not take place.
The district policy for student-generated funds states that all expenditures must be reviewed by a faculty adviser, the principal and a student representative.
Purchased goods or services must be for school operations and used for the exclusive benefit of students.
At the end of every month, all expenses must be made available for public inspection in the principal's office.
At the end of each fiscal year, the district's Division of Business and Finance Services compiles a report on all student-generated funds.
Whenever there is a change in staffing, outgoing and incoming personnel must agree on the amount of cash on hand and the book balances.
Mannion filed for bankruptcy in 2005, listing liabilities that included $41,216 in credit card debt.
His parents are longtime district veterans John and Terry Mannion. Mannion Middle School was named in their honor.
The middle school's Web site credits them with a combined total of 62 years of service in a range of capacities, including coach, teacher, dean, assistant principal and assistant superintendent.
Review-Journal reporters Brian Haynes and Tristan Aird contributed to this report. Contact reporter Antonio Planas at aplanas@reviewjournal.com or 702-383-4638.