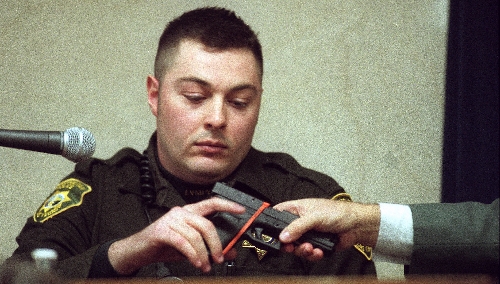 A Metropolitan Police Department board has cleared Detective Bryan Yant in his June deadly shooting of an unarmed, small-time drug dealer, but it recommended that internal affairs investigators look at several mistakes by the troubled detective leading up to the shooting.
The use of force board, made up of officers and civilians, found the narcotics detective acted within department policy when he shot and killed Trevon Cole, 21, during a raid on Cole's apartment. A Clark County coroner's inquest jury in August also found the shooting justified.
The review board's recommendations to internal affairs will add to the scrutiny of Yant, who already is under investigation for another botched drug case.
The board recommended that investigators look at "neglect of duty" violations relating to Cole's death, according to the department. Those include mistakes Yant made on the apartment search warrant —  he mistook Cole for a man seven years older, at least 3 inches shorter and 100 pounds lighter who had a serious criminal record.
The attorney representing Cole's family disagreed with both the panel's findings.
"Saying that Yant neglected his duty is the same as meaning Nixon didn't mean to order the Watergate break-ins," Andre Lagomarsino said. "This was intentional conduct from start to finish, and he testified as much during the inquest."
Prosecutors during the inquest called Yant's police work on the case "sloppy," and testimony and physical evidence grossly disputed Yant's description of what happened during the June 11 raid.
Yant testified that when he kicked open the bathroom door in the dark apartment he saw Cole turn from flushing marijuana down the toilet and lunge toward him. Yet based on the position of Cole's body, a medical examiner called that extremely unlikely, and said Cole probably turned his head to look at the officer but did not lunge toward him.
Prosecutors noted that the evidence — such as the position of Cole's body, the downward angle of the bullet through his cheek to his neck, and testimony from fellow officers who did not hear both a door kick and gunshot — pointed toward an accidental discharge of Yant's rifle simultaneous with the door kick. Yant denied that the incident was an accident .
The problems surrounding the execution of the search warrant prompted Sheriff Doug Gillespie to allow only SWAT officers to carry out similar search warrants. The shooting happened about a month before Erik Scott, 38, was shot and killed by police outside a Costco. Together the cases prompted a public outcry that led to Clark County commissioners establishing a panel to study reform of the inquest process.
Yant also is under investigation for apparently lying about drugs he did not seize and actions he did not take during an unrelated 2009 police raid that never happened. He ended up tearing up and disposing of documents describing the fictional raid during a later search at a suspect's house.
Cole's shooting was Yant's third in his 10 years with the department, and his second fatal shooting. While the earlier fatal shooting also was ruled justifiable, inquest jurors in that case also heard evidence that contradicted Yant's description of the incident.
Yant remains on paid administrative leave, but he could return to duty while internal affairs investigates the case, police officials said.
Lagomarsino has yet to file a lawsuit in the Cole case.
"Yant killed Cole in cold blood, and there's no way around it," he said. "He went in and kicked in the door at the same time he shot his gun and killed him."
Contact reporter Lawrence Mower at lmower@reviewjournal.com or 702-383-0440.