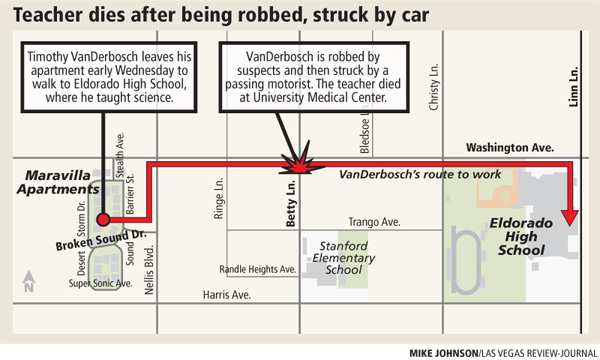 As a child, Timothy VanDerbosch was a budding teacher.
"He always wanted to be either a teacher or a weatherman," recalled his younger sister, Lori Delosreyes, 47, from her home in Indianapolis. "He'd create tests for me when I was little so he could grade them, and send out weather reports to our family and friends."
Dedicated to his craft and community, the Eldorado High School science teacher lived in an apartment a mile from campus and walked to work early each morning to get a jump on daily lesson plans.
That is where VanDerbosch was headed at 5:30 a.m. Wednesday when he was struck by a passing vehicle after being targeted in what Las Vegas police described as "a brutal and violent robbery."
Police received reports that VanDerbosch was attacked and beaten by several Hispanic men before he was hit by a vehicle.
"The victim was left injured and laying in the street where he was accidentally run over by a passing motorist," according to a Metropolitan Police Department report. "The motorist remained at the scene, and has cooperated fully with Metro's investigation. No charges are anticipated to be filed against the motorist."
Las Vegas police are searching for a white, four-door compact car, possibly a 1998 to 2000 Nissan Maxima, which might be linked to a string of violent street robberies that happened earlier Wednesday morning.
Police described the suspects as four or five Hispanic male adults in their early 20s.
VanDerbosch was taken to University Medical Center, where he died eight days after celebrating his 50th birthday.
Police think the teacher's robbery in the intersection of Washington Avenue and Betty Lane was one of four violent acts committed that morning by the same group of suspects.
The first incident happened about 2 a.m. in the 6100 block of East Sahara Avenue near Sloan Lane. Four to six Hispanic suspects armed with guns and knives committed a robbery on the street, according to police. One person was stabbed and taken to an area hospital.
Police reported three other robberies: one near Lake Mead Boulevard and Los Feliz Boulevard, another near Vegas Valley Drive and Hollywood Boulevard, and a third near Bonanza Road and Nellis Boulevard.
At least two other victims were hospitalized after being pistol-whipped by suspects, said officer Bill Cassell, a police spokesman.
Police did not release details of the robberies, citing an ongoing investigation. No suspects had been arrested as of Wednesday evening.
Cassell said every resource of the department is devoted to finding the suspects, who showed a "disregard for human life and safety."
Delosreyes said details of her brother's death seemed "sketchy." Detectives told her family that her brother was found without his wallet or school identification.
"It's been hard to get information, which makes it worse for us," she said. "We couldn't even find out (from authorities) exactly where his body was at first."
Delosreyes said her brother, a physics and chemistry teacher, devoted his life to Eldorado and constantly volunteered for activities.
Her brother could have moved to another school during his 15-year career, she said, but he didn't want to, though Eldorado is a struggling school in an area often plagued by crime.
The Clark County School District campus has been a needs-improvement school for six years, according to its 2009-10 accountability report. That means the school has failed to meet the standards of the federal No Child Left Behind Act.
The school serves about 1,800 students, 40 percent of whom qualify for free or reduced lunches.
"We'd say, 'Why not that school? It's newer, it seems nicer, not as many problems,' " Delosreyes said. "But he was committed to staying there and making sure every kid had a path to college or at least some sort of structure when they moved on."
Students at the school were devastated by their teacher's death.
"I just saw him yesterday," said Veronica Moreno, 17, who was taking his physics class.
Jacqueline Trejo, 15, said she was in shock. "A lot of people were crying," she said.
Trejo said VanDerbosch, who taught her chemistry class, was "strict, but he was really nice. He really expected a lot from you."
Because he liked to wear blue shirts, Eldorado staff members are discussing holding a "blue shirt" day in his honor.
His death weighs heavily on the Eldorado community. Another teacher, Pamela Orr-Sowers, recently died after being in ill health. Orr-Sowers had worked for the district since 1984 and taught special education.
"Their passing occurred in unrelated incidents. The shock of this terrible news is having an adverse effect on our faculty and students," Eldorado Principal Danielle Miller said in a letter to parents and guardians.
Lt. Ken Young, Clark County School District police spokesman, said that security around the school has been boosted with extra patrols in response to the incident.
VanDerbosch had no children and never married. He had dated Jill Ruby, a school counselor, for about eight years.
Ruby said she was still in shock about VanDerbosch's death and preferred not to comment. She said she was treated at UMC earlier Wednesday because her anxiety led to high blood pressure.
Delosreyes said her family is reeling from her brother's death and is awaiting answers from police.
"He was the last person you'd expect this to happen to; he would never hurt anything," she said, calling what happened senseless.
"You ask yourself, 'Why does it have to happen?' And I just don't know."
Anyone with information about the suspects in the attack on VanDerbosch is urged to call the Las Vegas police Homicide Section at 828-3521 or Crime Stoppers at 385-5555.
Staff writer James Haug contributed to this report. Contact reporter Mike Blasky at mblasky@reviewjournal.com or 702-383-0283.