After saying he wouldn't, activist Tom Steyer launches 2020 campaign
Updated July 9, 2019 - 6:11 pm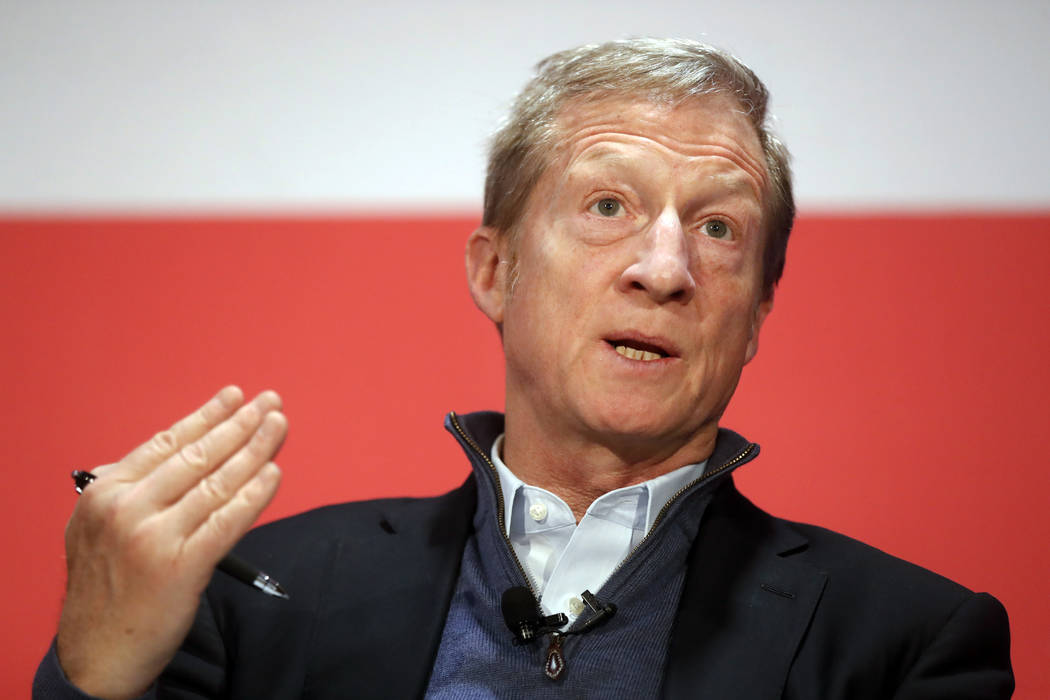 Billionaire activist Tom Steyer announced Tuesday he is running for president — just months after he said he wouldn't run so he could dedicate "100 percent of my time, effort and resources" to his organization, Need to Impeach.
Steyer's four-minute announcement video was notable for the Democrat's efforts to reach out to disaffected voters from both parties, his harsh critique of "the hostile corporate takeover of our democracy," but even more for what it omitted: any mention of his high-profile crusade to impeach President Donald Trump.
Less than a month ago, Steyer, 62, hosted a Need to Impeach conference call to educate the American public about the impeachment process.
Now, the Democratic mega-donor, whose campaign has signaled a willingness to spend at least $100 million of his own money, unleashed a jeremiad against a "rigged" political system unduly influenced by profits.
"Almost every single intractable problem, at the back of it is a big money interest," the self-made billionaire argued, for which "stopping progress, stopping justice is really important to their bottom line."
In 2010, Steyer and his wife Kat Taylor signed the giving pledge — a commitment to donate at least half of their wealth to good causes during their lifetimes. Forbes estimates the couple's fortune at $1.6 billion.
In 2012, Steyer left his hedge fund, Farallon Capital Management, which he founded in 1986. In 2013, he founded NextGen America, a nonprofit group that combats climate change and promotes social justice and participatory democracy.
A decade ago, Steyer was a "Johnny one-note on climate change, and then he became a Johnny one-note on impeachment," noted Bill Whalen, a former speechwriter for California GOP Gov. Pete Wilson and now a senior fellow with the Hoover Institution.
Steyer often stars in videos for the organization he bankrolls, and his announcement video fit that mold. Dressed in trademark ranch wear with barn décor, Steyer looked directly into the camera as he made his argument for running for the highest office in the land.
The San Francisco Democrat announced his candidacy the day after a fellow Bay Area resident, Rep. Eric Swalwell, D-Calif., bowed out of the presidential primary.
"So Tom Steyer's in the race. I guess someone had to fill the tremendous void left by Eric Swalwell's departure," tweeted Tim Murtaugh, Trump's 2020 communications director.
When she was House minority leader in 2017, Speaker Nancy Pelosi bristled at a Need to Impeach ad because she saw the impeachment movement as harmful to House Democrats, Politico reported.
And critics love to circulate stories about Steyer's early investment in Asian and Australian coal, which netted profits he used to finance his brand-name assault on climate change. Whalen said he sees an "authenticity issue" as Steyer campaigns as a populist billionaire crusading against climate change.
But Michael Brune, executive director of the Sierra Club, hailed Steyer as "another climate champ" in the Democratic primary.
Steyer also considered bids for governor of California in 2018, and U.S. Senate in 2016.
Contact Debra J. Saunders at dsaunders@reviewjournal.com or 202-662-7391. Follow @DebraJSaunders on Twitter.
The Associated Press contributed to this story.