Attorney General Barr orders federal executions to resume this year
Updated July 25, 2019 - 6:51 pm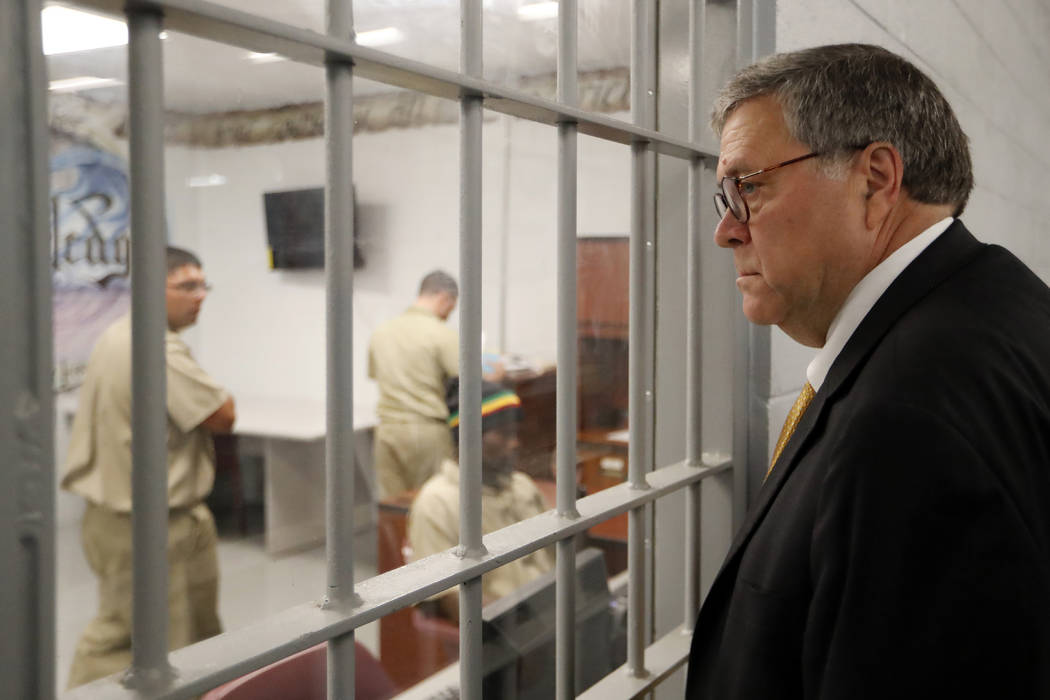 WASHINGTON — Attorney General William Barr made good Thursday on President Donald Trump's support for the death penalty by directing the federal Bureau of Prisons to schedule executions for five inmates convicted in federal courts of capital murder.
White supremacist Daniel Lewis Lee is scheduled to be the first executed on Dec. 9 at the U.S. Penitentiary, Terre Haute, Indiana.
Barr also approved a new procedure for lethal injections that replaces the three-drug cocktail previously used in federal executions with a single drug, pentobarbital.
"Congress has expressly authorized the death penalty through legislation adopted by the people's representatives in both houses of Congress and signed by the president," Barr said in a statement. "The Justice Department upholds the rule of law —and we owe it to the victims and their families to carry forward the sentence imposed by our justice system."
Civil liberties groups protested Barr's decision.
"As more countries, and U.S. states, recognize the cruel, inhumane, and arbitrary nature of capital punishment, this reversal is just another example of United States' further downwards spiral backwards on human rights," said Nicole Austin-Hillery, executive director of Human Rights Watch's U.S. Program. "The death penalty is a uniquely cruel and irreversible punishment. The U.S. should be putting this barbaric practice to an end, not ramping it up."
But Michael Rushford of the California-based Criminal Justice Legal Foundation told the Review-Journal, "Finally, this is going to make a difference for some of the murderers on federal death row and also will demonstrate how fast you can carry things out, especially for California."
The most recent Gallup Poll found that 56 percent of Americans support the death penalty for murder and 41 percent oppose it.
During the GOP 2016 primary, Trump voiced his support for the death penalty, especially for offenders convicted of killing law enforcement personnel. As president, Trump has advocated imposing the death penalty on drug dealers, and he's spoken often about his belief that executions serve as both a deterrent and appropriate punishment for some crimes, including mass shootings and the killings of police officers.
"I think they should very much bring the death penalty into vogue," Trump said last year after 11 people were gunned down in a Pittsburgh synagogue.
When Trump was a celebrity real-estate developer in 1989, he bought full-page ads in New York newspapers urging officials to "BRING BACK THE DEATH PENALTY!" after the rape of a jogger in Central Park.
The "Central Park Five" – five black and Hispanic teenagers age 14 to 16 who confessed at the time – were convicted but later exonerated through DNA testing. Trump wrote in an op-ed in the New York Daily News, "As a long-time resident of New York City, I think it is ridiculous for this case to be settled — and I hope that has not yet taken place." The city reached a $41 million settlement with the five men.
On Tuesday, former Vice President Joe Biden announced that he would work to eliminate the death penalty – a policy shift from a career of backing capital punishment. Biden's shift put him in the same anti-death penalty column as other top contenders in the 2020 Democratic primary, Sens. Kamala Harris of California, Bernie Sanders of Vermont and Elizabeth Warren of Massachusetts.
There have been three federal executions since the federal government restored the death penalty in 1988 with the last occurring in 2003. Protracted litigation against a three-drug protocol "complicated and prevented its use in the federal system," a Department of Justice spokesperson told the Review-Journal.
Barr decided to switch the lethal injection protocol – to make it harder for legal challenges to delay executions. He also picked five inmates convicted of particularly "heinous crimes against vulnerable victims" whose appeals have been exhausted. who are scheduled to be executed were all convicted of murder.
The inmates are: Danny Lee, who was convicted of killing a family of three, including an 8-year-old; Lezmond Mitchell, who beheaded a 63-year-old woman and her 9-year-old granddaughter; Wesley Ira Purkey, who raped and murdered a 16-year-old girl and killed an 80-year-old woman; Alfred Bourgeois, who tortured, molested and then beat his two-and-a-half-year-old daughter to death; and Dustin Lee Honken, who killed five people, including two children.
There are 61 people on the federal death row, according to Death Row USA, a quarterly report of the NAACP Legal Defense and Educational Fund.
The death penalty remains legal in 30 states, including Nevada.
Contact Debra J. Saunders at dsaunders@reviewjournal.com or at 202-662-7391. Follow @DebraJSaunders on Twitter. The Associated Press contributed to this report.