Barack Obama speech in Las Vegas delves into tech, unity
Updated May 23, 2018 - 9:16 pm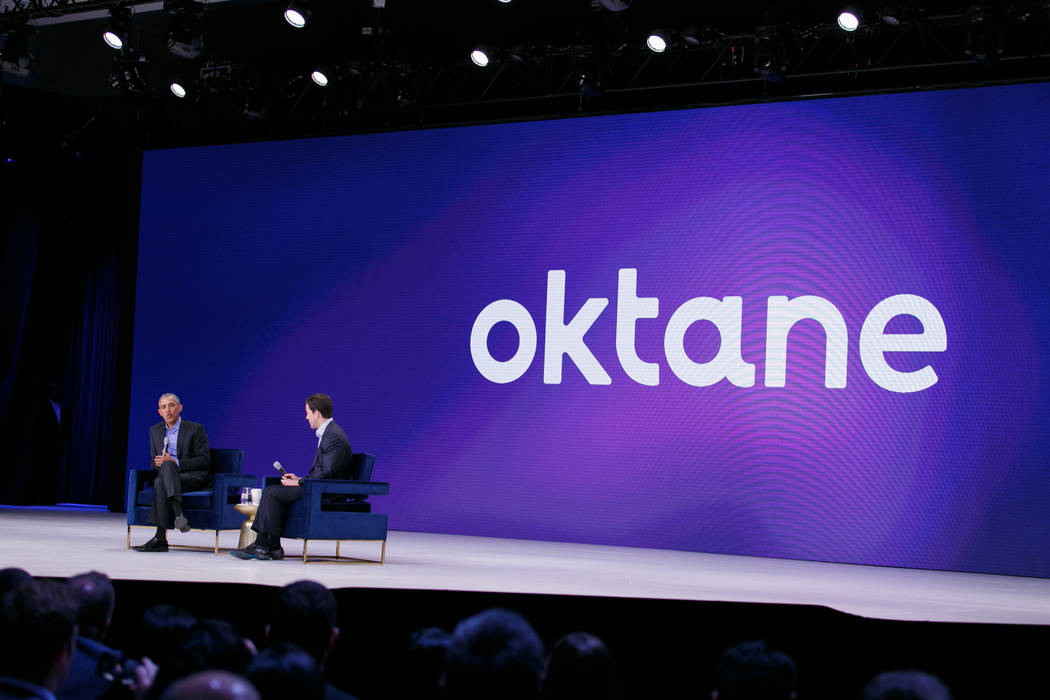 On the heels of a contract to create a Netflix documentary series, former President Barack Obama joked about life outside the White House and said he wants his new project to unite people from all walks of life.
Obama this week announced a multi-year production deal with Netflix and said he hopes to use the show to "lift up and identify people who are doing amazing work or have an amazing story to tell and to create a platform for them."
"Right now part of our political polarization is that if you watch Fox News and you read the New York Times, you are occupying two different realities," he said. "And we have to be able to figure out how in this multiplicity of platforms to at least have some common baseline of facts and values that allow us to meet and solve problems."
The former president's hourlong speech on Wednesday was the keynote address at Oktane18, a three-day customer conference at the Aria hosted by San Francisco-based security software firm Okta.
Obama also said he realizes the dangers of election hacking, but that online voting should "be considered and tested" as long as there are paper records to go with it.
"My bias is to make voting easier — not harder," Obama said. "We are the only developed country on earth that deliberately makes it hard to vote. There is a reason for that. There is a legacy that dates back to Jim Crow."
Obama shared the most valuable advice he's ever received: "Maintain your humanity."
"In any position of power, certainly in Washington — but it's true in Silicon Valley — people who are given great responsibilities with great privilege, wealth or power, they start losing a sense of what's important," he said. "And who are you? You start worrying more about hanging on to what you have."
Okta, which was founded in 2009, has created technology to securely connect users to all of their apps without logging onto multiple platforms. While security is a top priority, company leaders say Okta has improved the user experience so that customers don't try getting around the technology.
"We try to choose people who are well-known and have unique insights and whose insights will complement what we're trying to say at the event," Ryan Carlson, Okta's chief marketing officer, said. "I want attendees to come away inspired, energized, motivated, open minded."
Obama also joked about life after the presidency — getting more sleep, making his own coffee and unsuccessfully fighting his wife and daughter for closet space.
One attendee Wednesday called the speech energizing and uplifting.
"He is cognizant of this great divide that's happened and he's doing things to make it better," said Connie Wheeler, an engineer for the state of Arizona.
Contact Ramona Giwargis at rgiwargis@reviewjournal.com or 702-380-4538. Follow @RamonaGiwargis on Twitter.