BLM removes Nevada sage grouse habitat from oil, gas lease auction
November 2, 2018 - 3:02 pm
Updated November 2, 2018 - 6:44 pm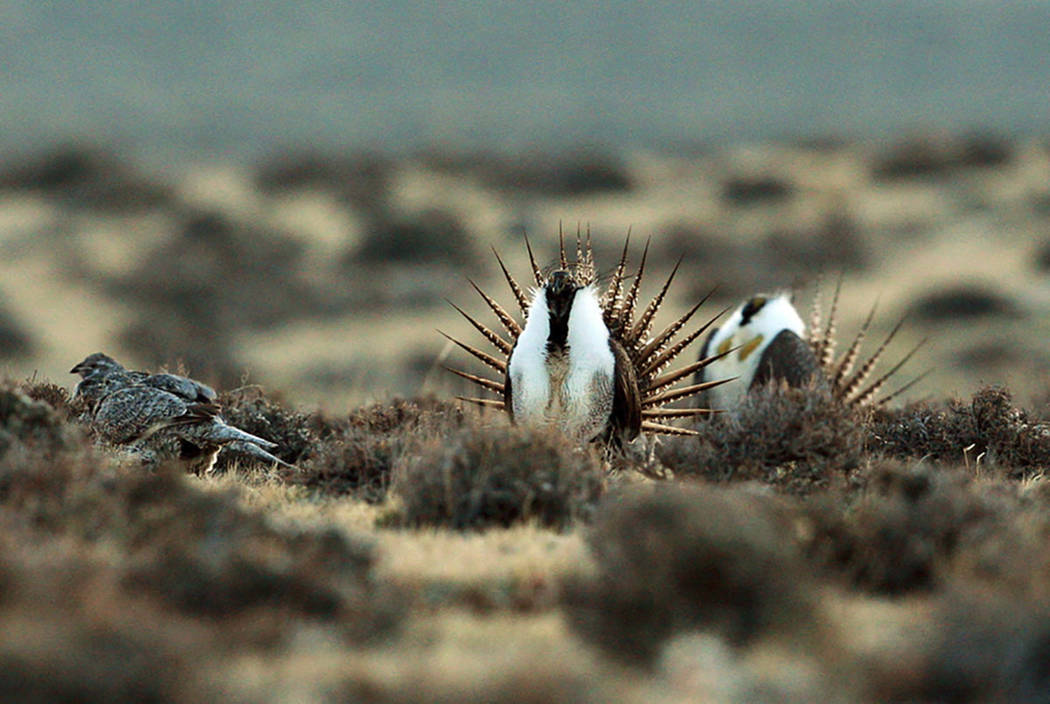 Environmentalists are celebrating a temporary victory after more than 1 million acres of federal land was pulled from an upcoming oil and gas auction in greater sage grouse habitat in Nevada and elsewhere.
The Bureau of Land Management withdrew hundreds of parcels in six states from its December lease sale, including 167 parcels on about 330,000 acres in Eureka, Nye and White Pine counties.
BLM spokesman Rudy Evenson confirmed Friday that the parcels were taken off the auction block as a result of legal action by two nonprofit environmental groups seeking to block a Trump administration policy aimed at accelerating fossil fuel development on public land.
Advocates for the West sued the government this year on behalf of Western Watersheds Project and the Center for Biological Diversity, arguing that a BLM directive issued in January threatens the sage grouse and unlawfully excludes the public from leasing decisions.
In September, a federal judge in Idaho halted implementation of the new policy for future leases in parts of 11 Western states where the unusual, ground-nesting bird is found.
U.S. Chief Magistrate Judge Ronald E. Bush ruled that the BLM could still offer parcels to oil and gas developers in sage grouse territory, but the agency must use the old, more lengthy public review process, at least until the court challenge is decided.
Patrick Donnelly, Nevada director for the Center for Biological Diversity, called the BLM's decision to withdraw the parcels "an unprecedented victory," though "certainly incremental."
Evenson said the parcels that were dropped from the Dec. 11 auction will be offered during the agency's next quarterly sale in March.
But just because leases are offered doesn't mean they will sell.
Nevada has never been a major oil producer, and the 285,000 barrels produced statewide in 2017 ranked as the third-lowest annual output in at least 30 years. Texas typically churns out roughly 10 times more oil in single day.
According to federal records, Nevada was home to 426 oil and gas leases covering approximately 715,000 acres of public land during fiscal year 2017, but only 36 of those leases produced any oil.
Kelly Fuller, energy and mining campaign director for Western Watersheds Project, wants the BLM to permanently remove sage grouse habitat from consideration for future fossil fuel development.
"Elk, mule deer and pronghorn antelope need the same habitat the sage grouse do," Fuller said in a written statement. "Oil and gas drilling on sage-grouse habitat means goodbye grouse and big game."
In May, the Interior Department released revised planning documents formalizing the Trump administration's push to relax sage grouse protections in Nevada and 10 other states.
The revised management plans canceled previous Obama-era rules that effectively banned mining activity on about 10 million acres of prime bird habitat across the West by designating the land as "sage grouse focal areas."
The U.S. Fish and Wildlife Service declined to add the sage-grouse to the Endangered Species List in 2015 based in large part on those protections and conservation agreements at the state and federal level.
Millions of sage grouse once roamed the brushland from California and Oregon to the Dakotas, but development, livestock grazing and wildfires fueled by invasive grasses has reduced the bird's population to fewer than 500,000 across 11 Western states.
Contact Henry Brean at hbrean@reviewjournal.com or 702-383-0350. Follow @RefriedBrean on Twitter.