BLM resumes work on update of Southern Nevada resource plan
January 6, 2018 - 9:55 pm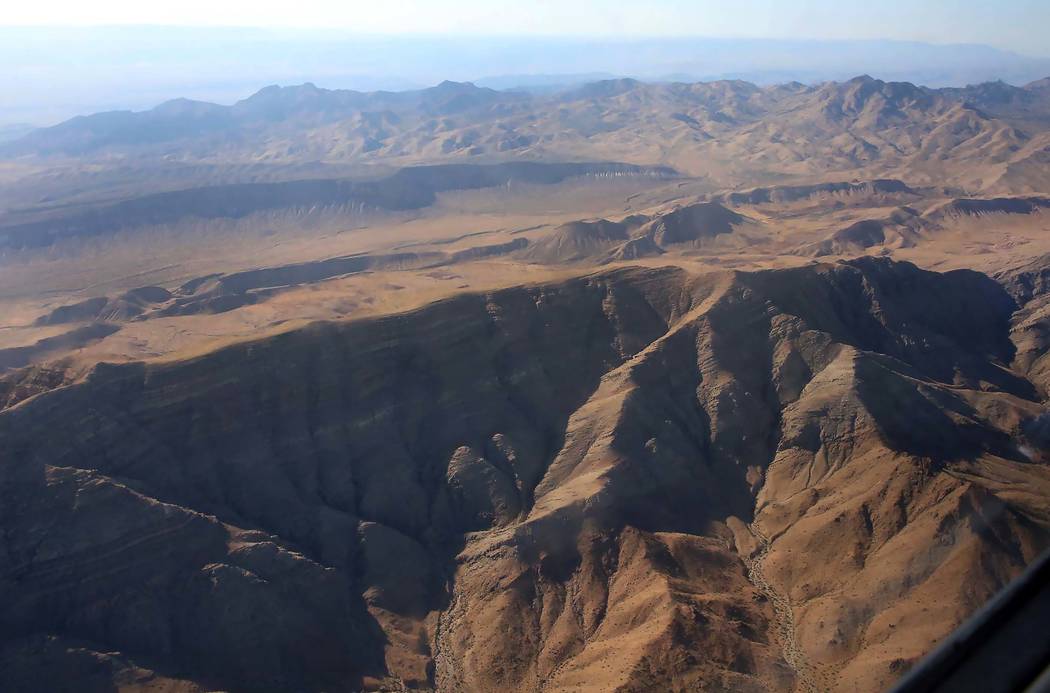 In 2008, federal land managers launched the first major revision of their overall management plan for Southern Nevada since 1998.
A decade later, they're still working on it.
Or, more accurately, they're working on it again.
The Bureau of Land Management restarted the planning process last fall, more than a year after State Director John Ruhs called a temporary halt to the work.
Now the agency is seeking public input on what the revised Southern Nevada District Resource Management Plan should include.
Starting Tuesday, the BLM will hold six public meetings throughout the southern part of the state. Bureau officials will be collecting input through Feb. 2 as part of a renewed push to finish the sweeping revision by 2021.
"We are glad that it's finally getting back underway," said Nye County Commission Chairman Dan Schinhofen. "We're also glad they took a hiatus, because there were a lot of issues that needed to be addressed."
Land-use blueprint
The resource management plan serves as a sort of blueprint that guides specific land-use decisions for 3.1 million acres of federal land in Clark County and the southern tip of Nye County.
Since the plan's last major update 20 years ago, the region's population has grown by almost 1 million people.
"It's in need of a refresh, that's for sure," said Gayle Marrs-Smith, field manager for the BLM in Southern Nevada.
The bureau released a first draft of the revised plan in October 2014. Among other things, the approximately 2,200-page document identified more than 25,000 acres for solar energy development and proposed protections for 277,915 acres of sensitive wildlife habitat, cultural and archaeological resources and unique scenic landscapes by expanding or establishing new "Areas of Critical Environmental Concern."
The draft drew thousands of critical comments and some outright hostility.
Nye County declared the plan "repugnant" in an official resolution, narrowly passed by county commissioners in early 2015, that said " 'no' to the Bureau of Land Management."
Marrs-Smith said the BLM is not starting over from scratch but rather expanding on its first draft to incorporate some of the issues raised by the public three years ago.
"We want to make our range of alternatives cover everything from soup to nuts," she said.
Right now, the revisions are focused on five specific topics: renewable energy development zones, Areas of Critical Environmental Concern, lands with wilderness characteristics, land suitable for disposal and development and socioeconomic needs in Southern Nevada.
New monuments to consider
A lot has changed just in the three years that have passed since the BLM first trotted out its initial draft.
In late 2016, former President Barack Obama created Gold Butte National Monument on about 300,000 acres in northeastern Clark County. Then he was replaced by a Republican administration that promptly recommended a boundary reduction and other changes for the BLM-managed site.
No specific changes have been ordered for the monument yet, so Marrs-Smith said the her office is using Obama's proclamation to write a management plan for Gold Butte as part of the broader planning process for all of Southern Nevada.
To that end, the bureau also is inviting input on the monument during the current comment period.
James Lee Kirk, BLM's planning and environmental coordinator in Las Vegas, heads the team responsible for the big plan update. He said the goal is to finish and release a new draft for public review in 2019, then follow that up in 2020 with a proposed final version of the resource management plan. The final revised plan should be finished and ready to be implemented by 2021, Kirk said.
The public will have several opportunities to comment throughout the process, and the BLM will continue to consult with 23 cooperating agencies with a stake in the plan, Marrs-Smith said.
"We know from experience that our public is very, very passionate about their public lands," she said.
Changes mollify critics
Schinhofen said Nye County officials feel much better about the management planning effort now than they did a few years ago.
"We're happy to work with the southern field office and to get something that will benefit all the people here in Southern Nye County," he said.
Fellow Nye County Commissioner Lorinda Wichman said the long delay in the process is proof that critics of the earlier draft have gotten their points across to the BLM.
But should it really take more than a decade to update a management plan?
Wichman finds that "absolutely astounding," but she said all the extra time has given different voices a chance to join in the planning conversation.
"Maybe that's why democracy works," Wichman said.
Contact Henry Brean at hbrean@reviewjournal.com or 702-383-0350. Follow @RefriedBrean on Twitter.
How to participate
The Bureau of Land Management is seeking public input though Feb. 2 as it prepares to revise its draft update of the Southern Nevada District Resource Management Plan.
Public meetings will be held from 5 p.m. to 8 p.m.:
— Tuesday, at the old Overton gym in Overton.
— Wednesday in the City Council Chambers in Mesquite.
— Thursday at Santa Fe Station, 4949 N. Rancho Drive, in Las Vegas.
— Jan. 16 at the Pahrump Nugget Hotel and Casino in Pahrump.
— Jan. 17 at the Heritage Park Senior Facility, 300 S. Racetrack Road, in Henderson.
— Jan. 18 at the community center in Searchlight.
Comments can be made at any of the meetings or sent by email to sndo_rmp_revision@blm.gov; by fax to 702-515-5023; or by mail to: BLM Southern Nevada District Office, Southern Nevada District RMP Revision, 4701 N. Torrey Pines Drive, Las Vegas, NV 89130
Updated information on the revised draft Resource Management Plan is available online at https://go.usa.gov/xnBqm.