Both sides dig in for battle over Kavanaugh's Supreme Court nomination
Updated July 10, 2018 - 5:48 pm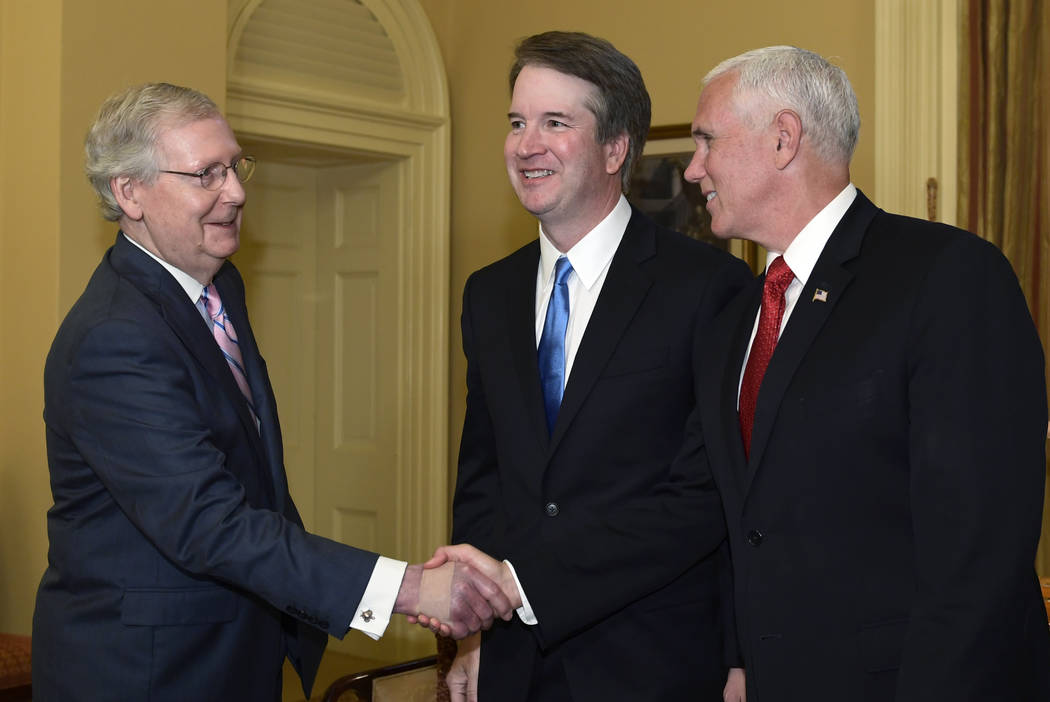 WASHINGTON — The political divide over the Supreme Court vacancy was on full display Tuesday as Republicans praised nominee Judge Brett Kavanaugh after private meetings on Capitol Hill and influential Democrats rallied in opposition on the steps of the nation's highest court.
President Donald Trump also officially sent his nomination of Kavanaugh, 53, a federal judge on the D.C. Circuit Court of Appeals, to the Senate. If confirmed, Kavanaugh would replace Justice Anthony Kennedy, who announced his retirement effective this month.
Trump used a prime-time White House ceremony Monday evening to introduce his selection to the high court, picked from a list of conservative jurists compiled by the Federalist Society and the Heritage Foundation.
Kavanaugh began his private meetings with individual senators first thing Tuesday, sitting down first with Senate Majority Leader Mitch McConnell, R-Ky., who called the candidate "highly qualified."
The nominee was accompanied on his rounds by Vice President Mike Pence and former Sen. Jon Kyl, R-Ariz. Kyl was selected by the White House to guide the nominee through the arduous confirmation process, including yet-to-be-scheduled hearings.
Meanwhile, Senate Majority Whip John Cornyn, R-Texas, said on the Senate floor that Democrats would seek to block the nomination with "fear mongering" and tactics to kowtow to their political base, which is "demanding opposition at all costs."
'No neutral arbiter'
Senate Minority Leader Charles Schumer, D-N.Y., countered that Kavanaugh's previous rulings and partisan activities in the George W. Bush administration show the nominee would rule against reproductive rights and health care protections if confirmed to the high court.
"He's no neutral arbiter, he's already made up his mind," Schumer said, referring to both issues. "He's a deeply conservative judge — way out of the mainstream."
Schumer and Senate Democrats on the Judiciary Committee took to the steps of the Supreme Court in a rally against the nomination.
Schumer told the rally that "the ramifications of this battle will last a generation or more."
Before the meeting with McConnell, Pence thanked the majority leader for helping confirm more of Trump's nominees to federal appellate benches than any previous president.
Pence said Trump called Kavanaugh a nominee of "impeccabile credentials and character."
Meetings between the nominee and Nevada Sens. Dean Heller, a Republican, and Catherine Cortez Masto, a Democrat, have not yet been scheduled.
Heller was at the White House when Trump unveiled his Supreme Court pick to great fanfare in the East Room.
The Nevada Republican, up for re-election in a state won by Hillary Clinton in 2016, applauded the pick and urged Republican leaders to move swiftly to place another conservative on the court.
Cortez Masto said she would review Kavanaugh's rulings and background. She also noted that the nomination could have implications for women's health care.
Neither Nevada senator sits on the Judiciary Committee, one of the most partisan panels in Congress and the one that has jurisdiction over Supreme Court nominations.
The White House and advocacy groups on both sides of the political spectrum have launched campaigns for and against the nominee ahead of hearings expected to be held this fall.
McConnell's timetable
McConnell wants a confirmation vote before the Supreme Court's next session that begins in October, and before the midterm elections in November.
Confirmation of Kavanaugh is expected to be decided by a half-dozen lawmakers who could break with their respective parties and cast votes that block or approve the nominee. The GOP holds a slim 51-49 majority.
Sen. John McCain, R-Ariz., is battling cancer and hasn't voted in the Senate since last year.
Republicans Susan Collins of Maine and Lisa Murkowski of Alaska support abortion rights and could prove to be decisive in the confirmation battle. Sen. Rand Paul, R-Ky., has voiced concern about Kavanaugh over his role in the George W. Bush administration push on surveillance after the Sept. 11, 2001, terrorist attacks.
Democrats only hope to path to block the nomination is to pick off GOP support and hold their moderate members in line, including three from states Trump won by double digits in 2016 and who voted for Neil Gorsuch's confirmation in 2016.
Joe Manchin of West Virginia, Heidi Heitkamp of North Dakota and Joe Donnelly of Indiana have not announced how they intend to vote on the nominee.
Sen. Charles Grassley, R-Iowa, chairman of the Judiciary Committee, met with Kavanaugh and appeared before photographers with the nominee. Grassley said the panel would take its time and be thorough with the confirmation hearing.
"It will be done right," Grassley said.
Contact Gary Martin at gmartin@reviewjournal.com or 202-662-7390. Follow @garymartindc on Twitter.