County's Alternative Dispute Resolution commissioner dies
December 29, 2016 - 6:18 pm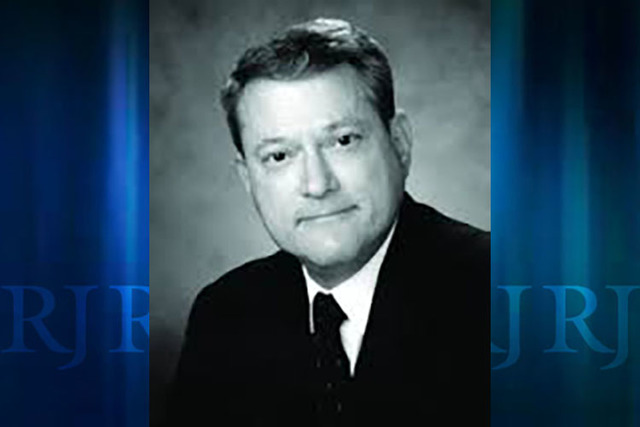 Chris Beecroft Jr., the longtime commissioner of Alternative Dispute Resolution for Clark County District Court, died Monday. He was 67.
Beecroft was named ADR commissioner in 2001, overseeing various methods of resolving disputes outside of litigation, and administrator of the Short Trial Program a year later.
He was as passionate about his legal work as he was cooking and traveling, according to his wife of 46 years, Christine Beecroft.
A gourmet chef, Chris Beecroft immersed himself in Pacific Rim cuisine and admired chefs from the region. He cherished time on the couple's boat, a 40-foot Carver Mariner docked in San Diego and named "On The C's," his wife said.
"Don't just watch the boats floating by," he was known to say, "be on your boat floating by."
Beecroft graduated from the University of Nevada, Las Vegas, in 1971 as the first recipient of the Nevada Centennial Scholarship Award and earned his law degree at McGeorge School of Law in 1974.
A past president of the UNLV Alumni Association, the Las Vegas resident served on a committee that saw the completion of the Richard Tam Alumni Hall.
He also lectured, spoke on panels and coached client counseling teams at the William S. Boyd School of Law.
His Short Trial Program won a 2004 Achievement Award with the National Association of Counties and a better government award with the Pioneer Institute for Public Policy Research in Boston in 2006.
In 2008, he was appointed Family Court discovery commissioner and in August 2012, was appointed discovery commissioner for certain departments within Clark County District Court.
Family law attorney Robert Lueck called Beecroft a "serious, good guy" who "treated you with dignity and respect, even if he ruled against you. That's the way it should be."
Along with his wife, Beecroft is survived by the couple's two children, Melissa and Jonathan.
A celebration of his life is scheduled for 3 p.m. Jan. 12 in the Grand Hall of UNLV's Richard Tam Alumni Center.
Contact David Ferrara at dferrara@reviewjournal.com or 702-380-1039. Follow @randompoker on Twitter.