Early voting tops 30,000 in Clark County, shattering record
Updated October 22, 2018 - 6:42 am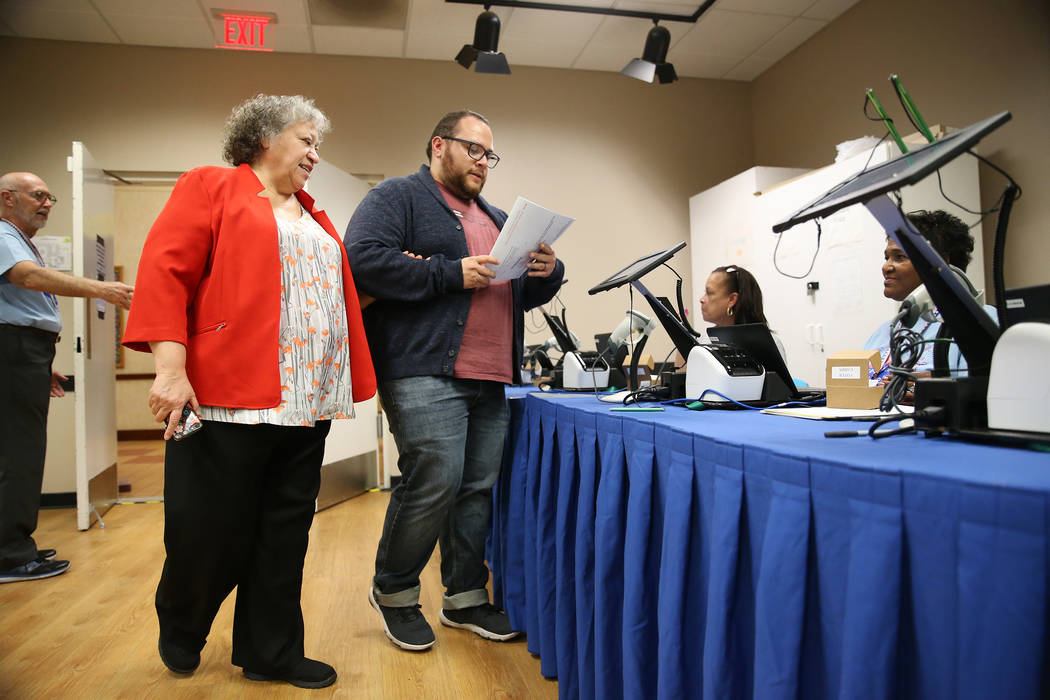 More than 30,000 people cast a ballot during the first day of early voting in Clark County, shattering the previous record for first-day votes in a midterm by more than 10,000, according to the Clark County Election Department.
During the first day of early voting on Saturday, 30,367 people voted, according to the election department's website. By 3 p.m., the previous midterm record of 17,057, set in 2010, was already broken, marking Saturday as the most people ever to turn out for the first day of a midterm election, said Clark County spokesman Dan Kulin.
Of those who voted Saturday in Clark County, 48 percent were registered as Democrats and 34 percent were registered as Republicans, while 18 percent were unaffiliated, according to data from the secretary of state's website.
The two locations with the most turnout — the Galleria at Sunset mall and the parking lot of the Centennial Center in the northwest valley — each had more than 2,000 ballots cast, according to the election department.
Joe Gloria, Clark County's registrar of voters, said Saturday that no technological issues prevented people from voting.
"I think that there's a lot of excitement with this election," Gloria said Saturday.
Early voting continues Sunday through Nov. 2, the Friday before Election Day. The hours of each site vary by location, and some sites are not open all 14 days. The full early voting schedule and locations can be found online at the Nevada Secretary of State's website, www.nvsos.gov.
If you can't vote early, the state and federal general election will be held on Nov. 6 from 7 a.m. to 7 p.m. Voters registered in Clark County can cast a ballot at any county vote center, according to the election department.
Contact Katelyn Newberg at knewberg@reviewjournal.com or 702-383-0240. Follow @k_newberg on Twitter.