Clark County voters set record for early voting in midterm election
October 20, 2018 - 1:27 pm
Updated October 22, 2018 - 6:44 am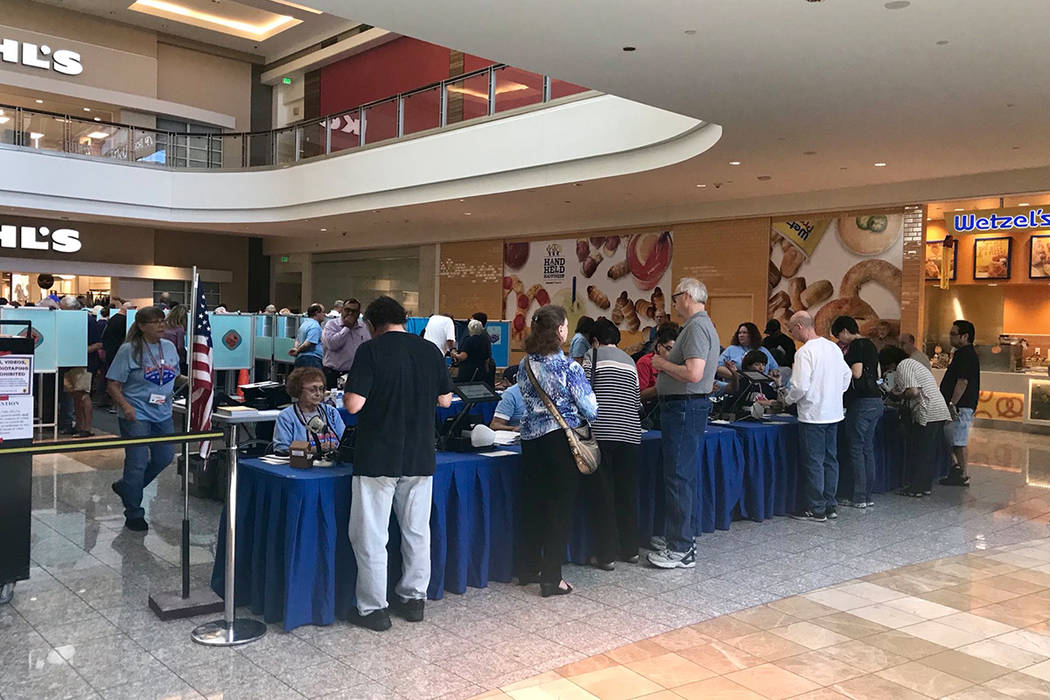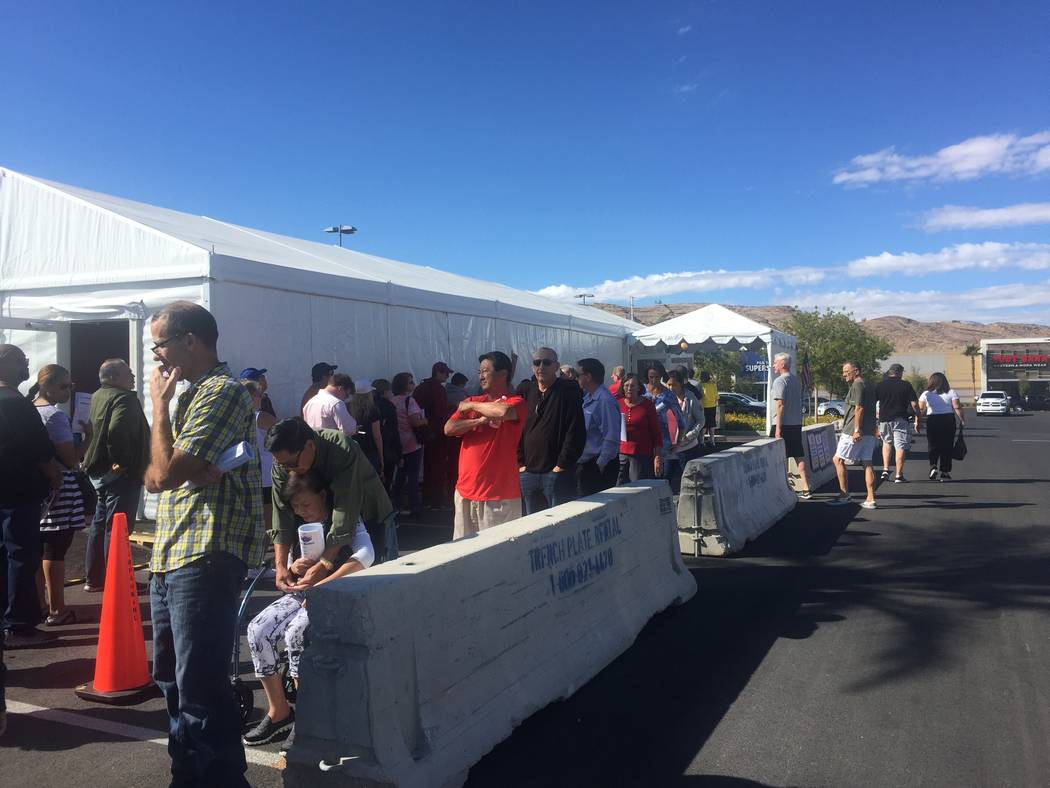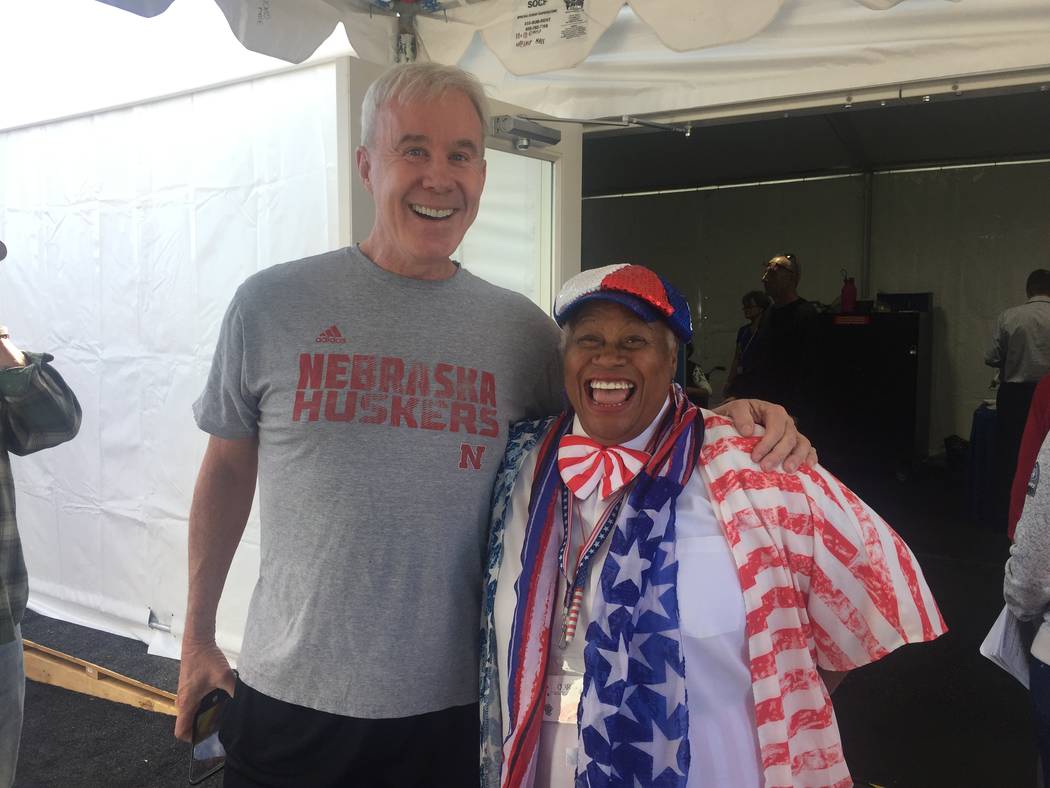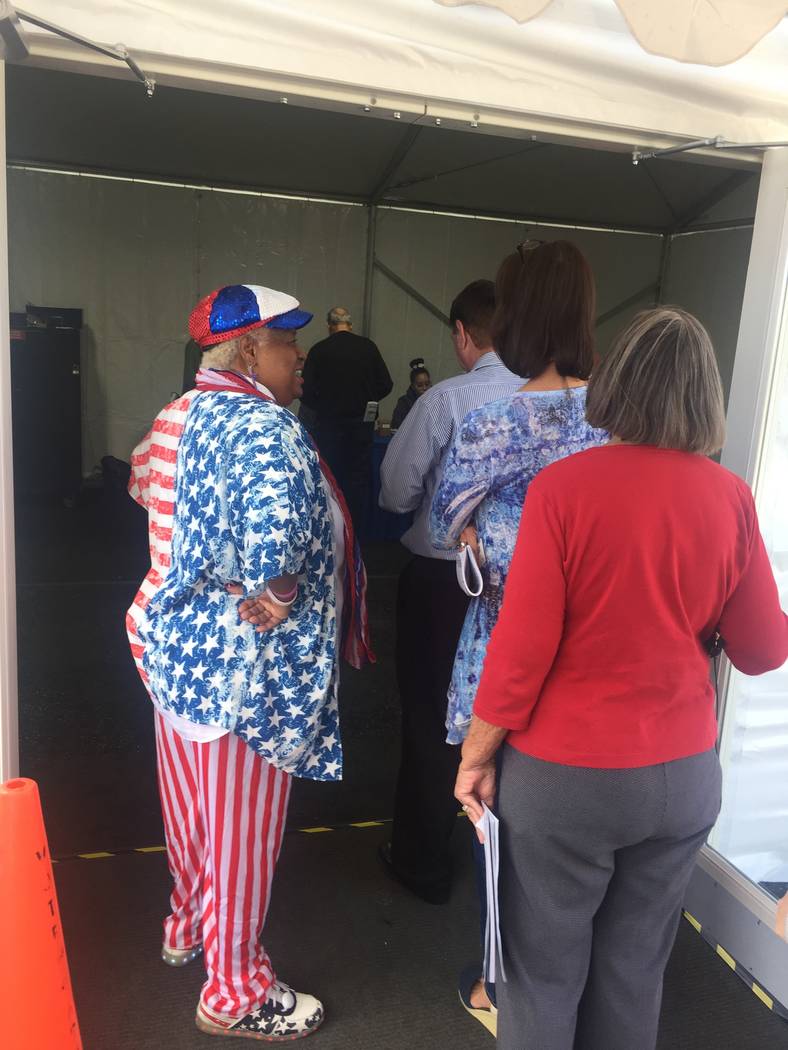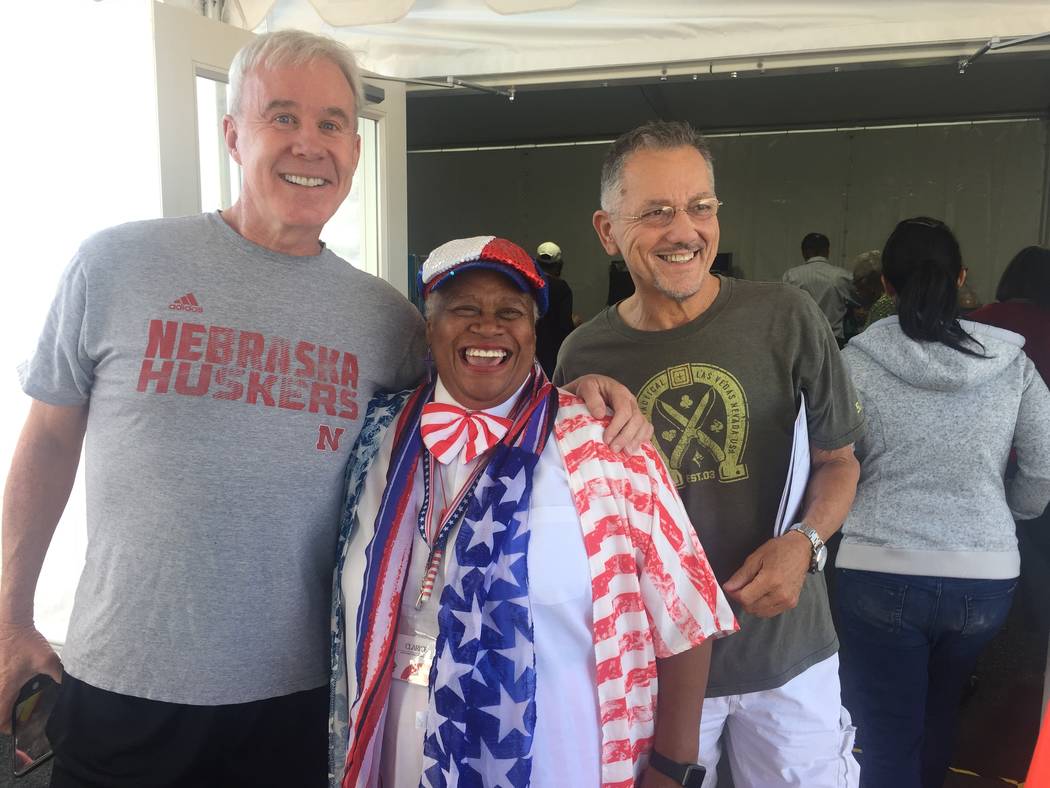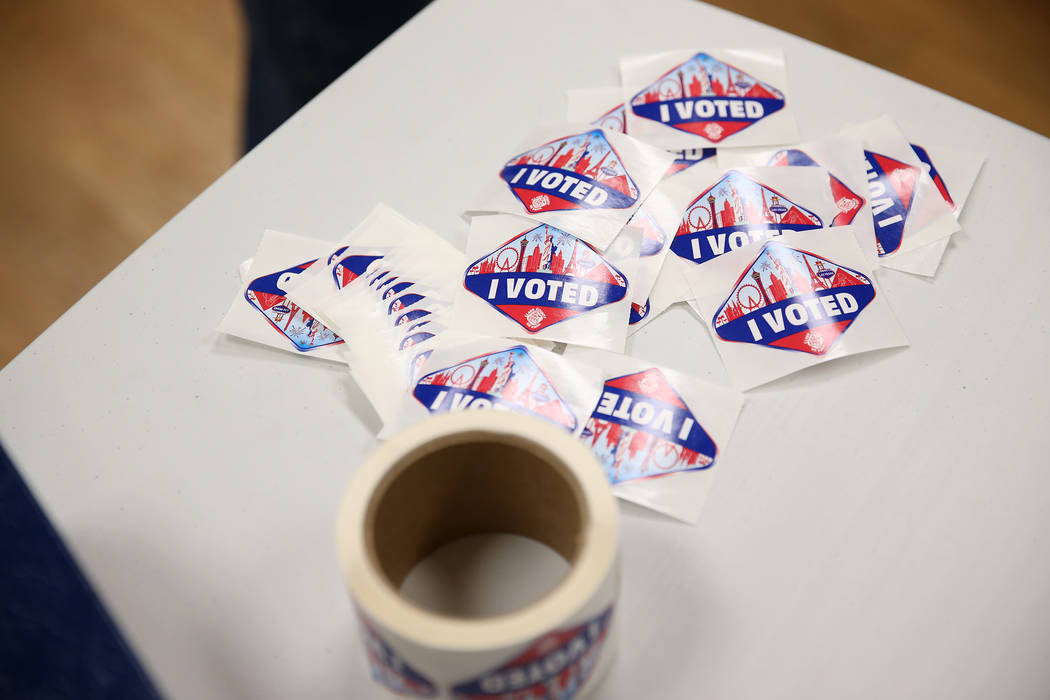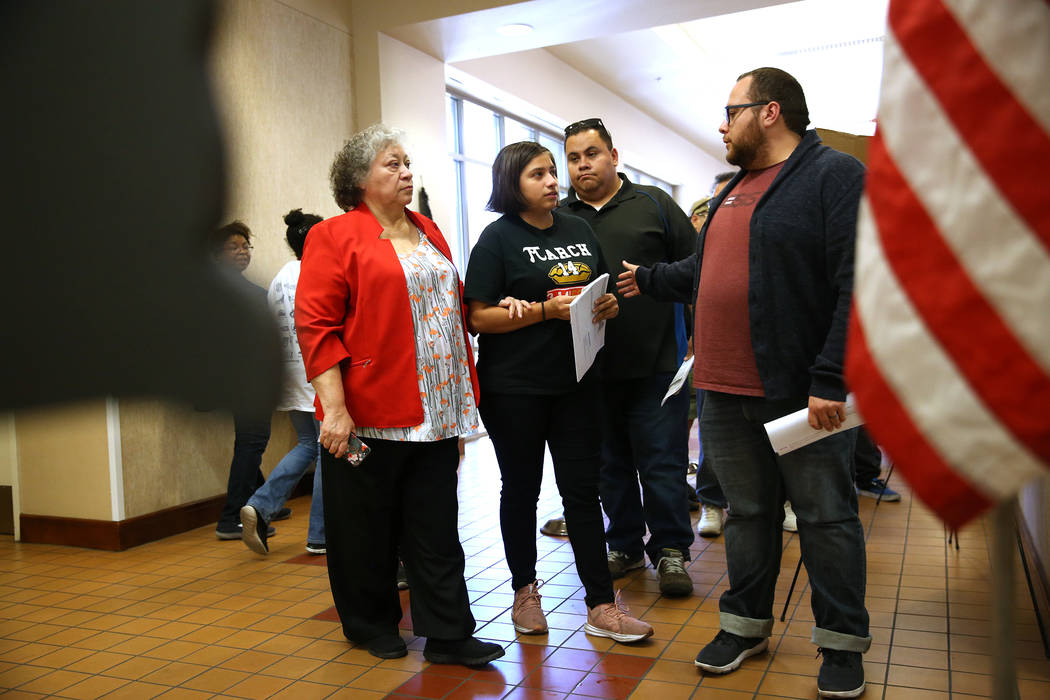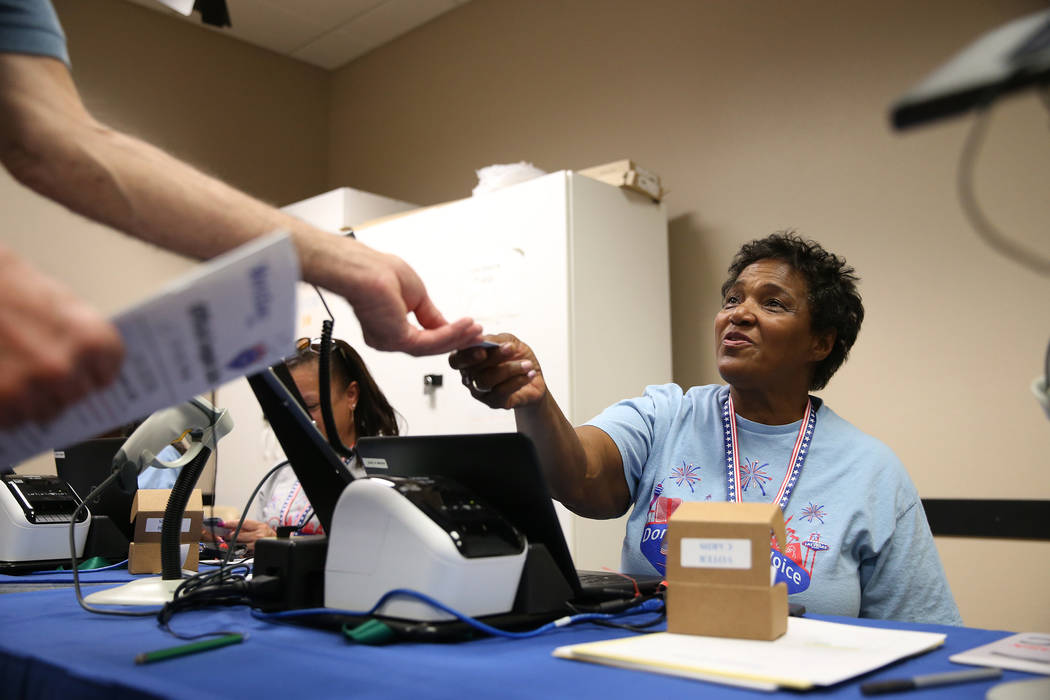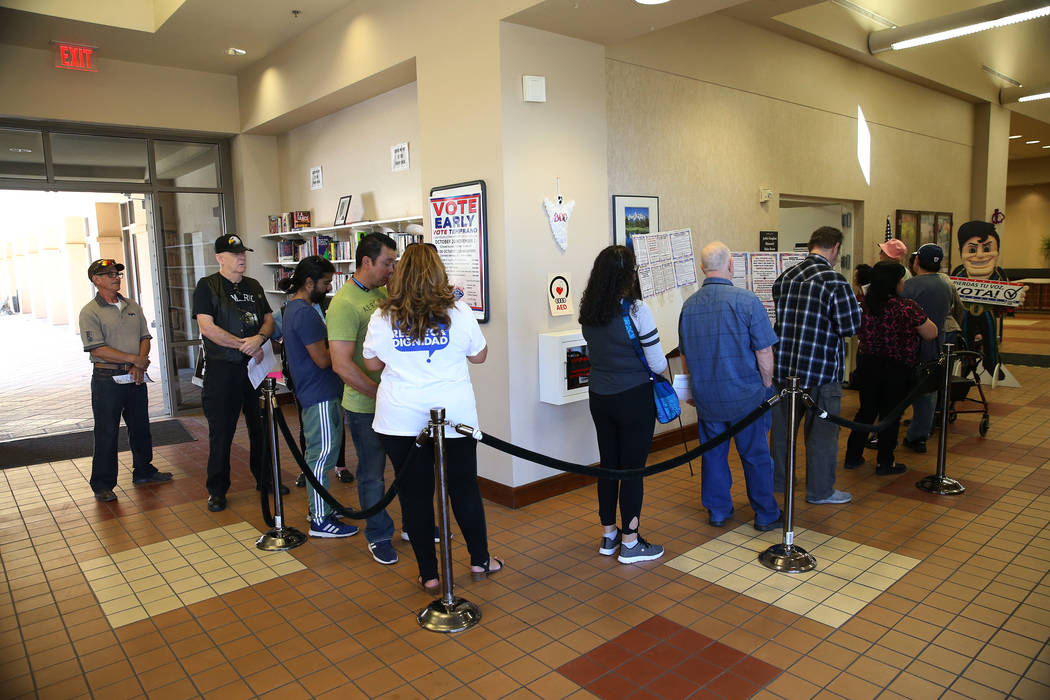 Clark County voters cast their ballots in record numbers on the first day of Nevada's two-week early-voting period.
The Saturday turnout of more than 27,000 votes cast as of 5 p.m. was the most ever on the first day of early voting in a midterm election, Clark County spokesman Dan Kulin confirmed.
With a couple of hours left to go before the polls closed, the figure was already nearly 10,000 more than the previous record of 17,057, set in 2010, according to Nevada secretary of state records.
People standing in lines to cast their ballots Saturday morning throughout the Las Vegas Valley represented a mix of political views, voting histories and concerns about myriad issues at the state and national levels.
For 21-year-old Courtney Cutler, ballot question No. 2 spurred her to vote for the first time.
"Taking the taxes off of feminine products definitely is important to me," she said.
Joe Gloria, Clark County's registrar of voters, called the turnout "outstanding."
"It's been a pretty darn good day," he said.
Gloria said issues always arise on the first day, but nothing prevented people from voting. The power went out briefly around 11:15 a.m. at Galleria at Sunset mall in Henderson, but Gloria said the backup power supply ensured that no ballots were jeopardized.
Sites that usually draw high numbers, such as the Galleria at Sunset mall and the parking lot of the Centennial Center in the northwest valley, continued to see high turnout, he said.
"I think that there's a lot of excitement with this election," Gloria said Saturday evening.
Several dozen people gathered outside the East Las Vegas Community Center, 250 N. Eastern Ave., for an event with music, dancing and food. The "United We Vote Celebration" was an effort to energize voters who typically don't vote in midterms, said Kristee Paschall, national director of Win Justice, an initiative targeting such voters.
"There's so many issues that affect our communities that are decided outside of a presidential election," she said.
U.S. Sen. Catherine Cortez Masto, senatorial candidate Jacky Rosen and gubernatorial candidate Steve Sisolak stopped by the event. Cortez Masto briefly spoke to the crowd, urging people to vote her Democrat colleagues into office.
"Make your vote count," she said.
Leo Murrieta, director of immigration advocacy group Make the Road Nevada, said he and family members discussed their ballots at a restaurant prior to arriving at the center to vote. Murrieta, 32, comes from a mixed-immigration-status family, he said, and those who are documented make a point to vote in every election.
"It's important for those of us who can to get out and vote because our communities are on the line," he said.
The confirmation process of Supreme Court Justice Brett Kavanaugh was painful for his relative Aremy Tirado to watch and sent a message that those accused of sexual assault wouldn't face consequences, she said. Tirado planned to vote for Democrat Jacky Rosen because her Republican opponent, Sen. Dean Heller, voted to confirm Kavanaugh.
As a first-time voter at 18, Tirado said she woke up eager to cast her ballot Saturday.
"When I got my sample ballot, I was overwhelmed. Like I started crying, I was so happy," Tirado said.
Taylor Chervo, 19, who entered the line at Albertsons on College Drive and Horizon Drive at 9:15 a.m., said it is important to vote so his voice is heard.
He said he's voting for Democrats up and down the ticket, and that he's especially passionate about voting Republican Sen. Dean Heller out of office.
At my first early voting location in Henderson. I just spoke to a mother and son, Yvette & Taylor Chervo of Henderson, who have been waiting in line for about 15 minutes so far. pic.twitter.com/hcLaJTZGxd

— Natalie Bruzda (@NatalieBruzda) October 20, 2018
"I'm against the administration and I feel that Dean Heller puts party over country," Chervo said.
At the other end of the line, 67-year-old Ray Deadrick said he was going to vote for "anybody that creates jobs" and believes the Republican candidates have done that.
"Job creation for the young people is No. 1," he said, adding that border security is his No. 2 concern. "I'm tired of no work in this country for our young people. They graduate from college and get a job at McDonald's."
Ray Mollinado, 70, has supported the Republican Party in the past as a registered Republican, but he's voting for Democrats and women this time around.
"The Republican Party that I believe in is gone," he said. "It's gotten too evil. This president, he's an embarrassment. He's a total embarrassment. Every time he talks, he lies."
Katherine Powell, 52, of Las Vegas is voting early today. Among her priorities today: question 3 and putting more women in office pic.twitter.com/mIAJP44YbN

— Mike Shoro (@mike_shoro) October 20, 2018
First-time voter Eddie Samudio cast his ballot at the busy Downtown Summerlin early-voting site. Afterward, he said, "I feel more excited. I feel more pumped."
Samudio, who is joining the Army National Guard, said he feels it's important to have his opinion counted at the ballot box. "Which is something I think my generation didn't think of when people were voting for Trump's election," he said. "They were complaining, but they didn't go and vote. They didn't act."
William Jackson, 69, was among those who voted at the Pearson Community Center in North Las Vegas. He enjoys the ability to vote early because it provides flexibility, he said.
"Nobody (has) an excuse not to vote," Jackson said.
He said he did his research on the issues before casting his ballot.
Standing outside the building at 1625 W. Carey Ave. about 10:30 a.m., Jackson said he voted for the Democrats across his ballot. He said he voted "yes" on question No. 3, hoping it would lead to more solar energy and more jobs.
Katherine Powell, 52, was heading inside to vote at the community center. She said was inclined to vote more women into office and to support question No. 3.
"I think we really need to invest (in) clean energy," she said.
At Galleria mall, shortly after the lines began forming, Judie Goffstein said that immigration is the most important issue to her.
"We need to remain a country that has an identity," she said, adding that she wants to see people from other countries come to the United States, but in the way that "they're supposed to."
Linda Walker, who also came to Galleria mall, has voted with the Republican Party in the past but planned to use her voice to "re-balance the government."
"It's so tipped towards the right … we need to try and get the House and Senate back to moderation, so we can have some actual, balanced governing," Walker said.
She said she decided to vote early because she knows where she stands on the issues.
"So why wait? Just come in and get it done," she said.
Clarice Watkins welcomes voters into the Downtown Summerlin early voting site, which she said has been very busy Saturday. #earlyvote pic.twitter.com/IHa6Sk4uJY

— Marian Green (@mgreen0708) October 20, 2018
Like Walker, Carlos Hernandez, 35, planned to vote for Rosen in an effort to provide checks and balances, although he said both Rosen and Heller had spotty records.
"Basically I'm picking between Arby's and McDonald's. They're both bad for you," he said.
Unlike Walker, Hernandez was less sure of his other votes.
He leaned against a wall outside the Regional Transportation Commission of Southern Nevada's office at 600 S. Grand Central Parkway about 11:15 a.m., reading up on local races on his phone.
"I'm not sure if I should even vote right now," he said.
After a brief interview outside the building, Hernandez left the polling place without voting, saying he would come back to vote when he was better informed on the local elections.
Early voting ends Nov. 2. Election Day is Nov. 6.
Contact Natalie Bruzda at nbruzda@reviewjournal.com or 702-477-3897. Follow @NatalieBruzda on Twitter. Review-Journal staff writers Mike Shoro and Katelyn Newberg contributed to this report.
Early voting sites and schedule by Las Vegas Review-Journal on Scribd