Embattled municipal judge running for District Court
January 11, 2016 - 8:32 pm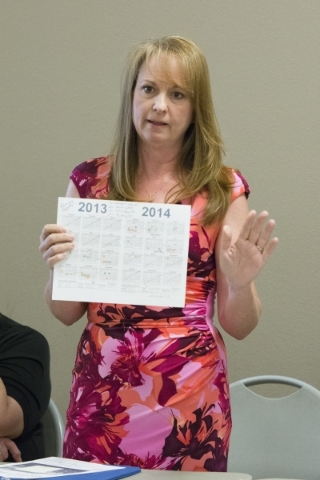 North Las Vegas Municipal Judge Catherine Ramsey, who has been in a dispute with city officials and is the subject of a recall effort, has filed to run against District Judge Eric Johnson.
Like any other candidate running for a local or judicial seat, Ramsey will face an incumbent. Of the 14 local and state judicial seats, all incumbents have filed for election. Filing for the 14 Nevada Supreme Court, state Appeals Court, Clark County District Court and Las Vegas Justice Court seats began Jan. 4 and ends Friday.
Ramsey said the decision to run for a separate judicial post is part of a natural progression for judges. She referred questions about the recall to her attorney, Craig Mueller.
Ramsey's career also includes working as a deputy district attorney in Clark County from 2003 to 2007, and then a city prosecutor for North Las Vegas. She became a municipal judge in 2011.
Johnson, the Department 20 judge who Ramsey is challenging, and Joe Hardy are the only Clark County District judges up for re-election this year because, like the state Appeals Court judges, they were appointed after the 2014 election. Most District Court seats are up for election in 2020.
In October, the Nevada Supreme Court heard arguments on the recall effort. Ramsey has contended that judges, while elected, cannot be recalled and even if they could, she wasn't properly noticed. The recall committee gathered more than 2,700 petition signatures under deadline. To qualify, the effort needed 1,984.
Mueller said Ramsey's run for district judge won't be legally affected by the recall effort, noting that it's an election for a different office and different term. He declined to speculate on when the Supreme Court will hand down a ruling the case.
The recall effort would only terminate her current term if it went to voters and was successful.
Recall elections in Nevada are rare, and success is elusive. All Nevada recall efforts since 2003 have been unsuccessful, including three that submitted the required signatures, according to the secretary of state's office.
The recall committee has accused Ramsey of taking off an excessive number of days, misappropriating city funds for costs of a private lawsuit, and asking employees to do personal errands while on city time.
Ramsey has called the recall a political hit job by the city because she dismissed cases due to technical errors, depriving the city of revenue, and fought to keep intact court funding that the city wanted for other uses.
The city has denied this, saying it's not involved in the recall.
In an interview, Judge Johnson said he brings more than 32 years of experience as a federal prosecutor, which includes high-profile cases involving organized crime, drug trafficking and public corruption.
Johnson was appointed by Gov. Brian Sandoval in April and started in May. His prosecutor experience, along with his eight months on the bench, are both assets, he said. Johnson he hasn't spent time to compare himself to other candidates.
Scott Holper, an attorney, is also running for the Department 20 seat, making it a three-way election at this point.
Holper couldn't be reached for comment Monday.
This will be the first election for the three seats of the Appeals Court, which was formed in 2015 to hear appeals from district courts throughout the state and cut down on the Supreme Court's heavy workload. The three appointed incumbents — Michael Gibbons, Jerome Tao and Silver — were each named to two-year terms by Gov. Brian Sandoval in December 2014.
The filing period for candidates in all nonjudicial races will start March 7 and end March 18. The early-voting period for primary elections lasts from May 28 to June 10, and the primary election is on June 14. The early voting period for general elections will run from Oct. 22 to Nov. 4. The general election is on Nov. 8.
Contact Ben Botkin at bbotkin@reviewjournal.com or 702-387-2904. Find him on Twitter: @BenBotkin1