Human error, tech problems cause of double voting in primary election
Updated June 20, 2018 - 7:52 pm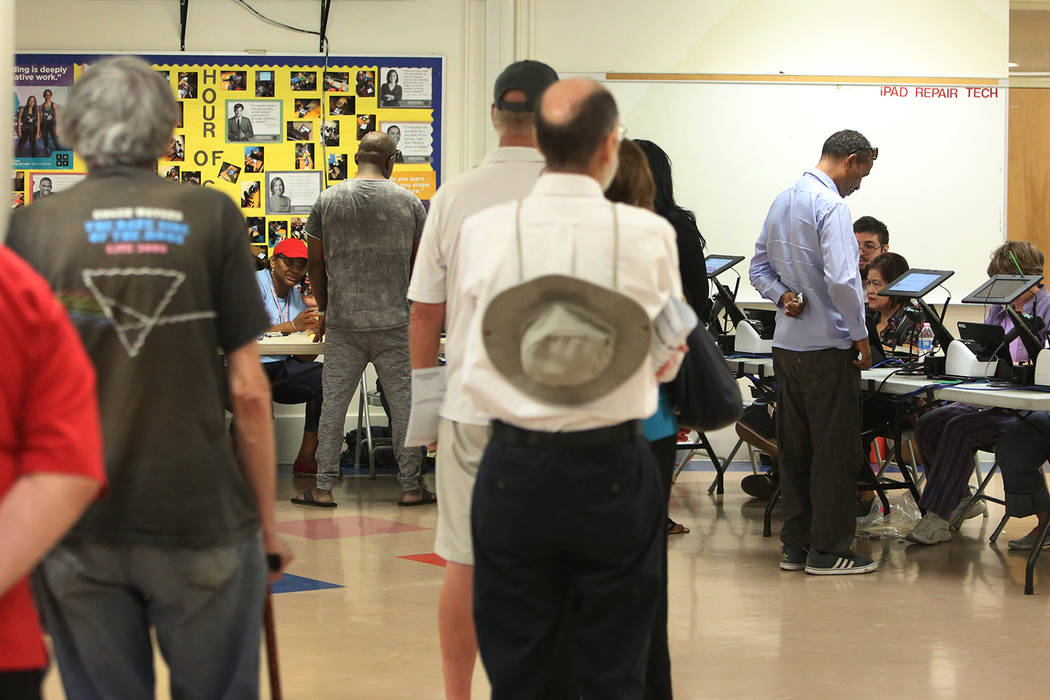 Clark County Registrar of Voters Joe Gloria said Wednesday that a combination of human error and technical problems allowed up to 43 voters to cast ballots twice in the primary election.
During a County Commission meeting to certify election results, Gloria said he is unsure why some voters believed their first attempt to vote was unsuccessful. But he explained that volunteer poll workers during early voting and on Election Day did not confirm whether those voters' ballots had been properly submitted before they were allowed to re-vote.
"Had that been done, we probably would have avoided this whole situation," he said, adding that it is his department's responsibility to properly train poll workers.
County spokesman Dan Kulin said the election department has also determined that six of the double-votes occurred when people voted during early voting and again on Election Day. That included two Democrats, two Republicans and two nonpartisan voters.
"We believe this occurred because some of the computers used to assist with sign-ins were temporarily off-line when those six people voted on Election Day," Kulin wrote in an email. "We are able to identify those instances because the computers record sign-in information whether they are on-line or not.
"If they had been online when one of those voters came to a polling place on Election Day, the system would have identified them as already having voted."
The errors mean that the county will hold a special election to select the Republican nominee for county administrator, which was decided by only four votes. The race's unofficial winner, Aaron Manfredi, has criticized the county for failing to train poll workers.
Two poll workers who contacted the Review-Journal believe more scrutiny should be given to the county's new election software and hardware.
The electronic poll book technology is supposed to record data, such as when and where a ballot is cast, in real time. The laptops used to check in voters at polling places should display a warning if a person tries to vote a second time, according to a laptop operator manual from the county election department.
"ALREADY VOTED — CALL TEAM LEADER," a display screen should read.
The poll workers who contacted the Review-Journal said that was not the case in at least two instances at separate polling locations on Election Day. They asked not to be named for fear of retribution, but they provided the Review-Journal documentation showing they were poll workers.
One worker said that a man who voted at Lyal Burkholder Middle School in Henderson on Election Day returned to the site after realizing he had cast a ballot during early voting.
"My machine didn't show any warning, because I wouldn't have processed him if it did," the poll worker said. "I know I processed that voter correctly."
The second poll worker, who was stationed at Escobedo Middle School in Las Vegas, said she voted by mail the week before election day. However, when she looked up her own name on a laptop at an Election Day polling site, it did not show that she had already voted.
The volunteer said she used the county's website to confirm her ballot had been received before Election Day, meaning that it could have been processed before June 12.
"If they received my ballot on a Monday, why wasn't it immediately processed?" she asked.
Nevada Secretary of State's office spokeswoman Jennifer Russell said the state will not conduct any further examination of the matter.
"The (Secretary of State) is working with Clark County on developing tighter access controls so that re-issuance of activation cards can only be done by supervisory/lead staff at polling place and are looking at various software solutions to assist in that regard," Russell wrote in an email.
Election day issues
Voting centers statewide endured technical difficulties on election day, but Russell said no voters were prevented from casting a vote.
Some voters in Clark County reported their ballots were already filled out when they started the voting process, but they were able to change the selections.
At a voting center in Summerlin, volunteers and voters said poll workers' laptops were not properly paired with tablets displaying voter information. This caused confusion during the voter check-in process because one voter's personal information would appear on a tablet display that another voter was using.
The Reno Gazette-Journal reported that some voters in Washoe County were presented with a wrong slate of ballot choices. The paper also reported that voters were delayed from casting ballots on election day morning because the time programmed on voting cards and voting machines did not match.
A small number of machines in Las Vegas and Reno, estimated at fewer than 30, did not properly display all candidates' names, the Associated Press reported.
A mulligan for voters
Commissioners on Wednesday directed county staff to begin preparing the redo election.
Gloria told commissioners that any Republican who voted in the primary, some 74,000 people countywide, would receive a mail-in ballot by July 3.
Manfredi said having a new election would be an unfair burden for he and opponent Thomas Fougere to spend more campaign money to spur voter turnout.
"What is the county and election department going to do to make sure everyone knows to re-vote?" Manfredi asked. "We shouldn't have to go out there and spend thousands and thousands of dollars for something that wasn't our fault."
Fougere said he too is worried about turnout, but that a new election is necessary.
"I am certainly working my base and doing all that I can to get all the votes out that I can," he said.
Gloria said the ballots will include a written notice explaining the redo election.
Additionally, commissioners directed Gloria and his office to look into creating a public service announcement about the race to air on TV and online. The commissioners also offered to include information about the election in their newsletters to constituents.
Manfredi also asked whether the county would consider recounting votes before holding a redo election, but county legal counsel Mary-Anne Miller said that is unnecessary.
"There were no tabulation errors in this contest, so the likelihood that a recount will come up with a different result is highly, highly unlikely," she said.
Contact Michael Scott Davidson at sdavidson@reviewjournal.com or 702-477-3861. Follow @davidsonlvrj on Twitter.