Impasse is problem for Clark County's largest employee union
Updated April 12, 2017 - 10:43 pm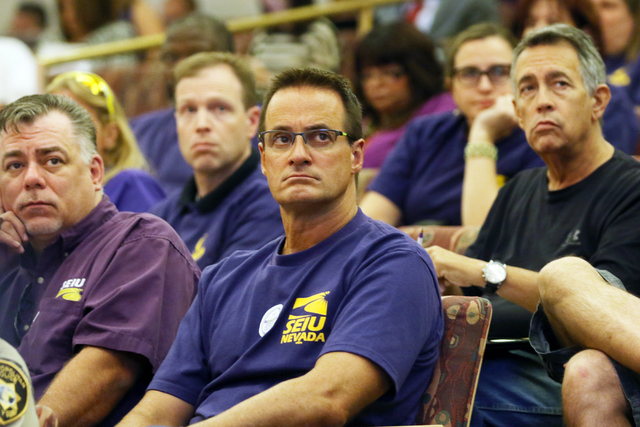 With contract negotiations at an impasse, Clark County's largest employee union is a facing a key deadline and yet another possible blow to its health.
Next week, a federal mediator will join discussions for the collective bargaining agreement between the county and Service Employees International Union Local 1107. If a deal is not struck by July 1, when the current contract expires, the county says it will halt scheduled wage and benefit increases for unionized employees until a new contract is agreed upon. Retroactive pay raises would not be granted.
Brenda Marzan, vice president of the union's non-supervisory bargaining unit at Clark County, believes that would be catastrophic to SEIU's future.
"We're already being told by our membership that, unfortunately, they will give themselves a raise if we don't give them a raise, which basically means that they will drop the union," she said.
Marzan said the number of SEIU-represented county employees who are dues-paying members of the union is below 55 percent. If that number sinks below 50 percent, the county could claim the union no longer represents a majority of employees and discontinue negotiations with SEIU.
Management at Desert Springs Hospital and Valley Hospital Medical Center did that this year.
On March 31, Marzan and seven other local SEIU executive board members sent a letter to the union's international president and executive board, the governing body for all SEIU local chapters. The letter pleaded for intervention and expressed disapproval with how local President Cherie Mancini is guiding the union.
"We feel the necessity to let you know that we do not believe that we will have a contract in place by July … ," the letter states. "The leadership within the Clark County unit are informing you that we cannot continue in the same direction we are today."
Failure to compromise
Last week, SEIU 1107's bargaining team voted 13-0, with two members abstaining, to declare an impasse, union spokeswoman Dana Gentry said. The action was taken after eight fruitless bargaining sessions that spanned from mid-January to April 5.
"Clark County negotiators failed to compromise to a degree that would yield even a single tentative agreement," Gentry wrote in a statement.
Sandy Jeantete, the county's director of human resources and lead negotiator, disagreed with the union's characterization of the negotiations.
"We are bargaining in good faith, we are exchanging proposals (and) offering counter proposals on issues," she said. "It's certainly not unusual for parties to be in disagreement with what they think is reasonable."
SEIU represents about 5,000 county employees. The next bargaining session is scheduled for April 19, Jeantete said.
"Hostile" negotiations
The executive board members who wrote SEIU International believe their members' voices are not being considered by the union in the contract negotiations, Marzan said.
"We come to the table with what we feel is reasonable suggestions or considerations and basically we're shut down all the time by the (union) hall (staff)," she said.
The officers were troubled that Mancini chose not to bring union attorney Michael Urban back to the bargaining table. Urban led the union's negotiations for the current contract with the county, which took longer than two years to complete and went into both mediation and arbitration.
"He knew our plan," Marzan said "He knew which (contract) articles we had problems with."
The union's chief negotiator now is Peter Nguyen, SEIU's Director of Organizing and Representation since May 2016.
Marzan said negotiations led by Nguyen have been "hostile" at times.
"Our side is adversarial toward the county. I have not seen (in the past) where people have called the other side names," she said.
Mancini was not available for an interview Wednesday, but she responded to the letter by email.
"The President of SEIU Nevada is responsible for selecting the chief negotiator, and I have the utmost confidence in Peter Nguyen," she wrote.
Ongoing schism
The executive officers' letter to SEIU International is the latest example of a schism between SEIU 1107's executive officers and staff that first came to a head last year.
After a confrontation at the union hall in August, Nguyen filed an internal harassment and discrimination complaint against Executive Vice President Sharon Kisling and got a protective order against her. Kisling was one of the board members who signed the letter sent to SEIU International last month.
In September, Kisling and union trustee Clara Thomas, who also signed the letter, accused Mancini of corruption and recommended she be suspended from office. Later that month, Marzan accused Mancini of leading an "undemocratic process" in the local union.
In October, Mancini accused Kisling of advocating for the succession of union members at University Medical Center.
Responding to the charges, SEIU's international executive board convened in Las Vegas to conduct a private two-day hearing in late October. The hearing's results have not been returned.
Contact Michael Scott Davidson at sdavidson@reviewjournal.com or 702-477-3861. Follow @davidsonlvrj on Twitter.
Previous Bargaining
Service Employees International Union Local 1107's last contract with Clark County took more than two years to negotiate. Talks started in May 2013, but stalled because the parties disagreed whether to discontinue longevity pay for new hires.
That contract expired on July 1, 2013, and the union declared an impasse in February 2014. The case went before an arbitrator on July 1, 2015 because the sides could not decide whether the new contract should expire.
Meanwhile the county stopped all wage and benefit increases for SEIU-affiliated employees a month before arbitration started. The county cited a 2015 law that prevents raises while a labor contract is expired.
SEIU filed a complaint with Nevada's Local Government Employee-Management Relations Board because of the move.
An "evergreen clause," the union argued, allowed the expired contract to continue on an annual basis during negotiations. Therefore the new law freezing raises could not apply to SEIU-affiliated employees until at least July 1, 2015.
In August 2015 the arbitrator sided with the county in the dispute over the new contract. Longevity pay ended for future hires and county employees received retroactive cost-of-living increases. That contract expires June 30.
As for the frozen wage and benefit increases, the EMRB ruled in the union's favor in November 2015. The county was required to pay a total of $900,000 to 253 unionized employees with anniversary dates in June 2015.
In September 2016, the county agreed to pay $1.5 million in retroactive wage and benefit increases to about 400 workers who had an employment anniversary dates in July and August 2015.
Under current law, there is no evergreen clause in SEIU's current contract, which is set to expire on July 1.